At a time when Black Friday bargain hunters had been fighting over £139 Polaroid televisions, Yorkshire-based retailer Crampton & Moore held a 2014 year-end 4K TV comparison event in conjunction with Leeds Trinity University and HDTVTest, following on from the success of its inaugural event which took place in May earlier this year. Samsung and Panasonic were the two brands that shared the spoils on this occasion, with the Korean manufacturer in particular impressing with its HU8500 curved ultra high-definition (UHD) television.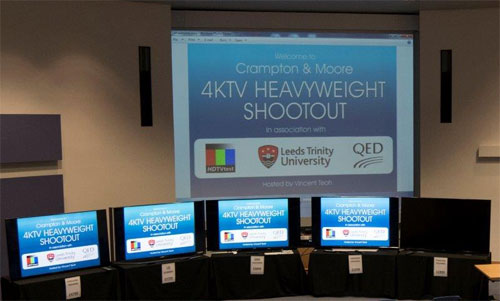 Five 4K TVs were arranged side-by-side for the comparison (from left to right):
Panasonic TX-65AX902B full-array local dimming (FALD) 4K LED TV;
LG 65UB980V Ultra HD 4K television;
Sony KD-65S9005B curved 4K Ultra HD television;
Samsung UE65HU8500 curved UHD TV; and
Panasonic TX-65AX802B 4K Ultra HD TV.
This lineup means that the four leading TV brands in the United Kingdom were represented at least once by a top-tier model, with the Panasonic Viera AX802 making an appearance since it was voted as the best 4K TV last time around. Each display was calibrated to D65 greyscale, BT.1886 gamma and Rec.709 colour space standard, with peak white pegged at 45fL (154 cd/m2) rather than our usual target of 35fL (120 cd/m2) to account for the ambient light generated by the screens themselves.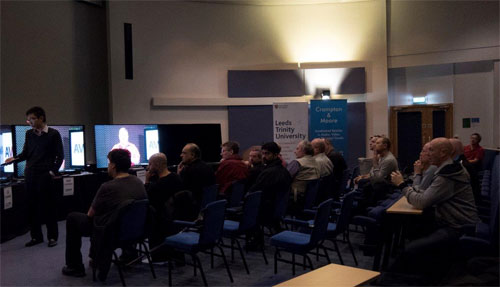 16 invite-only attendees were asked to vote for the best 4K TV in terms of image quality regardless of price, as well as the television they're most likely to buy with price in mind. To help them make their decision, the following demos were used:
Beginning of Chapter 12 in Harry Potter and The Deathly Hallow Part 2 as Voldemort's army gathered on a hilltop preparing to assault Hogwarts (to assess blacks and shadow detail);
Chapter 8 of The Dark Knight Rises with Batman meeting Catwoman in the tunnel then fighting Bane (to test LED dimming-induced black level fluctuation and shadow detail);
Chapter 1 (zoo animals) and 18 (flying fish sequence) in Life of Pi to judge colour accuracy;
Recorded 1080i broadcasts of rugby and tennis to gauge motion quality; and
Tears of Steel and a 2014 World Cup football clip served from an Apple Mac Pro for 4K content.
At the end of the day, the Panasonic TX65AX902B and Samsung UE-65HU8500 tied for the "best PQ; money no object" category, securing 7 votes each. The HU8500 went on to take the "most likely to buy" gong with 10 votes to the second-placed TX65AX802B's 6 votes. It appears that a picture quality-boosting firmware update released by Samsung was responsible for helping the UE65HU8500 reverse its loss to the Panasonic AX802 in the previous shootout.
That the Viera AX902 did not receive any votes at all in the "most likely to buy" category suggests that Panasonic might have priced the set too high – a street price that's £1,500 more expensive than a flagship Samsung is probably difficult to justify under most circumstances. None of the attendees voted for the LG UB980V and Sony S90: the former was blighted by undefeatable dimming which crushed shadow detail; whereas the latter suffered from backlight clouding and severely limited viewing angles.
So there you have it, the Samsung UE65HU8500 – with its deep black level and all-round performance – and the Panasonic TX-65AX902B – with its plasma-like viewing angles and screen uniformity – have been voted as the best 4K TVs of 2014. When asked, most attendees stated that they'd like to see a 4K OLED TV at the next event. Trust us, it's our wish too – let's hope one hits the UK market by May/ June next year.