The first 2017 display to arrive in our test room is the Bravia XE93, a TV for which Sony is harbouring high hopes for the year ahead. Succeeding last year's Bravia XD93, the Sony XE9305 features the same UHD (ultra high-definition) resolution of 3840×2160, VA-type LCD panel and edge-lit LED backlighting, but offers a number of upgrades including the superb X1 Extreme video processor found on the flagship ZD9/ Z9D, modified Slim Backlight Drive+ technology, as well as Dolby Vision compatibility through a future firmware update.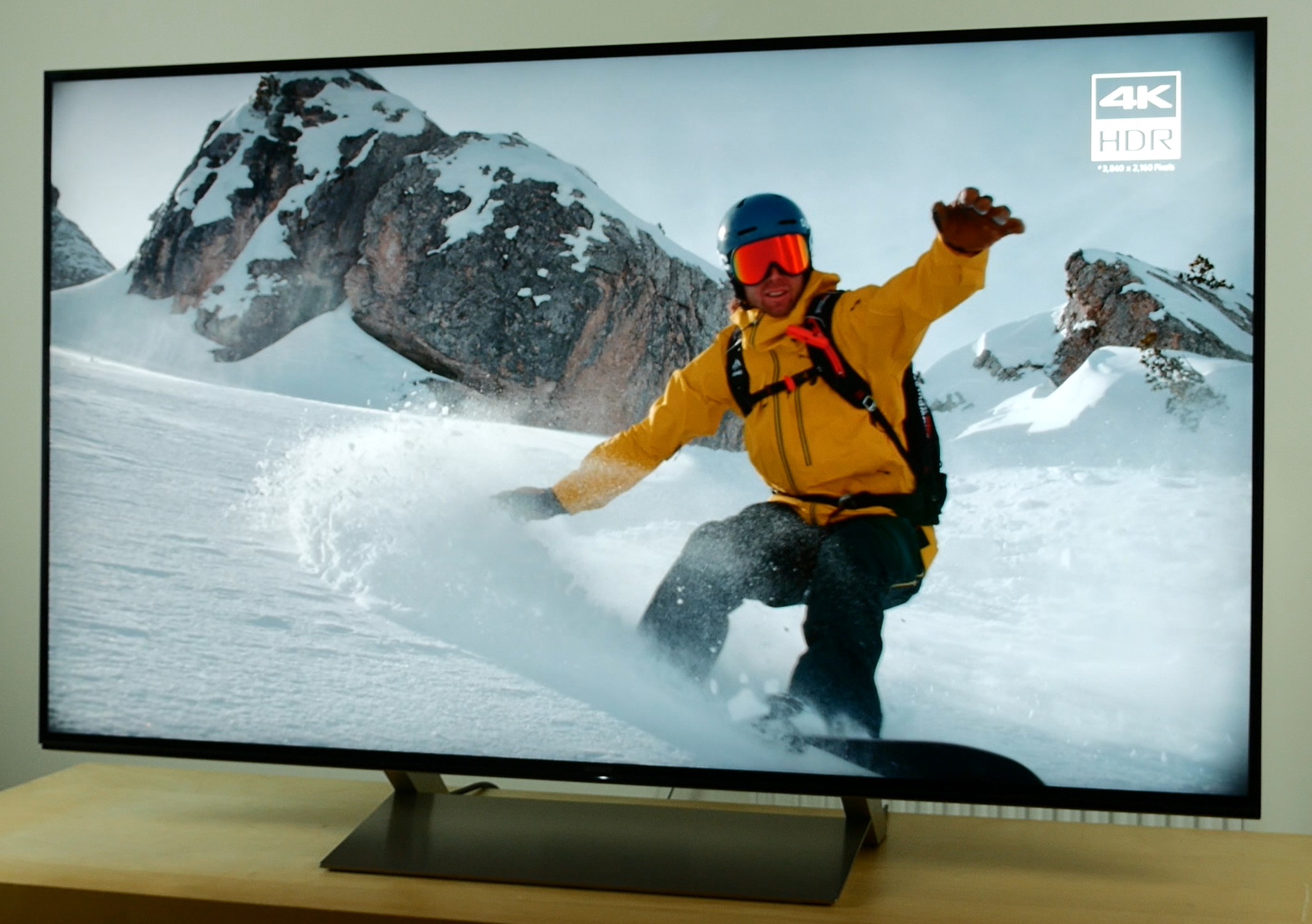 Within Sony's 2017 Bravia television lineup, only the ZD9, A1 OLED and full-array local dimming (FALD) XE94 rank higher than the XE93. The specific unit we reviewed was the 55-inch Sony KD-55XE9305 (£2400 launch price March 2017), but it's also available in a bigger screen size of 65 inches (model number KD-65XE9305). Let's find out what the Japanese manufacturer has in store for us this year.
Design
The styling of the KD55XE9305 isn't a million miles away from 2016's XD9305, what with its glossy LCD screen (though less so than its predecessor), slender black bezel and central table-top stand. Our sample had a very slight lean back on its stand, which we're not entirely sure was intentional or not.
The back of the television sports a champagne-tinted crosshatch pattern, and several plastic covers are provided to hide unsightly ports and cables.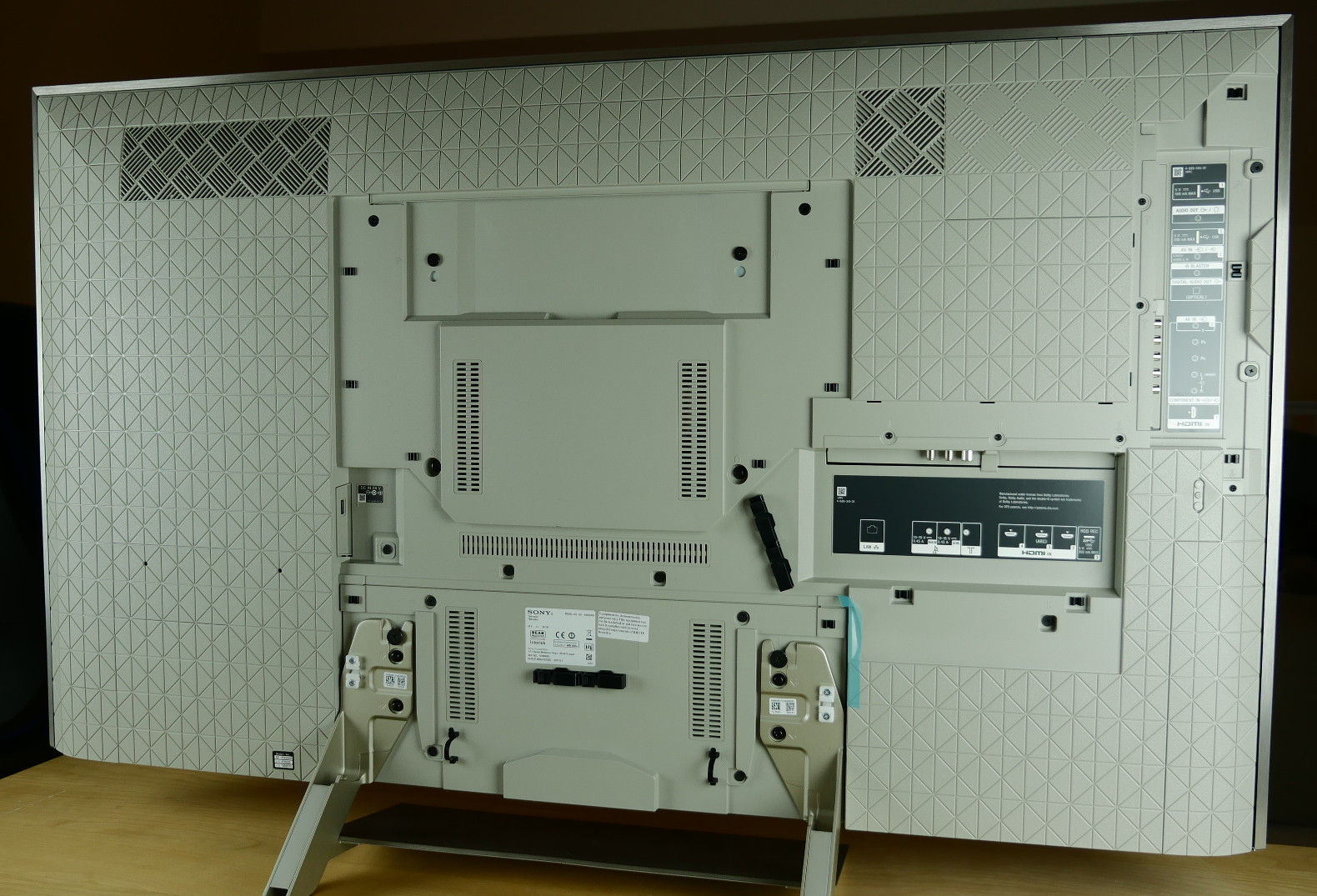 Build quality is top-notch – the Sony XE93 actually weighs a good bit heavier than it looks. Given reports of warped bezels on early batches of XD93 last year, we're pleased to report no such phenomenon on our KD55XD9305BU review sample, with the minimialistic and clean lines all looking straight as an arrow.
Like its predecessor, the Sony 55XE9305 uses a large external power brick and suitably long detachable cables which should cover most installations.
Connections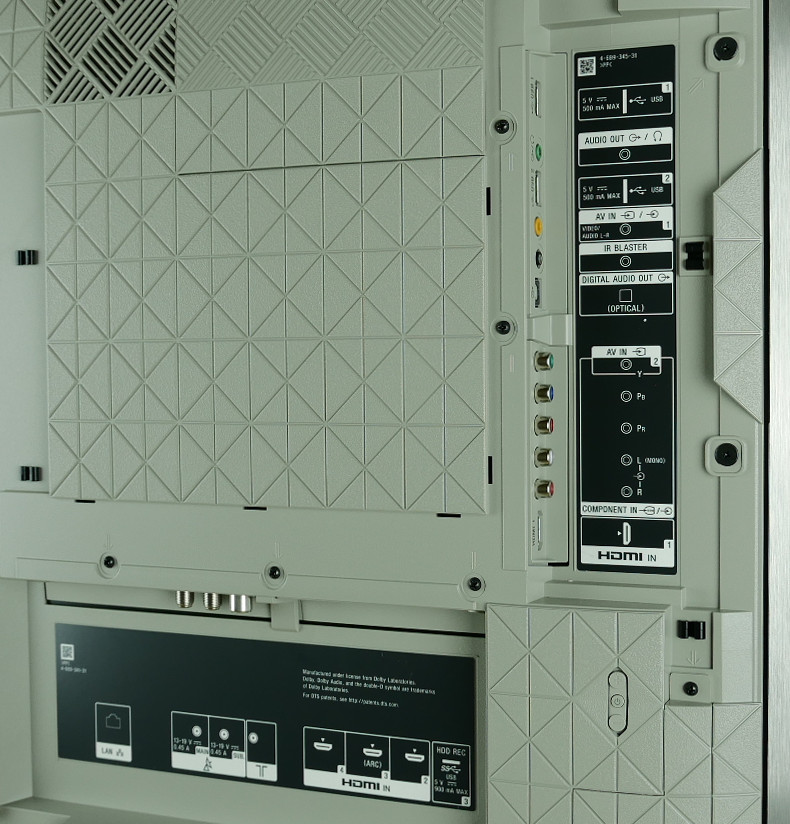 Probably owing to the same underlying chipset, the Sony XE93 – like the step-up ZD9 – only supports HDMI 2.0a (4K@60p/50p and HDR) on HDMI inputs 2 and 3. Otherwise, all four HDMI ports are compliant with HDCP 2.2, as verified by our Murideo Fresco Six-G device.
Calibration
For SDR (standard dynamic range), our Sony KD-55XE9305 review unit measured insanely accurate in the [Cinema pro] mode, although we still had to adjust [Brightness] and [Contrast] to tailor the TV's light output to our viewing environment. Calibration gear used included a profiled Klein K10-A meter, DVDO's AVLab TPG signal generator, and Portrait Display's CalMAN software.
Greyscale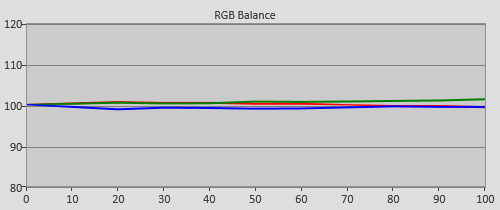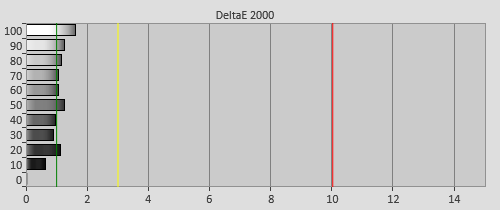 Pre-calibration RGB tracking and delta errors (dEs)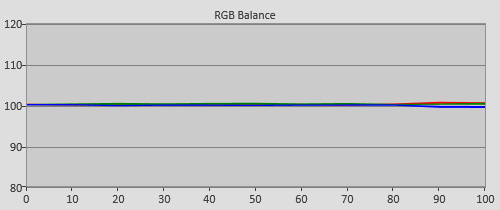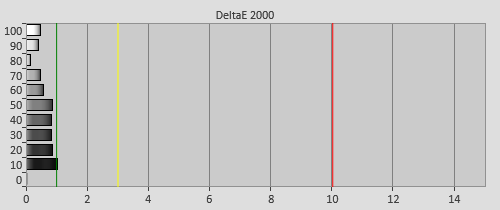 Calibrated RGB tracking and dEs after [Adv. colour temperature] adjustments
Gamma
| | |
| --- | --- |
| | |
| Pre-calibration gamma tracking (2.36) | Post-calibration gamma tracking (2.34) |
Colour
Similar to the flagship Sony KD-65ZD9 which is also equipped with the X1 Extreme chipset, the 55XE9305 rendered red, green and related hues in a slightly oversaturated manner. Although most viewers probably won't notice these inaccuracies outside of a side-by-side comparison against a reference display, perhaps it's time for Sony to consider implementing an advanced colour management system (CMS) on future models to correct such errors.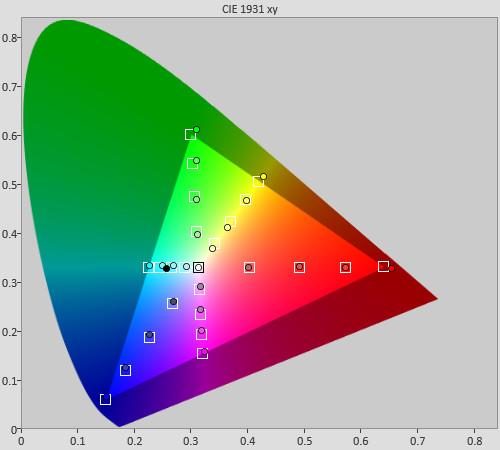 Post-calibration colour saturation tracking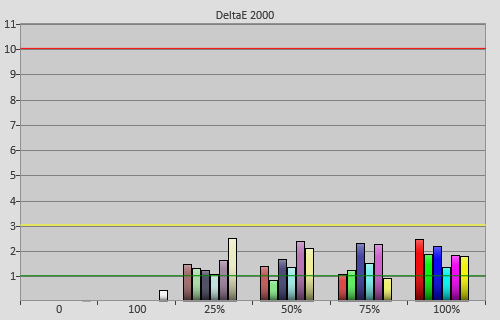 Post-calibration colour errors (<3 not appreciable to the eye)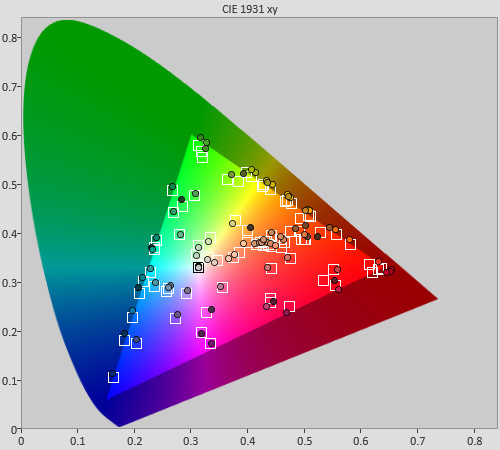 Post-calibration Colour Checker SG test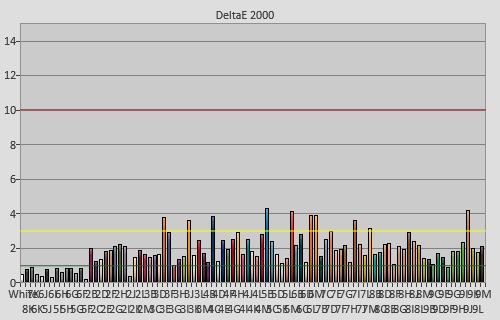 Post-calibration Colour Checker SG errors (<3 not visible to the eye)
Benchmark Test Results
| | |
| --- | --- |
| Dead pixels | None |
| Screen uniformity | Very good |
| Overscanning on HDMI | 0% if [Screen Format] "Full" & [Display Area] "Full Pixel" or "+1" |
| Blacker than black | Passed |
| Calibrated black level (black screen) | LEDs dim down/ shut off |
| Calibrated black level (4×4 ANSI) | 0.031 cd/m2 with optimised [Auto local dimming] |
| Black level retention | Auto-dimming with full black screen |
| Primary chromaticity (Rec.709) | Slightly oversaturated red and green primaries |
| Scaling | Best we've seen on a consumer TV |
| Video mode deinterlacing | Effective jaggies suppression |
| Film mode deinterlacing | Passed 3:2/480i+1080i & 2:2/576i with [Film Mode] enabled, but occasionally lost lock with 2:2/1080i |
| Viewing angle (cone) | 62° |
| Motion resolution | 1080 with [MotionFlow] "Clear" & "Custom" |
| Digital noise reduction | Optional; effective when engaged |
| Sharpness | Defeatable edge enhancement |
| Luma/Chroma bandwidth (2D Blu-ray) | Full luma; chroma horizontally blurred except in [Game] & [Graphics] modes |
| 1080p/24 capability | No judder |
| 2160p/24 capability | No judder |
| Measured panel refresh rate | 120Hz |
| Measured peak brightness | 1370 cd/m2 (after calibration to D65) |
| Measured DCI-P3 coverage | 97% |
| Input lag (Leo Bodnar tester) | 42ms in 1080p (SDR & HDR); 25ms in 4K (SDR & HDR) |
| Full 4:4:4 reproduction (PC) | Yes for 3840×2160@60Hz with [HDMI Enhanced Signal] on in [Game] & [Graphics] modes |
Power Consumption
| | |
| --- | --- |
| Default [Standard] mode* | 47 watts |
| Calibrated [Cinema pro] mode | 46 watts |
| HDR [Cinema home] mode | 184 watts |
| Standby | <1 watt |
*Note: [Light Sensor] was switched on by default in the [Standard] picture preset out of the box.
Picture Quality
Black Level & Contrast
The Sony KD55XE9305 uses a VA-type LCD panel which produces deep blacks but suffers from more restricted viewing angles. In SDR, with peak white pegged to our nominal target of 120 cd/m2, the XE93's native black level (i.e. with [Auto local dimming] disabled) measured an impressive 0.033 cd/m2 on both full-field black and a 4×4 ANSI chequerboard test pattern.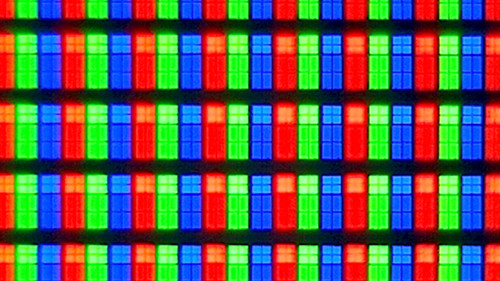 Macro photo of subpixel layout confirming VA-type LCD matrix
The edge LED placement on the Sony 55XE93's Slim Backlight Drive+ is different from last year's XD93's Slim Backlight Drive system. Whereas the 2016 model had the dual-stacked LED modules lined up along the left and right borders of the screen, on the 2017 Bravia these have been moved to a top-bottom arrangement instead.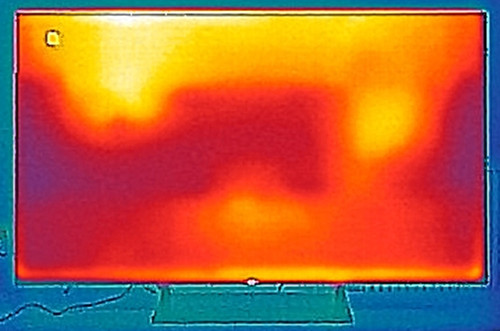 Thermal scan indicating top and bottom edge-lit LED LCD configuration
The pseudo-local dimming on the Sony KD-55XE9305 is activated by engaging [Auto local dimming] which comes in three intensities – "Low", "Medium" and "High" – besides "Off". Using our own custom-authored test pattern comprising a small white box crawling horizontally and then vertically along the edges of a black background, we counted 16 columns and 4 rows lighting up.
Before you start salivating at the prospect of the 55" XE9305 being the equivalent of a 64-zone FALD (full-array local dimming) direct-lit LED LCD television however, unfortunately at least 4 to 6 simultaneous columns would be illuminated at any one time depending on the content APL (Average Picture Level), so the zone count – if it can even be labelled as such – is significantly lower than 64. This is the reason why we prefer to use the term "pseudo-local dimming" rather than merely "local dimming" to describe the dimming performance of edge-lit LED LCDs.
Coming back to Slim Backlight Drive+, we guess Sony's decision to change the LED placement from left-right to top-bottom orientation is to achieve even higher peak brightness – there's less physical distance for light to travel (and thus lose intensity) from the top and bottom to the centre of the screen compared with from the sides. As you shall read later in the HDR section, the Bravia XE93 pumped out truly breathtaking levels of peak luminance, but there's a price to pay.
If you're watching in a pitch-black room, bright objects against a dark background would be surrounded by vertical stripes of haloing or blooming. Furthermore, the 55XE9305's top-and-bottom LED placement meant that letterbox bars in cinemascope movies cannot be truly blackened; in fact, brighter elements in the active picture area often led to some spillover brightening of the portion of letterbox bars immediately above or below, and these were exaggerated by off-axis viewing. We advise not only sitting right in front of the TV, but also using some gentle ambient lighting, preferably behind the screen (technically known as bias lighting), to ameliorate these problems.
Backlight/ Screen Uniformity
With [Auto local dimming] enabled (and why wouldn't you want to), the KD55XE9305 manifested no significant backlight uniformity issues such as clouding. Apart from a very slight darkening along the borders, our review unit was remarkably free of DSE (dirty screen effect) or banding, making football (with the correct [Motionflow] settings too for the highest motion clarity) a joy to watch on the Sony XE93.
Motion
With [Motionflow] disabled, the KD-55XE9305's motion resolution came in at 300 lines (as determined using the horizontally scrolling lines in Chapter 31 of the FPD Benchmark Software test Blu-ray), which is the common figure for a sample-and-hold display without the help of motion-enhancing techniques. Setting [Motionflow] to "Standard" or "Smooth" would double motion resolution to 600 lines, but introduced noticeable soap opera effect (SOE) to 24p films, not to mention the odd interpolation artefact.
The Bravia XE9305 offers some form of backlight scanning which is incorporated into [Motionflow] "Clear", or can be independently activated through the [Clearness] control within the [Motionflow] "Custom" submenu. From our testing, backlight scanning (which dims the screen somewhat but there's more than enough light output headroom to compensate) needed to be combined with a dose of motion-compensated frame interpolation (MCFI) to obtain 1080-line motion resolution on the display, so there inevitably would be minor SOE.
| | |
| --- | --- |
| | |
| [Motionflow] "Off" | Optimised [Motionflow] "Custom" |
Sony Bravia TVs have traditionally delivered impeccable motion smoothness, and the KD55XE9305BU was no different. Panning shots in 24fps movies (from 1080p or Ultra HD Blu-rays) or 50Hz sports broadcast exhibited no visible sign of judder, stutter or frame-skipping.
Video Processing
We've previously praised the stunning upscaling capability of the Sony 65ZD9, and the KD-55XE9305 – now blessed with the same 4K HDR Processor X1 Extreme image processing engine – performed with similar excellence in this regard. Putting up a standard-definition 576i SMPTE RP-133 test pattern on the Bravia 55XE93 revealed wonderfully clean and sharp detail with minimal noise, ringing and junk data, which is no mean feat considering the television had to extrapolate and make up more than 95% of the on-screen pixels!
We're also big fans of Sony's [Smooth Gradation] feature which was missing from last year's XD93 series but reinstated on the ZD9/ Z9D and now the XE93. Even with [Smooth Gradation] disabled, the KD55XE9305 was already rendering gradients in 4K UHD Blu-rays in a smoother fashion than HDR TVs from other brands, but it's a useful option to smooth out posterisation in videos with lower bit-depth and heavier compression.
Viewing Angle
HDR
This is where the Sony KD-55XE9305 really shines. Measured on UHDA-specified window sizes and with greyscale aligned as close as possible to the industry standard of D65, peak brightness could be sustained around 1370 nits for a long period of time (we gave up measuring after five minutes), peaking at 1400 nits at the beginning. Full-field white in HDR mode measured an equally outstanding 740 nits, the highest we've recorded from an edge-lit LED LCD so far.
Since most of the picture settings are shared between SDR and HDR within one single preset, we used [Cinema Home] for HDR calibration, with [Adv. colour temperature] set to "Expert 2" given that "Expert 1" had already been used to calibrate SDR.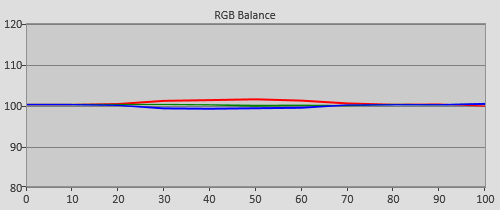 Calibrated RGB balance in HDR [Cinema home] mode
Amazingly, the Sony XE9305 Bravia TV tracked the electo-optical transfer function (EOTF) standard for HDR10 – namely SMPTE's ST.2084 PQ (perceptual quantisation) curve – to a tee, with a smooth upsloping rolloff beyond 1000 nits at the top end. In other words, the display should reproduce the correct luminance levels for 99% of HDR content, while preserving specular highlight detail that sits between 1500 and 4000 nits.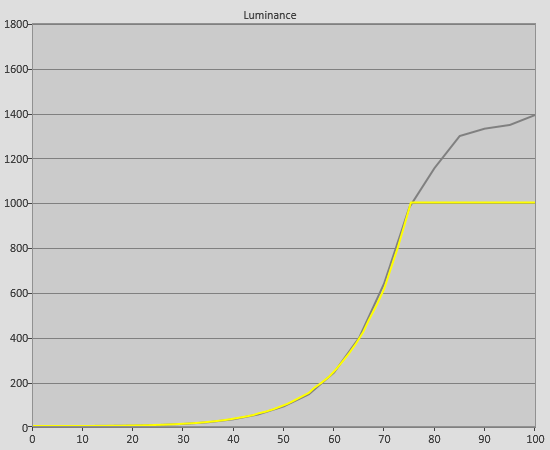 EOTF tracking against ST.2084 PQ (perceptual quantisation) standard
[Video option] > [Colour space] could be safely left at "
Auto
", and the KD55XE9305 would map colours to the correct standard for both 1080p SDR and 4K HDR. DCI-P3 coverage reached 97% at D65 white point.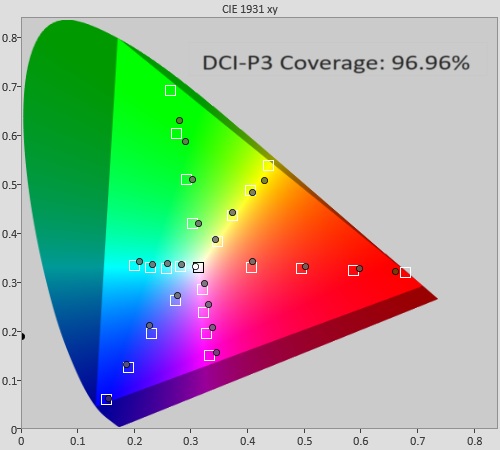 UHD HDR colour saturation tracking against DCI-P3 gamut inside Rec.2020 container
Playing all our reference 4K Blu-rays from a Panasonic UB900 +/- OPPO 203 on the Sony 55XE9305, we found the television to be almost a dead ringer for the step-up Bravia ZD9 in non-dark scenes. HDR images popped with blistering brilliance, with no apparent clipping of bright highlights, posterisation or 2160p24 judder that could afflict TVs from rival companies.
It's only in dark scenes that the XE93 truly lost out to the ZD9. As mentioned before, the former's top-bottom edge LED implementation not only prevented letterbox bars in scope films to be darkened completely, but also caused vertical chunks of halos to become visible around bright objects against a black backdrop. Meanwhile, the KD65ZD9's 648 segments of individually dimmable zones helped the TV maintain deep blacks and curb haloing/ blooming more effectively. Of course, the gap would lessen in a non-pitch black environment, but for most videophiles the Z9D's superiority in dark-scene rendition would not go unnoticed.
We attempted to play two HLG-encoded video clips on our Sony KD55XE9305BU review unit, and one of them successfully triggered HDR mode with [Brightness] automatically maxing out, suggesting that the television might already be compatible with HLG (Hybrid Log-Gamma) HDR standard. Note that you'd probably still need the BBC iPlayer app to receive the necessary software update before you can watch the Planet Earth II trial in HLG.
Gaming
The Sony KD-55XE9305 returned different lag times depending on whether the incoming signal was 1080p or 2160p. With a HD Linker device upscaling the 1080p output from our Leo Bodnar tester to 4K, input lag measured 25ms (which is very responsive) in both SDR and HDR modes. However, sending a 1080p video signal to the TV bumped input lag up by one frame to 42ms, presumably due to the set's internal upconversion.
| | |
| --- | --- |
| | |
| Input lag with 1080p signal | Input lag with 4K HDR signal |
Bottom line is, if you want the lowest latency on the Sony XE9305, send a 4K signal to the television from a Sony PS4 Pro, Microsoft Xbox One S or a 4K gaming PC even if you're playing 1080p games. If you don't own these latest gaming rigs, you can try asking your AV receiver to upscale to 4K before the video signal reaches the display, but then you wouldn't know how much lag the receiver would add…
As with all Sony televisions, 4:4:4 chroma was fully reproduced in [Game] and [Graphics] mode.
Video Review
Conclusion
The Sony KD-55XE9305 is the best edge-lit LED LCD TV we've tested to date when it comes to HDR presentation, giving even the awesome KD-65ZD9 a run for its money except – predictably – in darker scenes where the latter's greater FALD zone count kept letterbox bars black and blooming/ haloing to a minimum.
The company continues to shun the Ultra HD Premium certification programme despite the Bravia XE93's 1370-nit peak brightness and 97% DCI-P3 coverage comfortably exceeding the qualifying specifications, and the truth is, the 55XE9305 delivered a more impactful HDR performance than many UHD Premium TVs on the market, making you question the usefulness of such a badge.
Moving beyond 4K HDR material which is still relatively niche at this stage, the Sony KD55XE9305 also excelled at handling SDR (standard dynamic range) content, with highlights being its best-in-class standard-def upscaling and [Smooth Gradation] decontouring. With the promise of Dolby Vision to come too, this TV has certainly whetted our appetite for the brand's upcoming XE94 FALD LED LCD and A1 OLED televisions.
Note: If you're considering buying this television, please support this website by making your purchase from our sponsor Crampton & Moore Leeds – call 0113 2446607 and ask for store manager David (who also organises our annual TV shootout event), quoting HDTVTest for advice, best price and first-rate service.