By offering both high-quality OLED and LED LCD models in its 2017 TV lineup, Sony is covering all the bases as far as consumer choice is concerned this year. The Bravia XE90 (also known as the X900E in North America) we're reviewing today is a midrange television from the Japanese manufacturing, featuring UHD (ultra high-definition) screen resolution, direct-lit LED with full-array local dimming (FALD) backlighting, and Android TV platform. However, it lacks the X1 Extreme video processor and Dolby Vision support (pending firmware update) found on the step-up Sony XE93, XE94, A1 OLED and ZD9 series.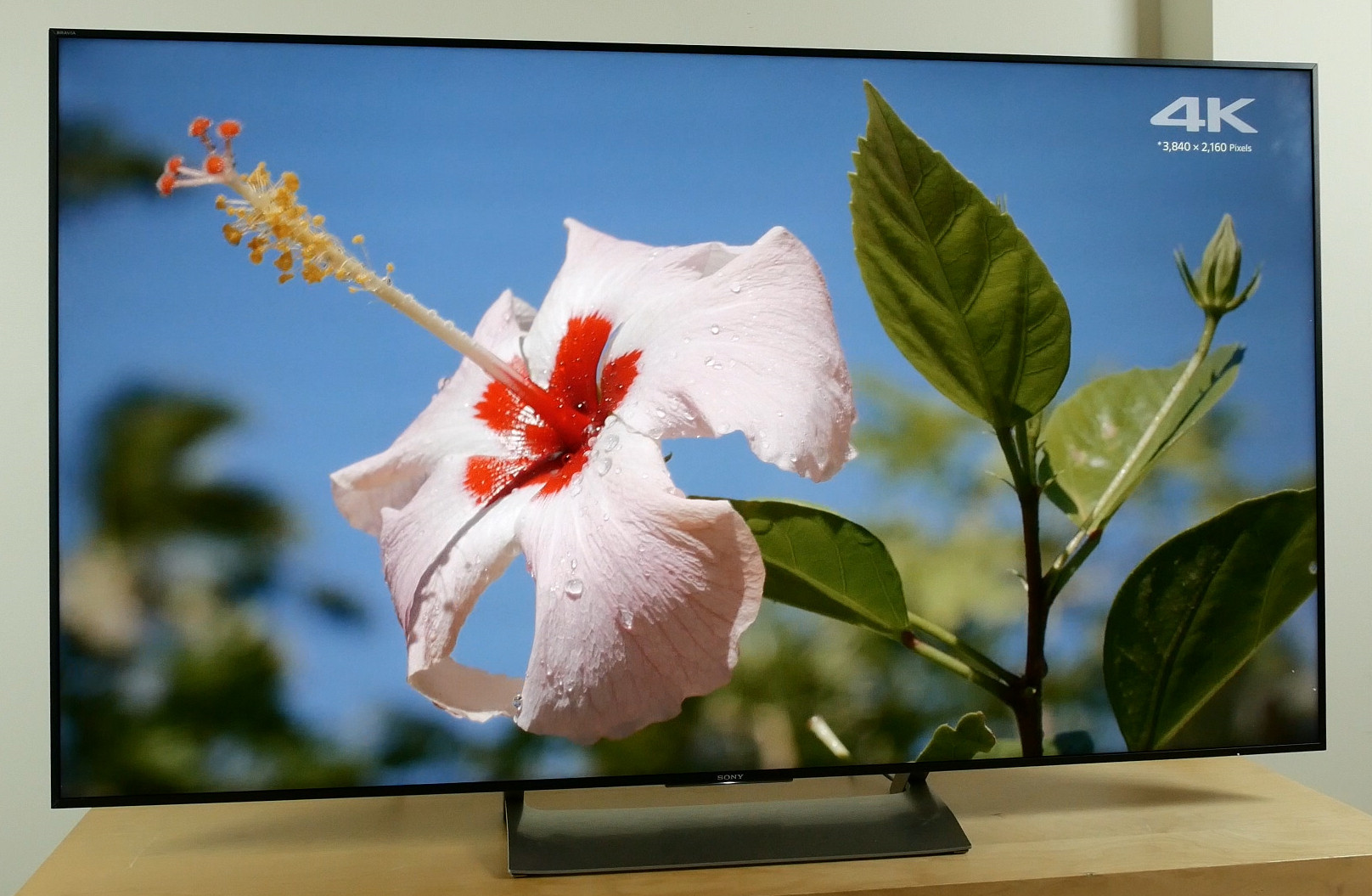 Note: The specific unit we tested was the 65-inch Sony KD-65XE9005 (exact model number KD65XE9005BU) which is the three-pin-plug British version. Other screen sizes are available, namely the 49-inch KD-49XE9005, the 55-inch KD-55XE9005 and the 75-inch KD-75XE9005.
Design
Given its direct-lit LED makeup, the Sony XE9005's chassis is understandably slightly thicker than most edge-lit LED televisions these days. The black bezel is still impressively slim though, and carries a "BRAVIA" inscription on its top left corner. The display's two-tone side trim adds a touch of class.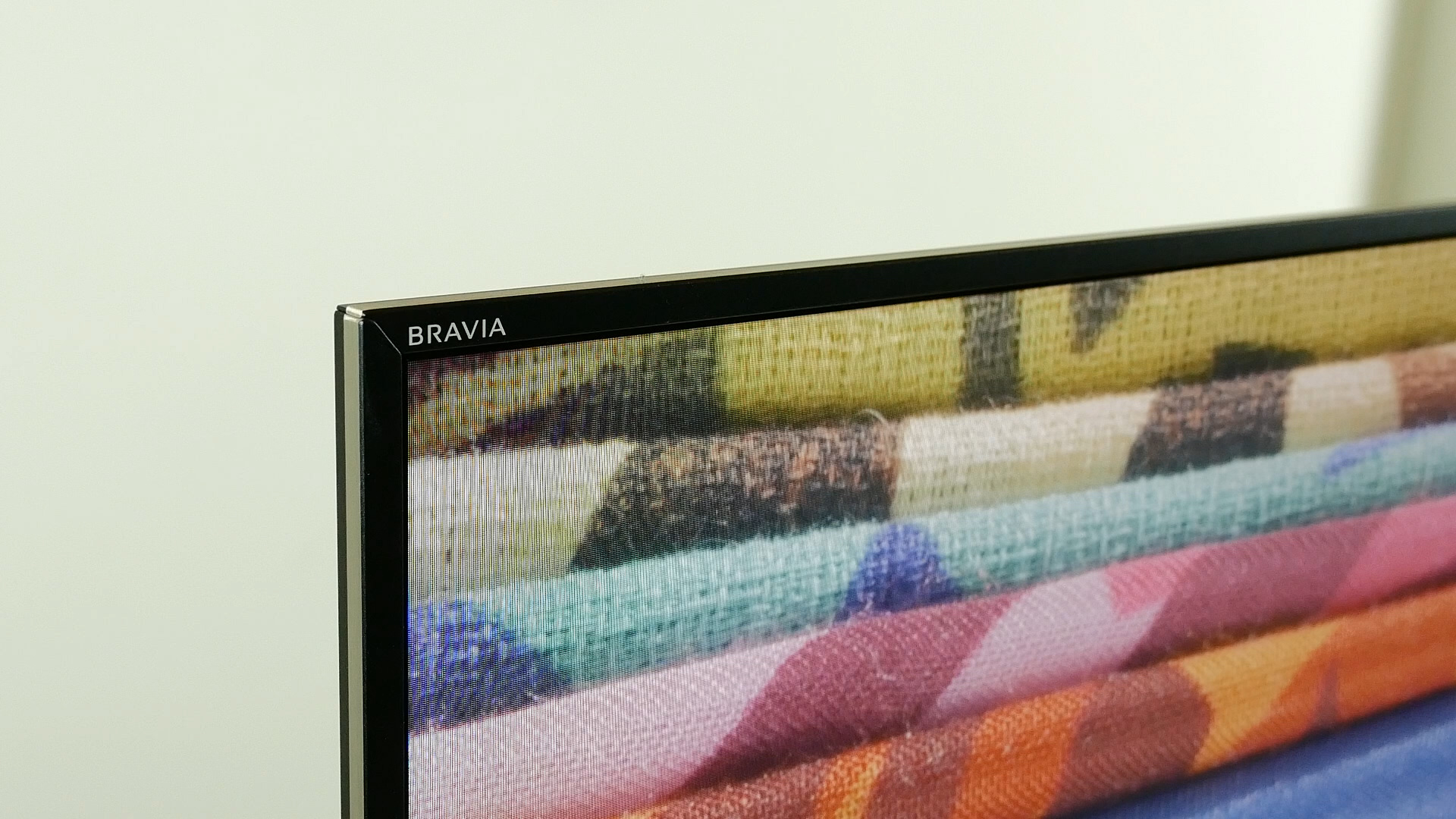 A Sony logo occupies the middle along the bottom border of the bezel, under which there's LED illumination which you can choose to turn off from the user menu.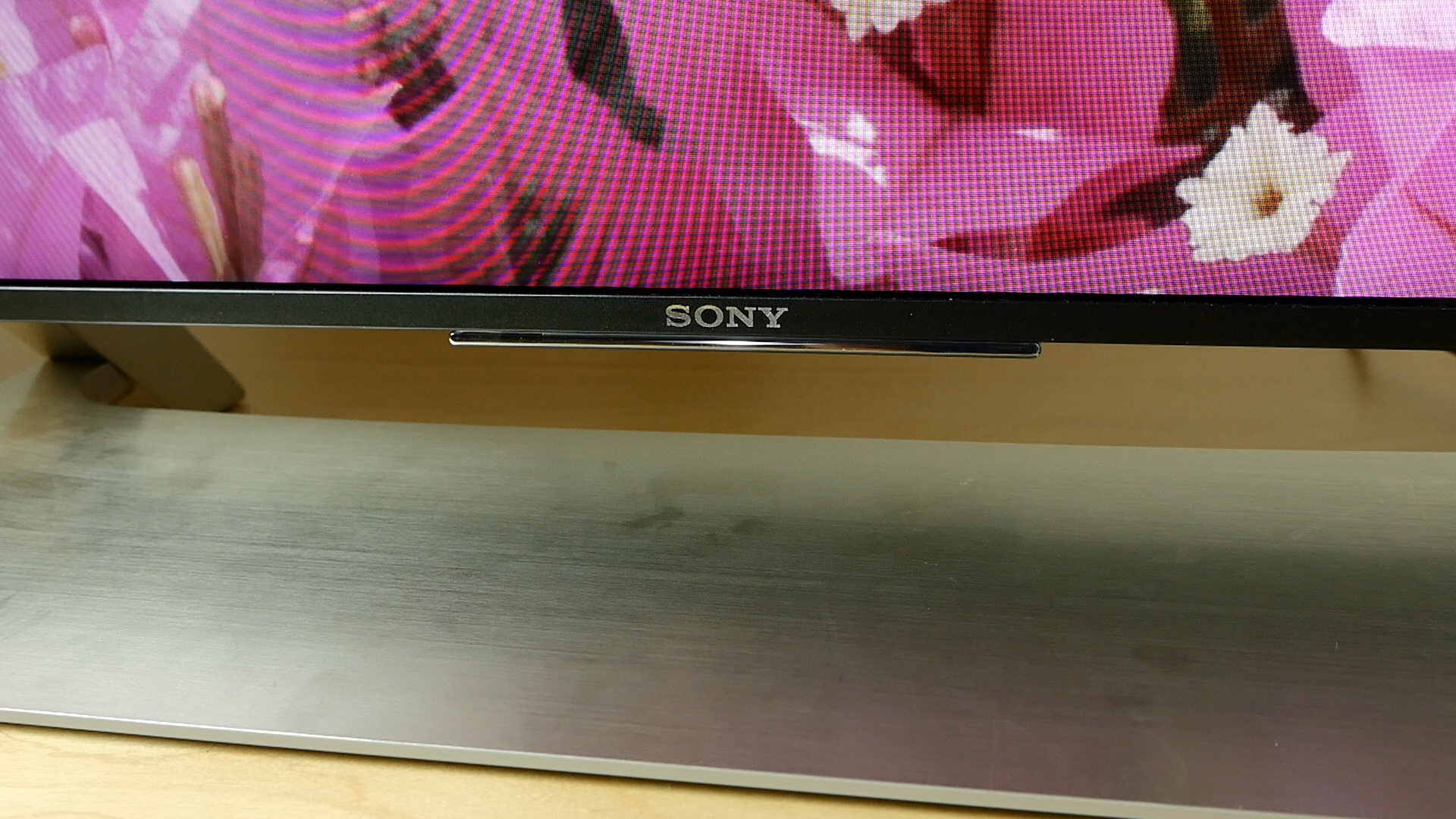 Defying the increasingly common trend of wider supporting feet, the LCD panel of the KD65XE9005 sits on a central pedestal stand that sports a brushed metallic silver finish. Like many Sony Bravias in recent years, the 65in XE90 uses an outboard power brick, although thankfully the connecting cables should be long enough to permit flexible installations.
Connections
While the Sony KD-65XE9005 provides four HDMI ports with HDCP 2.2 compliance, only HDMI inputs 2 and 3 support 3840×2160 resolution at higher bit depth/ frame rates, which means that hooking up multiple 4K sources to the TV may be trickier if you don't own a compatible receiver, soundbar or HDMI switcher through which to route the connections.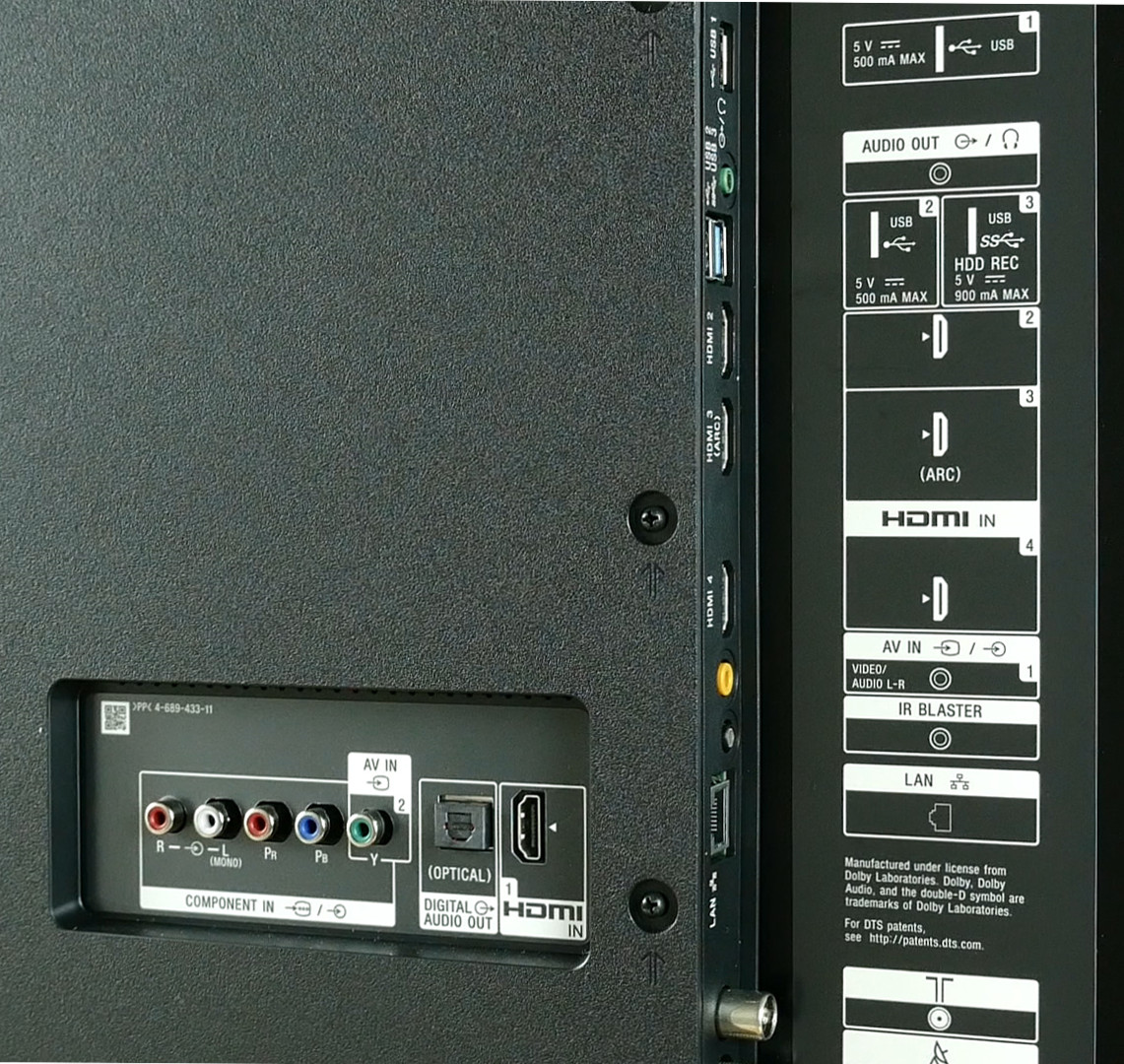 Calibration
We calibrated our Sony XE9005 review sample using a Klein K10-A meter profiled to a JETI Spectraval 1511 spectroradiometer, a Murideo Fresco Six-G signal generator, and Portrait Display's CalMAN Ultimate software. Even though there's no advanced colour management system on board (as is the case for all Sony consumer televisions to date), [Adv. colour temperature] adjustments allowed us to reduce delta errors (dEs) to below the humanly perceptible threshold of 3 across most of the colour points we measured.
Greyscale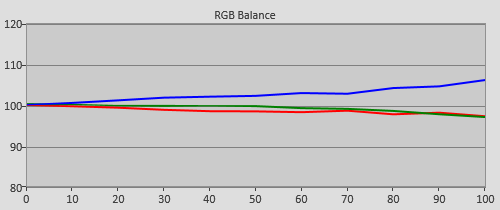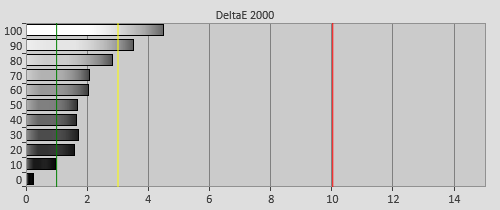 Pre-calibration RGB tracking and delta errors (dEs)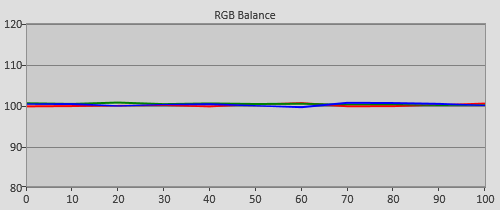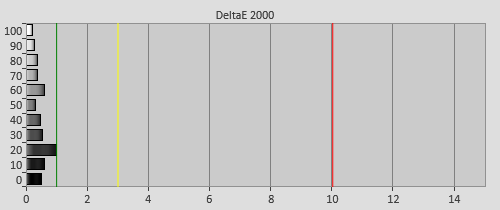 Calibrated RGB tracking and dEs after [Adv. colour temperature] adjustments
Gamma
| | |
| --- | --- |
| | |
| Pre-calibration gamma tracking (2.32) | Post-calibration gamma tracking (2.4) |
Colour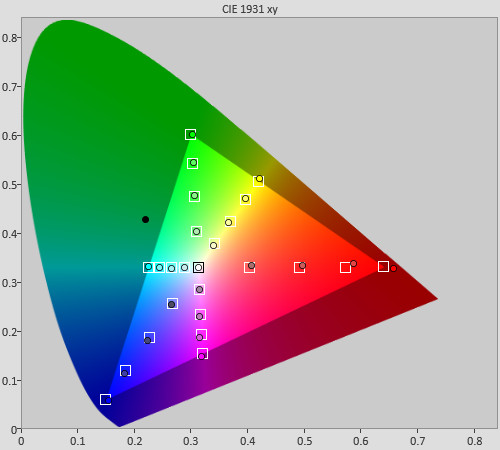 Post-calibration colour saturation tracking
Post-calibration colour errors (<3 not appreciable to the eye)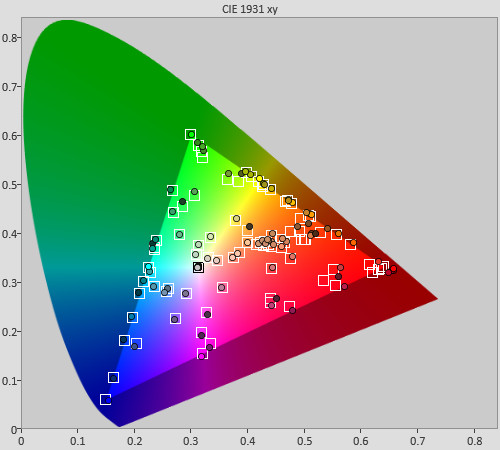 Post-calibration Colour Checker SG test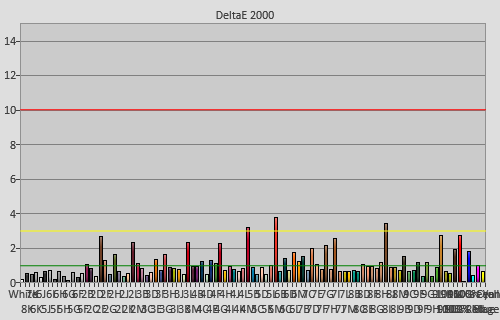 Post-calibration Colour Checker SG errors (<3 not visible to the eye)
Benchmark Test Results
| | |
| --- | --- |
| Dead pixels | None |
| Screen uniformity | Very good; mild dark corners |
| Overscanning on HDMI | 0% if [Screen Format] "Full" & [Display Area] "Full Pixel" or "+1" |
| Blacker than black | Passed |
| Calibrated black level (black screen) | LEDs dim down/ shut off |
| Calibrated black level (4×4 ANSI) | 0.033 cd/m2 with optimised [Auto local dimming] |
| Black level retention | Auto-dimming with full black screen |
| Primary chromaticity (Rec.709) | Slightly oversaturated red primary |
| Scaling | Almost as good as on Sony X1 Extreme TVs |
| Video mode deinterlacing | Effective jaggies suppression |
| Film mode deinterlacing | Passed 3:2/480i+1080i & 2:2/576i with [Film Mode] enabled, but occasionally lost lock with 2:2/1080i |
| Viewing angle (cone) | 64° |
| Motion resolution | 1080 with [MotionFlow] "Clear" & "Custom" |
| Digital noise reduction | Optional; effective when engaged |
| Sharpness | Defeatable edge enhancement |
| Luma/Chroma bandwidth (2D Blu-ray) | Full luma & chroma in [Game] & [Graphics] modes |
| 1080p/24 capability | No judder |
| 2160p/24 capability | No judder |
| Measured panel refresh rate | 120Hz |
| Measured peak brightness | 880 cd/m2 (after calibration to D65) |
| Measured DCI-P3 coverage | 92% |
| Input lag (Leo Bodnar tester) | 31ms in 1080p SDR & 4K HDR |
| Full 4:4:4 reproduction (PC) | Yes for 3840×2160@60Hz with [HDMI Enhanced Signal] on in [Game] & [Graphics] modes |
Power Consumption
| | |
| --- | --- |
| Default [Standard] mode* | 53 watts |
| Calibrated [Cinema pro] mode | 45 watts |
| HDR [Cinema pro] mode | 182 watts |
| Standby | <1 watt |
Picture Quality
The 65″ Sony XE90 uses a VA-type panel which generates deep blacks by LED LCD standards. Native black level (i.e. without the aid of local dimming) measured 0.044 cd/m2 on both a full-field black and a 4×4 ANSI chequerboard pattern once peak white was pegged at our usual dark-room target of 120 cd/m2.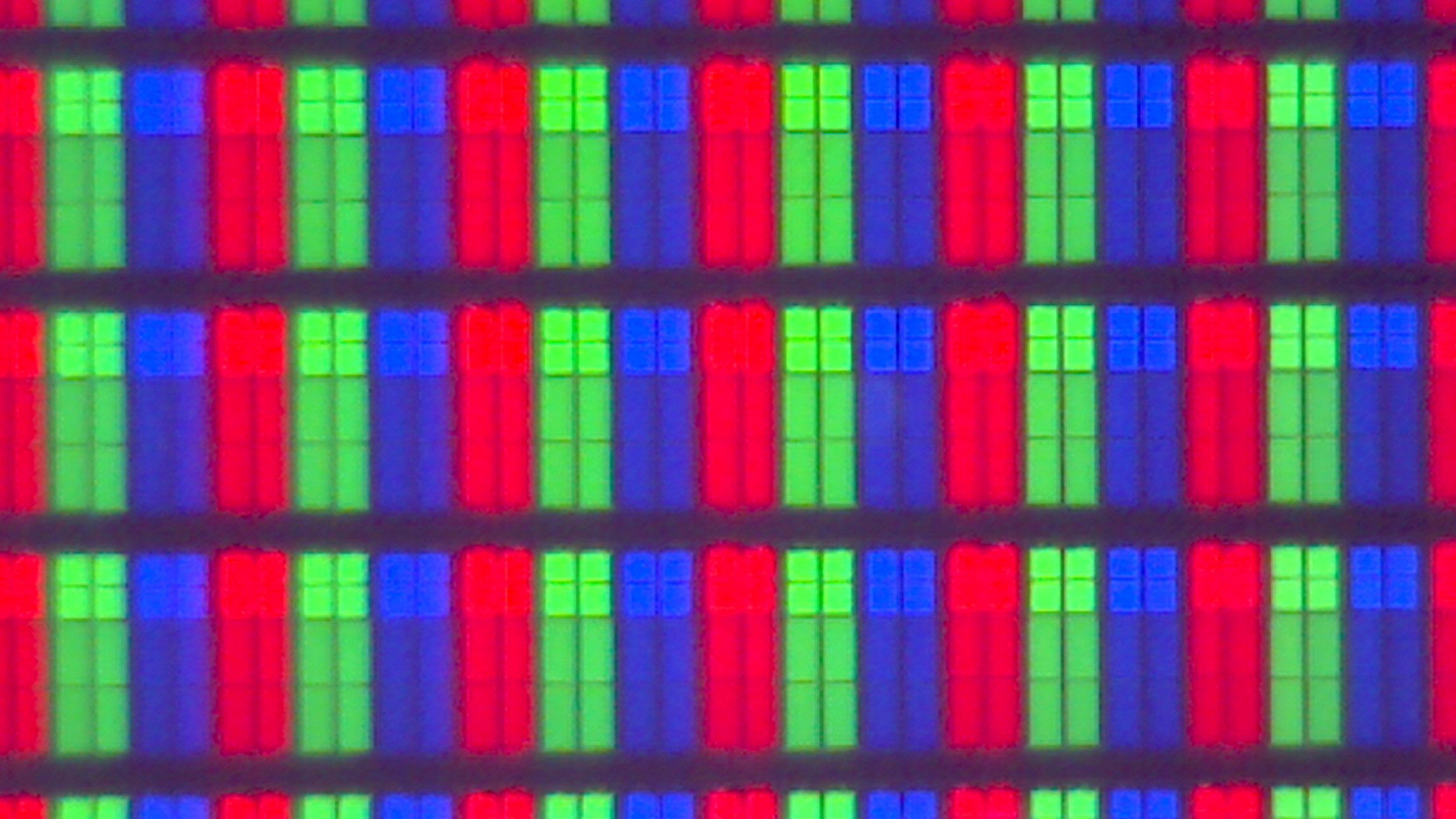 Macro photo of RGB subpixel layout confirming VA LCD matrix
Of course, one of the key selling points of the Sony KD65XE9005BU is full-array local dimming (FALD) backlight technology to improve blacks and contrast performance. Using our own custom-authored test pattern comprising a small white box crawling horizontally and then vertically along the edges of a black background, we counted five vertical columns and nine horizontal rows which totalled up to 45 independently dimmable zones.
With optimised [Auto local dimming] settings, blacks deepened to 0.033 cd/m2 on a 4×4 ANSI chequerboard pattern. Probably taking the relatively low zone count into consideration, Sony engineers have designed the Bravia XE9005's local dimming algorithm to favour reducing blooming/ haloing artefacts over achieving inkier blacks. For example, if there's bright white text against a black backdrop (for example during the opening credits of Miss Peregrine's Home for Peculiar Children), the black background on the Sony KD-65XE9005 wouldn't go as dark as the 648-zone Sony KD-65ZD9, let alone OLED TVs which boast pixel-level illumination control.
Motion processing is Sony's forte, and the Bravia XE90 doesn't disappoint in this aspect. Playback of 24Hz material (e.g. Blu-rays) was buttery smooth even without the help of motion-compensated frame interpolation (MCFI), and should you choose to engage MCFI, Sony's implementation will introduce less soap opera effect (SOE) and interpolation artefacts than other manufacturers'.
| | |
| --- | --- |
| | |
| [Motionflow] "Off" | Optimised [Motionflow] "Custom" |
The KD65XE9005 could attain 1080 lines of motion resolution (as judged via the horizontally scrolling lines in Chapter 31 of the FPD Benchmark Software test disc) assuming backlight scanning was employed with [Motionflow] set to either "Clear" or "Custom". There's some drop in light output, but the XE9005 offers enough brightness reserve to compensate.
Our Sony KD65XE9005BU review unit hit a peak brightness of 880 nits in HDR mode after calibration to the industry standard of D65 white point. DCI-P3 gamut coverage came in at 92%, which is similar to the XE94's but not as wide as most other 2017 high-end sets: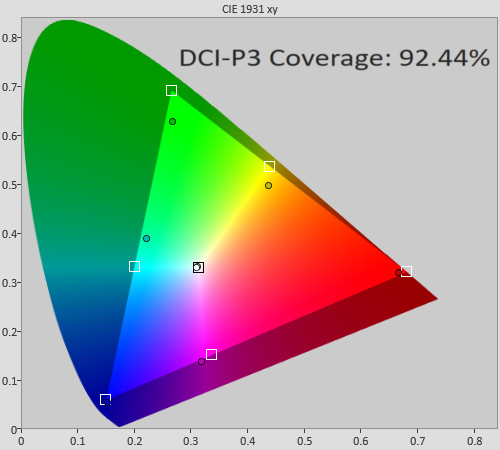 UHD HDR colour saturation tracking against DCI-P3 gamut inside Rec.2020 container
Like all Sony HDR televisions we've reviewed so far, the Bravia XE90 maintained the same PQ (perceptual quantisation) EOTF (electro-optical transfer function) tracking in 10% window measurements, ignoring 1000-nit vs 4000-nit static metadata in HDR10 content:
Click on the options below to compare PQ EOTF tracking:
1000 nits | 4000 nits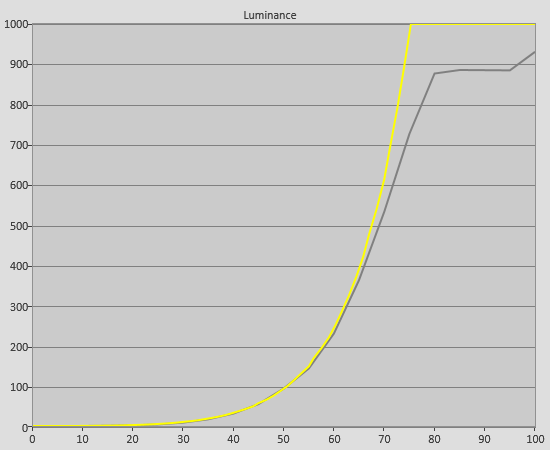 Helped by a peak brightness of 880 nits, relatively accurate PQ EOTF tracking up to 400 nits, and impressive local dimming algorithm despite the television's low zone count, HDR presentation looked fairly impactful on the KD-65XE9005. However, in its most accurate [Cinema pro] picture preset (according to multiple sources at Sony), the XE9005 would discard some of the brightest specular highlight detail (for instance the cloud detailing in the following scene in Pacific Rim) to preserve overall brightness in 4000-nit-graded Ultra HD Blu-rays.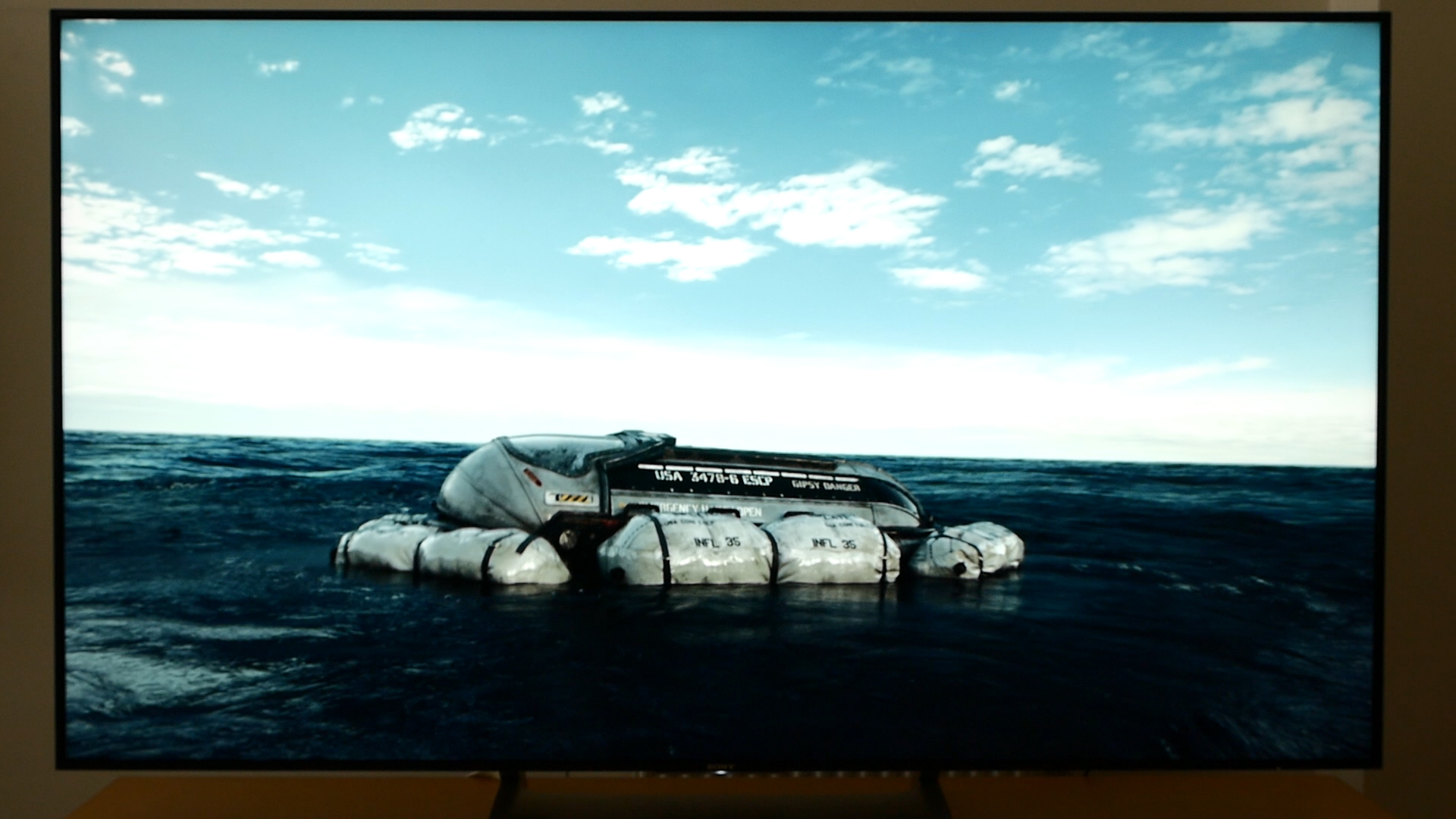 There is no established standard for tone-mapping anyway, and Sony's stance is that such bright specular highlights are so rare throughout the entire film that it's not worth sacrificing overall brightness to retain these bright details.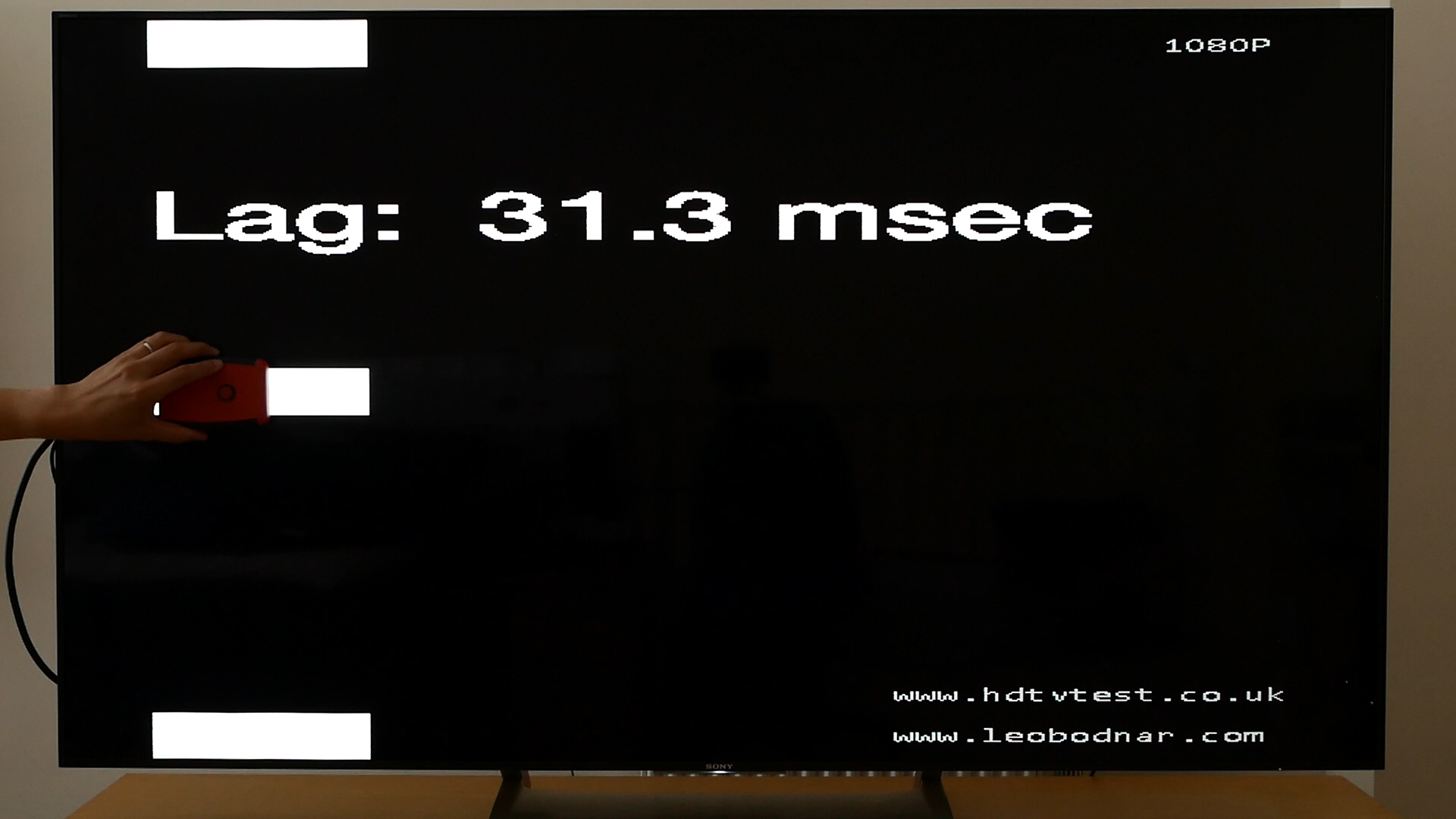 Input lag measured using a Leo Bodnar tester measured 31ms in [Game] and [Graphics] presets which both also reproduced full 4:4:4 chroma with [HDMI Enhanced Signal] set to "Enhanced". Unlike Sony TVs equipped with the X1 Extreme chipset, the KD65XE9005 exhibited the same 31-ms-latency regardless of whether the incoming video signal was 1080p or 2160p.
Video Review
Verdict
Sony has produced a number of excellent TVs this year, and the Bravia XE90 is yet another one which will likely end up being the most compelling in its price class, thanks to its full-array local dimming (FALD) direct-lit LED backlighting (which also lends itself to very good screen uniformity), excellent video and motion processing, 880-nit peak brightness, as well as low input lag.