Updated 6.00pm: LG has announced its entire 2016 lineup of new OLED TVs at the company's CES press conference, and some of the information we originally reported were inaccurate. There are four ranges and eight OLED models in total:
Signature G6: Flagship model; flat-screen rather than curved; 65-inch OLED65G6 and 77-inch OLED77G6; 2.57mm "Picture-on-Glass" design; detachable soundbar stand.
E6: Flat-panel with 2.57mm Picture-on-Glass design; 55in OLED55E6 and 65in OLED65E6.
C6: The only curved OLEDs from LG this year; 55″ OLED55C6 and 65″ OLED65C6.
B6: Flat screen; 55-inch OLED55B6 and 65-inch OLED65B6; no 3D capability.
The big news is that all these LG OLED TVs will support Dolby Vision HDR (high dynamic range) format in addition to HDR10. Other specifications include 10-bit panel, 10-bit processing, 99% DCI-P3 gamut coverage, and WebOS 3.0 Smart TV platform.
Immediately following the UHD Alliance's long-awaited announcement of its "Ultra HD Premium" certification criteria, LG Electronics (LGE) has also swiftly announced that all its 2016 OLED TV models will meet the required specifications to deliver a superior ultra high-definition and HDR (high dynamic range) experience for home consumers.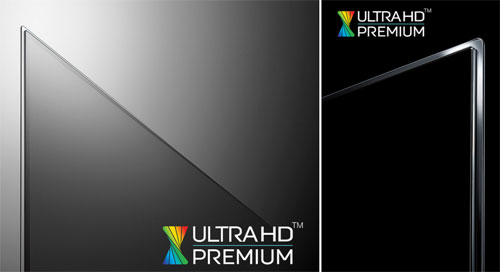 In a press release, the South Korean manufacturer has listed four new OLED TVs which have received UHDA's Premium Certification, namely the LG 55E6, 65E6, 65G6 and 77G6. Contrary to our report yesterday (which was gleaned from product codes in the WiFi certification database), it appears that there will be 55in and flat OLED TVs from LG this year after all, with the character "E" in the model number denoting flat-screen versions. Happy days!
Indeed, searching the company's own WebOS open-source database returned at least the following model numbers:
OLED55E6Y, OLED55E6V, OLED55E6T, OLED55E6P, OLED55E6K, OLED55E6D
OLED65E6Y, OLED65E6V, OLED65E6T, OLED65E6P, OLED65E6K, OLED65E6D
So LG's new flat-panel OLEDs will come in screen sizes of 55 and 65 inches, with the last letter in the model number indicating the region in which it'll be sold. For example, OLED55E6V and OLED65E6V are the FLOLED televisions that will go on sale in the UK and Europe.
The award of "Ultra HD Premium" certification from UHD Alliance (UHDA) means that LG's flat 55E6/ 65E6 and curved 65G6/ 77G6 OLED TVs are all capable of reaching a peak luminance of at least 540 nits, and a DCI-P3 gamut coverage of more than 90%. While we never found the brightness and colours on last year's OLED displays from LG and Panasonic to be lacking, any improvement in these areas especially when it comes to HDR presentation is always welcome.
The LG OLED55E6, OLED65E6, OLED65G6 and OLED77G6 will be showcased at LGE's booth at the Consumer Electronics Show (CES) 2016 in Las Vegas this week. We will be speaking to LG representatives on the showfloor to find out more details (price, release dates, etc.) about these exciting products.