Backlight/Screen Uniformity
We did not expect the Sony KDL-40NX723 to evince excellent backlight/screen uniformity, given that it is not a plasma display, and features edge-mounted LED lamps at that. True enough, we witnessed some clouding from the outset, but this was attenuated to negligible levels during real-world viewing once we calibrated the set (and threw in some bias lighting). Sony has also programmed the NX723 to dim its backlight after a few seconds when a full black screen is displayed, further reducing the chance of this phenomenon rearing its ugly head.

We also noticed a faint strip of discolouration running down the left side of the LCD screen, particularly when a monotone test pattern (for example, 30% full-field grey) was displayed. Commonly described as a "crease" when it was first picked up by owners of Sony's 2011 high-end HDTVs, this defect did not trouble us in real-life viewing, since it's located at the periphery of the on-screen content, and was only truly prominent against a solid background. Of course, those who have shelled out the best part of £1000 on a premium HDTV set may beg to differ.
Standard Definition
The Sony KDL-40NX723 certainly belongs in the upper echelon of HDTVs we've tested to date when it comes to standard-def video processing. While jaggies were not removed as cleanly as those on similar-specced Samsungs (the third block in the bouncing bars test pattern still exhibited some jagged edges), the KDL40NX723 nailed the two most common film cadences (in these parts of the world anyway) – 2:2 in 576i and 3:2 in 480i – as long as [Film Mode] was engaged.
Perhaps more importantly, scaling/ upconversion of SD video signal (whether interlaced or progressive) was very good: all the details were captured in full, and then displayed crisply without any significant ringing. Coupled with the D65 greyscale and relatively accurate colours achieved post-calibration, this made standard definition material a pleasure – rather than a pain – to watch on the Sony NX723.
High Definition
Of course, the decent black level as well as calibrated greyscale and chromaticities transferred superbly to HD content, perhaps to even greater effect due to the natively higher resolution and richer colour palette in high definition. Without any undefeatable edge enhancement nor noise reduction to mar proceedings, the Sony KDL-40NX723 faithfully reproduced every last drop of detail on screen, helped in no small bit too by the flat 2.2 gamma which conferred an enthralling sense of authenticity to the picture.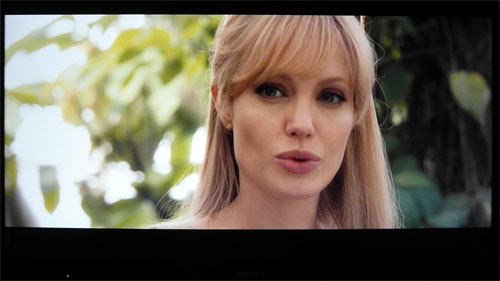 Sony Bravia LCD TVs of recent times have never had any problem handling 1080p/24 video signal correctly, and the KDL-40NX723 continues this desirable trend even with [Motionflow] switched off. However, we recommend setting [Motionflow] to "Clear" or "Clear Plus", which improves motion clarity without introducing significant interpolation artefacts, nor any soap opera effect to cinematic films.
3D Material
Unfortunately Sony's motion-compensated frame interpolation (MCFI) algorithm does not play nice with 3D content – engaging [Motionflow] would introduce unmistakable stutter to every tri-dimensional video source of different frame rates, ranging from 50Hz film and video to 60Hz video and 24p 3D Blu-ray. We advise leaving [Motionflow] off at all times when watching 3D programmes.
The first time we put on the Sony TDG-BR100 active-shutter glasses and feasted our eyes on some extra-dimensional material on the Sony KDL-40NX723 that had just been calibrated in its 3D mode, we were simply mesmerised by how accurate the colours – particularly flesh tones which can be notoriously difficult to get right – looked on screen. Although 3D calibration is still not widely performed by professional calibrators and technical publications due to its time-consuming nature plus the need for specialised non-contact meters and 3D test patterns, the result is equally as rewarding as in 2D. Video enthusiasts will be happy to know that they need not settle for subpar greyscale and colours in exchange for tri-dimensional depth on the Sony NX723.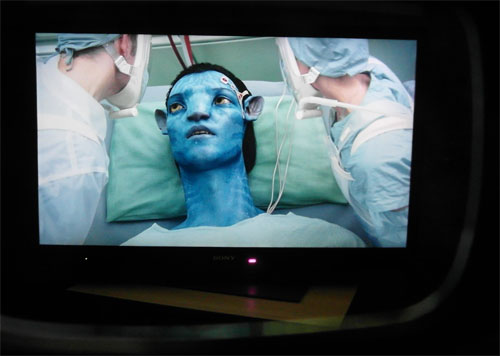 Scene from Avatar 3D (picture taken through active-shutter glasses)
When measured through the 3D glasses which naturally darkens the view, the maximum light output we could coax out of the Sony KDL40NX723 in 3D [Cinema] mode was around 155 cd/m2 or 45 fL (foot-lamberts). While this was plenty bright for critical viewing in a dimly lit room, we found it wanting in a brighter viewing environment. We imagine that this might present a problem for sports fans wishing to watch live 3D coverage of sporting events which usually take place during the day, such as Sky 3D's broadcast of the thrilling Barclays Premier League football match between Chelsea and Arsenal (a showcase of kamikaze defending if there ever was one) yesterday.
Crosstalk was present, mainly around objects that are too far or too near, especially when contrasted against a dark background, although the amount observed on the Sony NX723 was not out of the ordinary for an LCD-based 3D TV. Like most active-shutter systems, it is crucial to view the screen straight on at eye level (i.e. avoid off-axis viewing both vertically and horizontally inasmuch as possible) to minimise crosstalk.
Console Gaming
33ms was the input lag we recorded on the Sony KDL-40NX723 (with [Scene] set to "Game") with reference to a CRT display. Whilst not the lowest we've measured, it should still be serviceable for all but the most lag-sensitive of hardcore gamers.
Conclusion
We really like the 2D picture put out by the Sony KDL-40NX723 LED TV: blacks are decent; greyscale and gamma calibrate extremely well; colours are quite accurate out of the box; and its standard-def video processing is very impressive. It even looks gorgeous switched off to boot.
3D-wise, we'd tone our praise down half a notch owing to crosstalk which, while in line with what we would expect from a non-plasma 3DTV, is nevertheless still present to a certain degree. Fortunately, the fact that greyscale on the Sony KDL40NX723 can be calibrated extremely close to D65 in 3D mode undoubtedly makes extra-dimensional viewing that much more enjoyable.
Ultimately, the single most important issue that may put off potential buyers is the possibility of getting a set affected by the dreaded "crease". For reasons mentioned earlier in this article, we actually didn't mind it at all throughout our time spent with the review unit sent to us – after all, most large-sized LCD televisions exhibit screen uniformity issues in one form or another – which is why we still awarded the Sony KDL-40NX723 our "Recommended" badge primarily for its highly competent 2D performance.