2013 is a a year of many firsts for Sony: filming Wimbledon in 4K; use of quantum dot in its Triluminos Display technology; release of the first sub-£5k ultra HD TVs (with the 55in Bravia X9) in the UK, among others. It's also the first time the Japanese brand is introducing passive 3D displays in its non-4K LED LCD lineup, as implemented on the Bravia W8 series we're looking at today.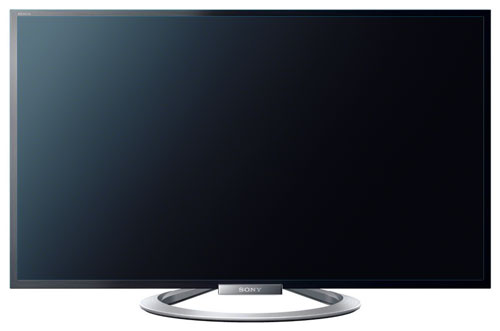 The Sony KDL47W805A sample we've received for review is the 47-inch British version within the W805 series, with other screen sizes being the 42-inch KDL-42W805A and the 55-inch KDL-55W805A. As denoted by the model number, the Sony W8 sits one rung below the flagship (for 1080p sets) W9 range, omitting Triluminos colour gamut and pseudo-local dimming of its edge LEDs. Let's find out if these missing features have any impact on picture quality.
Note: The specific model we tested was the Sony KDL47W805ABU which denotes the 3-pin-plug United Kingdom version.
Design
It will come as no surprise that the Sony KDL-47W805A bears a striking resemblance to the top-end W905A, since both are sculpted using the same "Sense Of Quartz" design philosophy. Both TVs feature a circular arc table-top stand, blue-tinted chamfer along the outer edges of its matte black bezel, and an "Intelligent Core" rectangular unit hanging from the bottom of the panel. As far as we can tell, the key stylistic differences between the Bravia W8 and W9 are that the former's bezel is slightly thicker, and its stand is finished in matte silver instead of the polished chrome seen on the latter.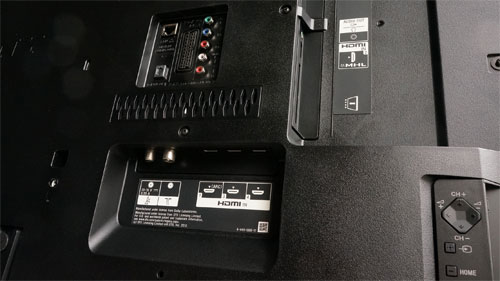 Note: The on-screen user menu, connection inputs (including 4 HDMI ports), remote controls and Smart TV interface on the KDL47W805 are very similar to the ones found on the KDL-55W905A we've reviewed back in May – please refer to that review if you haven't read it, or need a refresher.
Calibration
Like all Sony HDTVs over the past few years, the most accurate out-of-the-box picture on the Bravia KDL47W805A can be obtained by switching [Scene Select] to "Cinema". Two [Picture Modes] are available in this preset: "Cinema 1" and "Cinema 2". The former had more unnecessary picture-affecting options (for example [Live Colour]) turned off by default so we used that as our starting point.
Greyscale
Blue channel was underfilled in "Cinema 1" mode, causing the images on screen to look overly warm: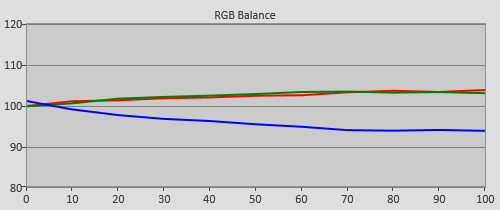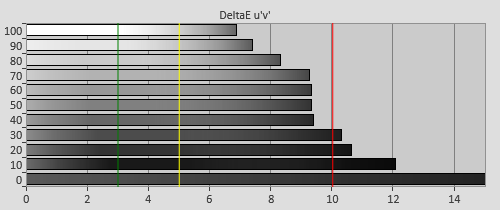 Pre-calibration RGB tracking and delta errors (dEs)
Sony hasn't been offering any advanced calibration controls beyond 2-point white balance on its UK flat-panel televisions since we started reviewing HDTVs back in 2007, and this remains true on the W8. Even its 2p WB system has its own quirks: the RGB gains are only adjustable downwards; whereas the RGB bias controls are too granular. That said, we still managed to calibrate greyscale to attain a very good result with delta errors (dEs) suppressed below 3 from 10% stimulus and above.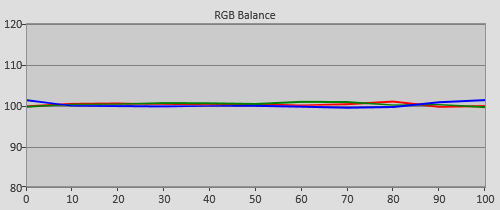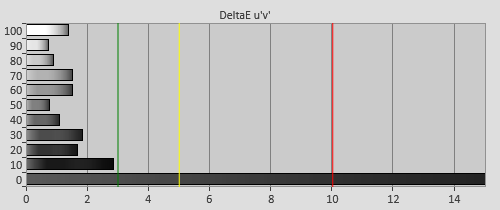 Post-calibration RGB tracking and delta errors (dEs)
Gamma
Just like the Sony Bravia W9, the KDL-47W805A's default [Gamma] setting is "-2", yielding an overall measured gamma close to 2.4 which is the reference EOTF (electro-optical transfer function) stipulated by ITU for flat-screen HD displays used in dark-room mastering.
| | |
| --- | --- |
| | |
| Pre-calibration gamma tracking (2.37) | Post-calibration gamma tracking (2.35) |
We briefly toyed with the idea of targeting gamma 2.2 by increasing [Gamma] to "0", since the W805A's native black level is above 0.1 cd/m2. However, the LED LCD TV really needed help with its black-level depth, so eventually we decided to engage [Adv. Contrast Enhancer] while keeping [Gamma] at "-2" to extract the maximum image contrast from the panel.
Colour
As was the case with every single Sony flat-panel HDTV we've ever tested, the Bravia W805A doesn't come with any advanced colour management system (CMS), so we're largely stuck with the original colours on offer. Green primary colour point at 100% saturation was deviated towards yellow, dragging 100% cyan inwards (i.e. to appear undersaturated) and 100% yellow outwards (i.e. oversaturated).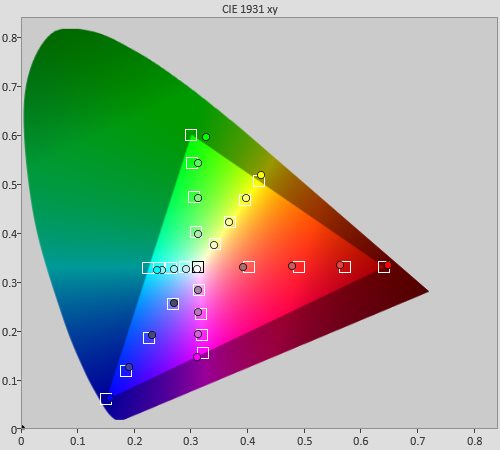 Post-calibration colour saturation tracking
On the step-up W9 model, the [Live Colour] control dictates the on-off state as well as intensity of Triluminos Display technology. Of course, the Sony KDL47W805A is not equipped with the Triluminos colour system, so what did [Live Colour] do? According to our measurements, its various settings did not dramatically alter the gamut, but mainly affected the intensity and sub-100% saturation of red. As suspected, the most accurate setting was "Off".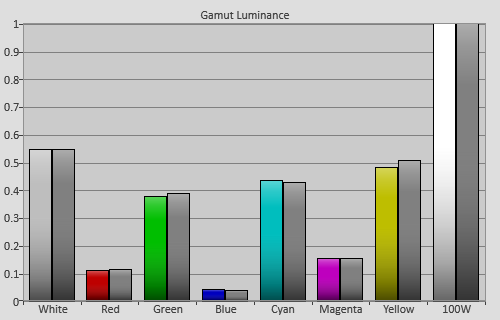 Post-calibration colour luminance (coloured bars=targets; black bars=measured values)
As things stood, the only option available in the user menu for us to calibrate colour was the [Colour] control, which we used to balance the errors in decoding and saturation tracking.
Benchmark Test Results
| | |
| --- | --- |
| Dead pixels | None |
| Screen uniformity | Good for an edge LED TV; only mild "vignetting" & DSE |
| Overscanning on HDMI | 0% if [Screen Format] "Full" & [Display Area] "Full Pixel" |
| Blacker than black | Passed |
| Calibrated black level (black screen) | LEDs dim down/ shut off |
| Calibrated black level (ANSI checkerboard) | 0.106 cd/m2 |
| Black level retention | Auto-dimming with full black screen |
| Primary chromaticity | Green primary deviated towards yellow |
| Scaling | Very good |
| Video mode deinterlacing | Decent |
| Film mode deinterlacing | Passed 3:2 cadence over 480i; and 2:2 over 576i |
| Viewing angle | Picture loses contrast/saturation beyond 45° off-axis |
| Motion resolution | 550 to 1080 with [Motionflow] engaged; 300 otherwise |
| Digital noise reduction | Optional; effective when engaged |
| Sharpness | Defeatable edge enhancement |
| Luma/Chroma bandwidth (2D Blu-ray) | Full luma; chroma horizontally blurred except in [Game] & [Graphics] mode |
| 1080p/24 capability | No judder in 2D and 3D |
| Input lag (high-speed camera) | 6ms compared to lag-free CRT |
| Leo Bodnar input lag tester | 17ms |
| Full 4:4:4 reproduction (PC) | Yes, in [Game] and [Graphics] mode |
Power Consumption
| | |
| --- | --- |
| Default [Standard] mode | 36 watts* |
| Calibrated [Cinema 1] mode | 42 watts |
| Standby | <1 watt |
*Note: Out of the box, [Light Sensor] and [Auto Light Limiter] are both engaged, which explains why energy consumption measured lower prior to calibration than after.
Picture Quality
As can be deduced from its passive 3D breed, the Sony KDL47W805 uses an IPS LCD panel whose black-level response usually leaves a lot to be desired. True enough, once we adjusted [Backlight] and [Contrast] to peg peak white at 120 cd/m2, native black level on the W8 measured 0.13 cd/m2 both on a full-field video black screen (with a pause icon displayed from our Blu-ray player to defeat the auto-dimming) and ANSI checkerboard pattern. For comparison's sake, this year's LED TVs using VA-type LCD panels (including Sony's own W9 series) are capable of 0.05 cd/m2 blacks; and Panasonic's industry-leading plasmas can go below 0.01 cd/m2. In other words, the Bravia KDL-47W805A's black level was mediocre.
To give the television a helping hand in this department, we experimented with the [Adv. Contrast Enhancer] option. Unlike the top-end Sony W905A, the W805's edge LED backlight is not blessed with pseudo-local dimming technology, so all this control amounts to is dynamic manipulation of contrast/gamma on a global rather than zonal basis. [Adv. Contrast Enhancer] "Medium" and "High" introduced too much fluctuation in luminance, which ruled them out for us instantly.
We witnessed some brightness fluctuations with [Adv. Contrast Enhancer] "Low" too, but they were rare and subtle enough for us to seriously consider embracing this setting. Black level improved substantially with this setting engaged, coming in at 0.043 cd/m2 full-screen black and 0.106 cd/m2 ANSI respectively. Shadow detail and bright highlights could get muddied from time to time, but overall we felt the boost in contrast performance was worth the compromise.
Colours looked suitably natural and well-saturated, though if compared side-by-side against a reference display, green (for example the grass on Wimbledon's lawns) appeared a little off-hue. High-definition detail was outstanding, without any unnecessary noise reduction or edge enhancement to mar proceedings as long as [Sharpness] was left at its neutral value of "50" in [Cinema 1] mode.
With [MotionFlow] set to either "Standard" or "Smooth", motion resolution (as determined through the scrolling lines test scene in Chapter 31 of the FPD Benchmark Software disc) hit 550 on the KDL-47W805, which was lower than the 850-900 achieved on the Sony W9. In any case, these two settings introduced soap opera effect into film-based content, and so we do not recommend their use.
The [MotionFlow] settings of "Clear", "Clear Plus" and "Impulse" all caused the picture to darken on screen, since there's some backlight scanning/ black frame insertion involved. After trying all these options out on test patterns as well as real-world material (such as the Confederations Cup final and Wimbledon tennis matches), "Clear" was evidently the best choice, delivering a motion resolution of 1080 whilst keeping interpolation artefacts and luminance drop to a minimum.
Standard-definition processing was among the better ones we've seen, featuring crisp scaling with full detail capture, in addition to competent film cadence detection once [Film Mode] "Auto" was engaged. Like the step-up Bravia W905A, video-mode deinterlacing on the Sony KDL47W805A was not as good as midrange/high-end 2013 models from Panasonic and Samsung, betraying more jaggies in HQV Benchmark test sequences, although we'd be lying if we said that we noticed more such jagged edges in real-life viewing.
Our review sample exhibited surprisingly good backlight consistency for a large-sized flat-panel TV with edge-mounted LEDs. Once we dialled down [Backlight] (in keeping with our target peak white luminance of 120 cd/m2) and engaged [Adv. Contrast Enhancer], any backlight bleed from the corners of the screen became negligible. Like on the flagship Bravia W9, we could spot mild "vignetting" (i.e. the edges appeared slightly darker) on the KDL-47W805 with certain content, but it didn't really bother us in real-world viewing. There also remained some minor dirty screen effect (DSE) noticeable on panning shots across a uniformly toned background, but this is probably unavoidable on a display where a limited number of LED bulbs placed along the borders are asked to illuminate the entire LCD panel – we've seen much worse on other edge LED TVs.
Off-axis viewing was a major point of contention on the Sony KDL55W905A we reviewed in May. We didn't expect it to be so on the W805 series, since the IPS panel used is well-known for wider viewing angles as far as LCD goes. Images on our KDL47W805ABU review unit started losing contrast and saturation beyond 45° off-axis, which is par for the course for IPS-based LCD panels.
3D is of the passive variant, which means bright, flicker-free tri-dimensional images. We did not detect any significant crosstalk, but as is the case with all passive 3DTVs, watching 3-D content within 15° of eye level vertically was necessary to avoid seeing double "ghost" images, and dark horizontal lines plus half-res jagged edges were noticeable at closer viewing distances. The 47in Sony Bravia W8 ships with four pairs of polarized 3D glasses (which require assembly).
We've lauded the Sony W9's excellent responsiveness for playing video games, and somehow the KDL-47W805A managed to surpass that with even lower input lag measurements. Clocking 6ms using the high-speed camera/digital stopwatch method, and 17ms via the Leo Bodnar input lag tester, the 47W805 sits pretty atop our input lag ranking table at this time of writing. Gaming was insanely fluid and addictive on this set.
Conclusion
The Sony KDL47W805 doesn't quite scale the heights of the top-end W9, but is a great example of a TV that makes the best of IPS LCD/ passive 3D technology. It delivers quite accurate pictures after calibration, and handles HD, SD and 3D content with aplomb. Native black level is not as deep as VA-based LED LCD or plasma TVs, but this can be partially compensated by engaging [Adv. Contrast Enhancer] "Low".
For us, if there's one overwhelming reason to buy the Sony W8, it must be for its unrivalled suitability for video gaming. With [Game Mode] enabled, our KDL47W805A sample not only registered the lowest input lag we have on record, but also was capable of 4:4:4 chroma reproduction. And unlike plasmas, there's absolutely no risk of image retention or permanent screenburn. Sony has been on a roll with brilliant gaming displays from its 2013 Bravia TV range, and this will surely go down a treat with all gamers including future owners of the Japanese manufacturer's next-generation PlayStation 4 (PS4) console.