The Viera DX750 is the second 2016 TV from Panasonic to arrive in our test room, following on from the highly impressive flagship DX902/ DX900 series we reviewed some two months ago. Three screen sizes are available, namely the 50-inch TX-50DX750B, 58-inch TX-58DX750B and 65-inch TX-65DX750B (the "B" suffix denotes the 3-pin-plug British version). Today, we're reviewing the smallest 50in model.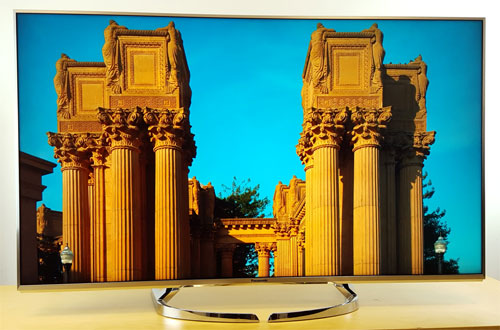 The Panasonic TX-50DX750 features an ultra high-definition (UHD) resolution of 3840×2160, edge-lit LED backlighting, HDR (high dynamic range) playback and the company's updated Firefox OS Smart TV platform. Unlike the top-tier DX902 however, the DX750 is not Ultra HD Premium-certified due to lack of native 10-bit panel and inability to hit 1000 nits peak brightness, so it'll be interesting to see if these deficiencies have any impact on picture quality especially in terms of HDR.
Design
The attractive aesthetics of the Panasonic TX50DX750B belies its modest price tag. The slim, brushed metallic silver bezel sports a shiny accent along its chamfered outer edges. But what truly sets the Viera DX-750 apart from every other television on the market is its unique four-way stand, which allows owners to configure the stand layout in four different permutations by placing the gleaming chrome feet either at the sides or the centre, facing front or back. Our preferred configuration was with the feet forming an incomplete circle in the central position.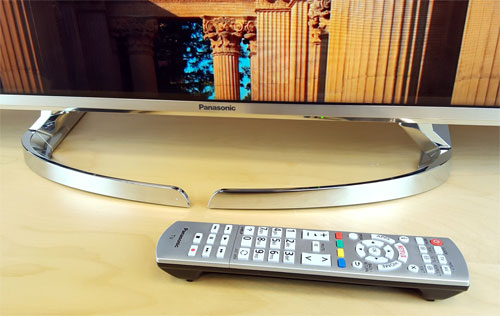 While a bit plasticky around the rear, build quality was decent considering the price point. The 50DX750 ships with a conventional remote with a matte silver front to complement the TV's all-silver theme. The 1.5m power cable is hardwired into the display.
Connections
The Panasonic DX750B provides four HDMI sockets, of which only two (HDMI1 and HDMI2) passed 3840×2160@60Hz video signal with HDCP 2.2 according to our Murideo Fresco Six-G test device. Detachable cover plates are included with the set for tidier cable management of the digital and legacy input compartments.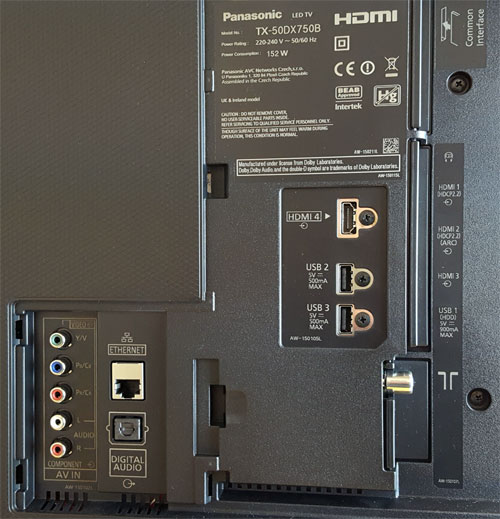 Calibration
We calibrated our Panasonic TX-50DX750B review unit using a profiled Klein K10-A meter, a DVDO AVLab TPG signal generator, and SpectraCal's CalMAN Ultimate software. The TV's excellent calibration controls allowed us to achieve highly accurate greyscale and colours for watching high-definition content.
Greyscale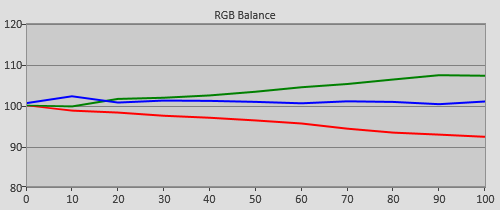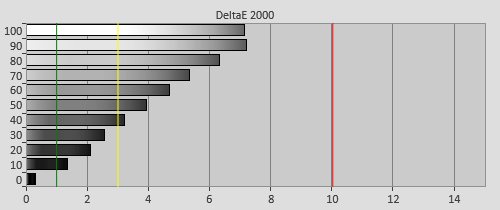 Pre-calibration [True Cinema] RGB tracking and delta errors (dEs)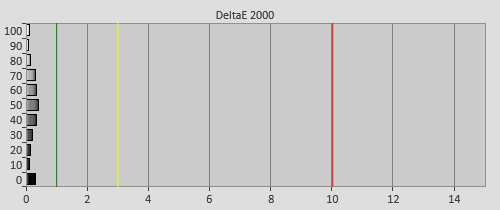 Post-calibration RGB tracking and dEs in [True Cinema] mode
Gamma
| | |
| --- | --- |
| | |
| Pre-calibration gamma tracking (2.49) | Post-calibration gamma tracking (2.41) |
Colour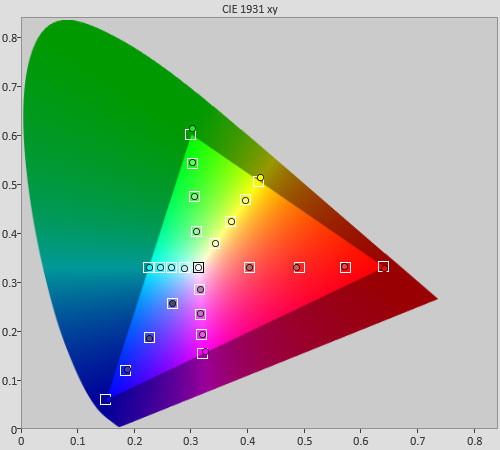 Post-calibration colour saturation tracking in [True Cinema] mode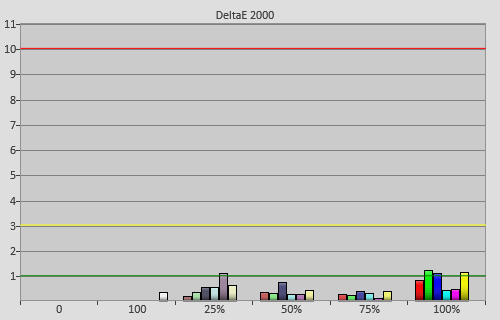 Post-calibration colour errors (<3 not appreciable to the eye)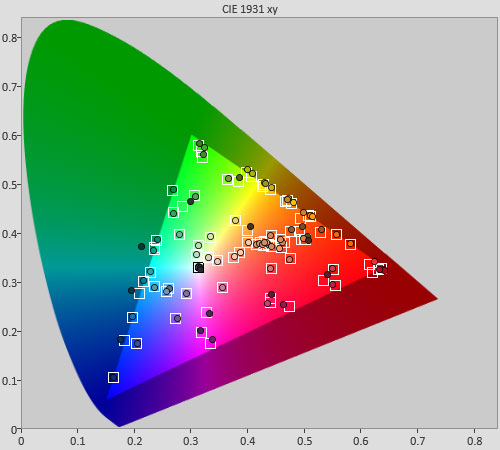 Post-calibration Colour Checker SG test in [True Cinema] mode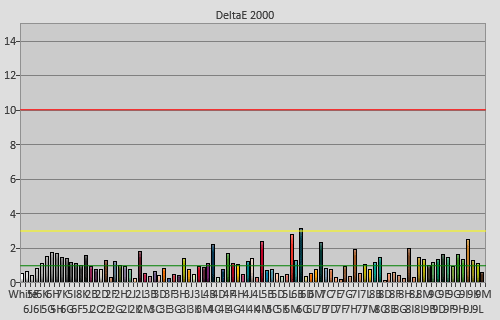 Post-calibration Colour Checker SG errors (<3 not appreciable to the eye)
Benchmark Test Results
| | |
| --- | --- |
| Dead pixels | None |
| Screen uniformity | Good; mild DSE (dirty screen effect) |
| Overscanning on HDMI | 0% with [16:9 Overscan] set to "Off" |
| Blacker than black | Passed |
| Calibrated black level (black screen) | LEDs shut off |
| Calibrated black level (4×4 ANSI) | 0.023 cd/m2 |
| Black level retention | Some fluctuation with [Adaptive Backlight Control] on |
| Primary chromaticity | Very good |
| Scaling | Very good |
| Video mode deinterlacing | Effective jaggies reduction |
| Film mode deinterlacing | Passed 3:2 & 2:2 in SD & HD if [Film Cadence Mode] on |
| Viewing angle (cone) | 46° |
| Motion resolution | 1080 lines with optimised [IFC] "Custom" |
| Digital noise reduction | Optional; effective when engaged |
| Sharpness | Defeatable edge enhancement |
| Luma/Chroma bandwidth (2D Blu-ray) | Full luma; chroma slightly blurred vertically even with [1080p Pure Direct] on |
| 1080p/24 capability | No judder in 2D; judder in 3D |
| 2160p/24 capability | No judder |
| Measured panel refresh rate | 120Hz |
| Measured peak brightness | 507 cd/m2 |
| Measured DCI-P3 coverage | 95% |
| Leo Bodnar input lag tester | 48ms with [Game Mode] enabled |
| Full 4:4:4 reproduction (PC) | Yes for 1920×1080 & 3840×2160@60Hz |
Power Consumption
| | |
| --- | --- |
| Default [Normal] mode | 109 watts* |
| Calibrated [True Cinema] mode | 58 watts |
| HDR mode | 125 watts |
| Standby | <1 watt |
Picture Quality
Similar to the step-up TX-58DX902B, the Panasonic TX50DX750 uses a Super MVA (SMVA) LCD panel from Taiwanese vendor Innolux Corporation, with the only difference being that the DX750's was 8-bit whereas the DX902's was 10-bit. In fact, the native black level measurements were uncannily close: with [Adaptive Backlight Control] or pseudo-local dimming disabled, we obtained a reading of 0.032 cd/m2 from the middle black patch in a 4×4 ANSI chequerboard pattern once we pegged peak white on our 50DX750B sample to our regular target of 120 cd/m2 for dark-room critical viewing.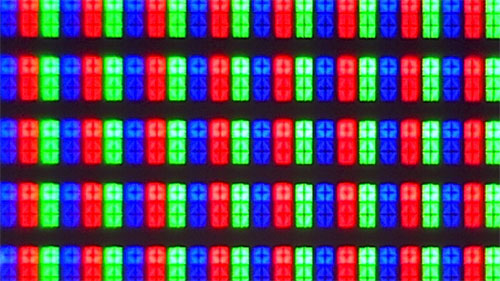 Macro photo of subpixel structure confirming VA-type LCD matrix
A quick thermal scan revealed that the edge LEDs are mounted along the bottom of the screen: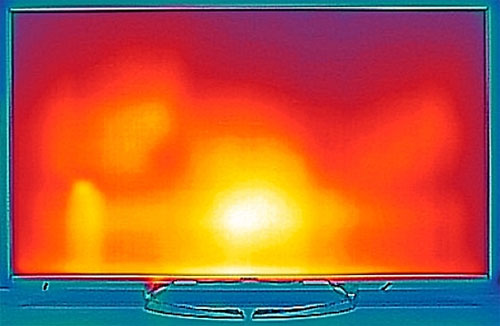 While the 50″ Panasonic DX750 offers some form of pseudo-local dimming which can be activated via the [Adaptive Backlight Control] option, we found it very basic and limited in effectiveness. Using our own test pattern consisting of a small white box crawling horizontally and then vertically along the borders of a black screen, we discovered that the TX-50DX750B could only switch off/ dim down its backlight in four vertical columns spanning the entire height of the screen, which is unsurprising given the television's bottom-mounted LED configuration.
Among the [Adaptive Backlight Control] settings, "Min" favoured darkening/ illuminating all four zones together, essentially amounting to frame dimming. [ABC] "Mid" would keep at least 3 consecutive zones illuminated, whereas "Max" would allow one zone to be lit independently from the other three (but this severely skewed gamma and lowered peak white down to 77 cd/m2 on a 4×4 ANSI chequerboard). More often than not, the higher [Adaptive Backlight Control] settings would cause HDR dark scenes featuring a brighter object to exhibit vertical stripes of blooming/ haloing, not to mention intermittent backlight fluctuations.
The TX-50DX750B's motion performance wasn't drastically different from that of the flagship DX902. Setting [Intelligent Frame Creation] to "Min", "Mid" or "Max" merely doubled motion resolution (as determined using the horizontally scrolling lines in Chapter 31 of the FPD Benchmark Software" test disc) from the sample-and-hold baseline of 300 lines to 600. Even the least aggressive [IFC] "Min" setting introduced soap opera effect (SOE) to 24p films however slight.
| | |
| --- | --- |
| | |
| [Intelligent Frame Creation] "Off" | Optimised [IFC] "Custom" |
To achieve a higher motion resolution of 1080 lines without incurring SOE or interpolation artefacts, we needed to optimise the values in the [Intelligent Frame Creation] "Custom" submenu which also contains a [Clear Motion] red frame insertion option.
Like the DX902/ DX900, black smearing was more apparent than other VA-based LCDs from rival TV brands. Viewing angles were similarly narrow too:
Upon recognition of the necessary HDR10 metadata, the Panasonic DX750 would kick into HDR mode which involved bumping [Backlight] and [Contrast] to maximum within the same picture preset. As a consequence, many picture-affecting options – such as [Adaptive Backlight Control], [White Balance] and [Colour Management] – are shared between SDR and HDR within the same picture mode, making optimal HDR calibration not easy to achieve.
HDR Greyscale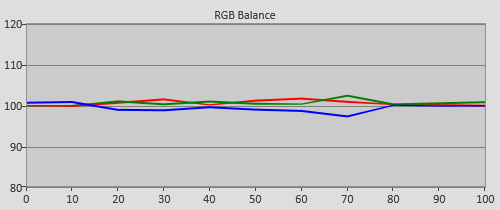 RGB tracking and dEs in HDR [True Cinema] mode
HDR EOTF
EOTF (electro-optical transfer function) & PQ curve
HDR Colours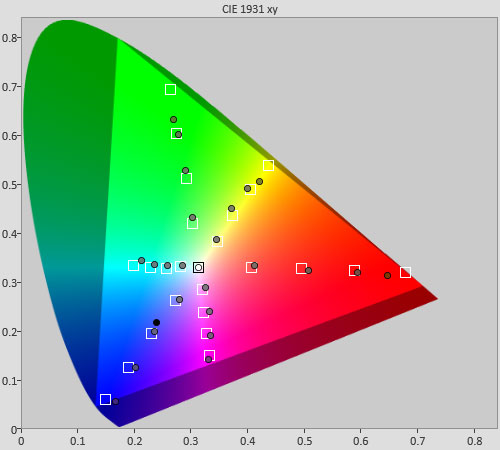 Post-calibration saturation tracking with reference to DCI-P3 inside Rec.2020 container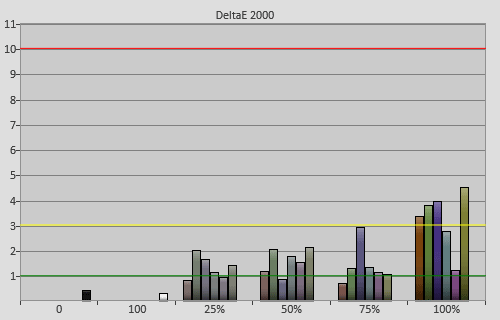 Colour errors in HDR [True Cinema] mode (<3 not appreciable to the eye)
Peak brightness came in at 507 cd/m2 on a 10% window, and didn't drop by much either on a full-field white raster (497 cd/m2). Although the Viera TX-50DX750's tone-mapping algorithm could resolve white up to 1000 nits, the set's actual peak luminance of 500 nits (not to mention the absence of effective local dimming) meant that we were left yearning for more.
On the bright side (pardon the pun), the Panasonic TX50DX750B presented 2160p/24 signal from 4K Blu-rays without judder, and manifested surprisingly little posterisation in the skies in The Revenant and The Martian – a testament to the Japanese manufacturer's exemplary video processing prowess that successfully compensated for the lack of native 10-bit panel.
Whilst the television doesn't ship with any 3D glasses included, the Viera DX750B does support 3-D of the active-shutter glasses (ASG) variant, though the quality wasn't very good. First, the 3DTV didn't deliver full HD 3D resolution: the 1080 horizontal single-pixel alternate black-and-white lines in our custom-authored 3D resolution test pattern were merged into a solid grey block. Slow panning shots in 24Hz (3D Blu-ray) and 50Hz tri-dimensional content would also display with some judder, indicating that 3-D handling was 60Hz-centric on the 50DX750B.

With [Game Mode] engaged, input lag measured 48ms which may put off demanding gamers. Lag times in [1080p Pure Direct] and [True Cinema] modes were higher at 61ms and 111ms respectively.
Verdict
Even though its HDR rendition left us slightly underwhelmed owing to 500-nit peak brightness and ineffectual pseudo-local dimming, the Panasonic TX-50DX750B delivered outstanding SDR image quality with accurate colours and superb processing. The TV's restricted viewing angles and higher propensity for dark smearing were direct consequences of the Innolux SMVA panel used, but at least it yielded some of the deepest native black-level reproduction we've measured from an LED LCD.
In fact, when you consider that LG's UH770V and Sony's XD85 use IPS-type LCD panels which feature weaker contrast performance, and the HDR presentation of Samsung's KS7500 was just downright unconvincing despite its ability to hit 1000 nits, the Panasonic DX750 could very well turn out to be the best-performing midrange 4K HDR television for 2016. We'll know more when we test Samsung's flat-screen KS7000 sometime this month…
Note: If you're considering buying this television, please support this website by making your purchase from our sponsor Crampton & Moore Leeds – call 0113 2446607 and ask for store manager David (who also organises our annual TV shootout event), quoting HDTVTest for advice, best price and first-rate service.