2019 TV Shootout: LG C9, Panasonic GZ2000, Sony AG9 OLED & Samsung Q90R QLED
By Vincent Teoh
- 25 July 2019
The annual HDTVTest TV shootout, organised together with UK electrical retailer Crampton & Moore, will take place in Greater London on Sunday the 18th of August, but with an interesting twist this year.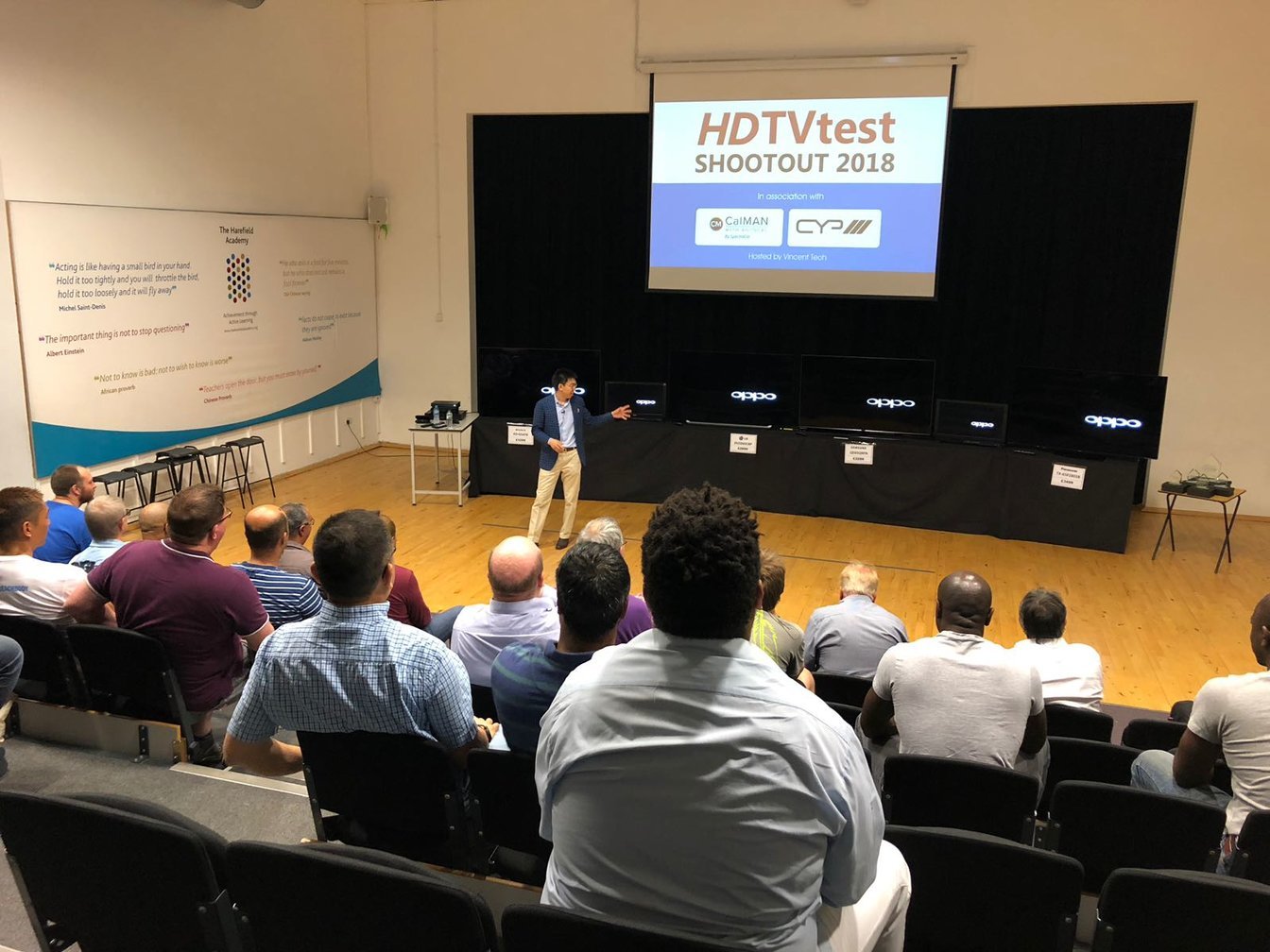 Now in its 6th year, members of the public are invited to vote on the best TV of 2019 in terms of picture quality in a free-to-attend shootout event. However, this year the TVs will be mounted on floor stands supplied by B-Tech AV Mounts, with the logos and bezels carefully masked so that the voting attendees won't know the brand and model of each TV, constituting what is known as a "blind" shootout to remove any potential brand bias however subconscious. Video source switching will be performed behind a curtain to ensure no telltale information bar or pop-up notification gives away the identities of the televisions.
Four 65-inch 4K Ultra HD televisions from the leading TV brands in the United Kingdom will be compared, namely (in alphabetical order):
LG C9;
Panasonic GZ2000;
Samsung Q90R; and
Sony AG9.
At least one professional mastering monitor will be present at the event, so each TV can be compared directly beside a reference display for colour accuracy, not to mention shadow detail and specular highlights rendition.
All TVs will be given adequate time to run in, and calibrated to the common standards used within the film and broadcast industry for day, night, game, HDR and (where available) Dolby Vision modes, with assistance from Tyler Pruitt of Portrait Displays (the company responsible for the industry-leading CalMAN calibration software) and Maciej Koper from HDTVPolska.com. A selection of content (4K Blu-ray, Blu-ray, recorded terrestrial broadcast, HDR games, etc.) will be shown on all the TVs through a HDMI distributor kindly supplied by CYP Europe, and attendees will be asked to rate the TVs (1 to 5 scale) in the following categories (subject to change):
Contrast performance;
Colour accuracy;
Motion handling;
Video processing;
HDR performance;
Bright-room performance; and
Gaming
The TV which receives the highest score across all categories will be crowned the "Best TV of 2019". Awards will also be given out for the "Best Home Theater TV", "Best Living Room TV", "Best HDR TV" and "Best Gaming TV".
The HDTVTest 2019 TV shootout event will take place on Sunday the 18th of August from 10.30am to 3.30pm at Harefield Academy, Uxbridge, UB9 6ET, United Kingdom. Attendance is free, but registration is required, and places are limited to 50 seats on a first come, first served basis. To register, please fill in the form at https://www.hdtvtest.co.uk/news/shootout