Apple TV+ Video Streaming Service Launches in UK
By Mike Wheatley
- 4 November 2019
Apple has officially launched its new video streaming service, Apple TV+ in over 100 countries including the U.K. The service offers just eight titles at launch but Apple is promising much more content will be made available in the near future.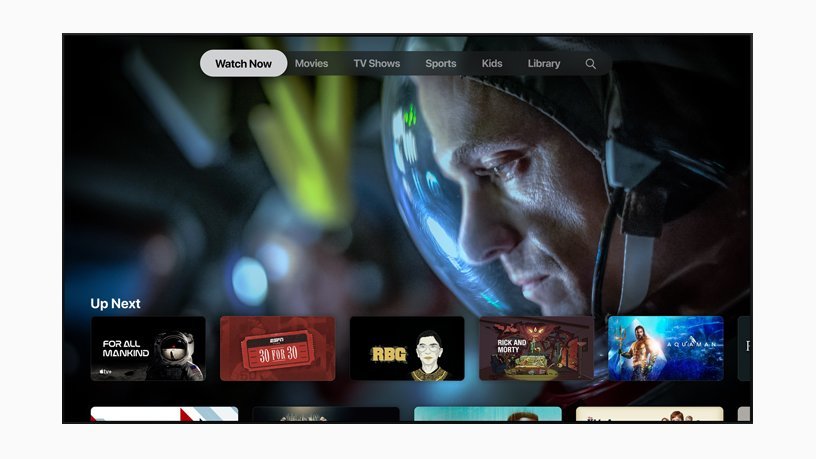 Apple TV+ launched on Friday with the first two episodes of its exclusive shows See, Dickinson, For All Manking and The Morning Show, which are available to watch free on all Apple TV and iOS devices. Those who wish to watch further episodes will be required to buy a subscription, which costs £4.99 per month.
With such a low price it's clear that Apple intends on undercutting its main rival in the space, Netflix, as well as other new competitors such as Disney, which will launch its own streaming service later this month. But the low price also reflects the fact that Apple's library of content at launch is infinitesimally small when compared to rival services. Right now, viewers will only be able to watch the first three episodes of See, For All Mankind and The Morning Show, with new episodes made available once a week. The entire first season of Dickinson is available for binge watchers, but once that's done, most will presumably be jumping back to Netflix while they await the release of more Apple content in the coming months.
"Audiences in over 100 countries and regions can now enjoy Apple TV+, home to an all-original lineup of powerful shows and movies from today's greatest storytellers," Eddy Cue, senior vice president of Internet Software and Services at Apple. "It was important for us to make it easy for everyone to watch across all their favorite screens, so Apple TV+ is the most broadly available Apple service ever from day one."
As well as being able to watch Apple TV+ on any Apple TV or device, users can also choose to view the content in 4K resolution with Dolby Vision HDR and in some cases, Dolby Atmos surround sound too. Of course, they'll need a compatible device to take advantage of those features.
Apple TV+ is accessed via the Apple TV app, which can be downloaded on any iOS device and some recent Samsung Smart TVs, Amazon Fire TVs and Roku devices. The app also provides access to iTunes' full library of movies and TV shows, plus content from partners such as HBO and Showtime.