Bang & Olufsen debuts the Beovision Contour, its first 48-inch OLED TV
By Mike Wheatley
- 20 November 2020
Danish luxury TV and audio manufacturer Bang & Olufsen has announced its first 48-inch OLED TV, the new Beovision Contour with premium sound technology thanks to the incorporation of its Stage soundbar.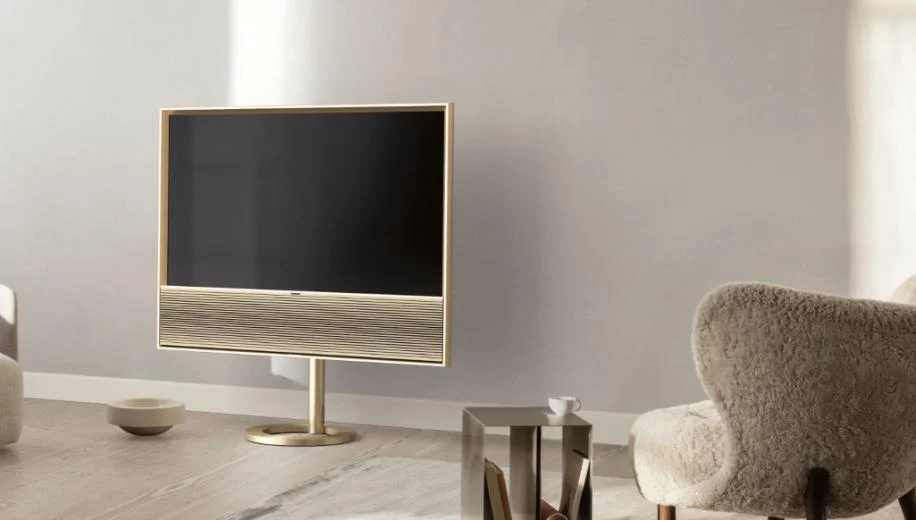 The B&O Beovision Contour TV means buyers now have a more luxurious 48-inch OLED option to choose from, following the launch of similar sized models by LG Electronics, Sony and Philips earlier this year.
B&O uses OLED panels supplied by LG Display and its TVs essentially just enhance that company's offerings, so it's not a surprise to see that it has the same capabilities as LG's new CX OLED model, including Dolby Vision IQ and HDMI 2.1 ports.
The real difference between the two models is that the B&O Beovision Contour should deliver much better sound quality thanks to the company's Beovision Stage soundbar, which fits with its guiding principle that says "Sound is more than half the picture".
Most smaller-sized TVs traditionally tend to downplay the sound aspect, but that's not so with the Beovision Contour, which comes with eleven powerful speakers including 4x4-inch custom bass drivers that enable bigger cone movement, improving bass performance to 30 Hz, the company said.
B&O's TVs are also noted for their stylish design, and the Beovision Contour keeps that tradition alive with its silver, black anthracite and gold tones, with a choice of a Light Oak or Smoke Oak wood veneer to match the colour options for the aluminium frame.
Buyers can choose from three different stand options, including an aluminium floor stand, an adjustable wall mount, or a tabletop stand that's made from a solid rectangular aluminium billet.
The cabling is kept neat and tidy too as it's hidden away and routed through the centre rear of the TV.
"We are excited to launch Beovision Contour, a screen viewing experience that doesn't compromise on quality or design aesthetics despite its size," said B&O's senior vice president of Product Management, Christoffer Østergaard Poulsen. "Our customers tell us there is a need for a mid-sized screen solution with flexible placement options built to the highest standards of performance and design, which is why we made Beovision Contour."
With the Beovision Contour added to its lineup, B&O now offers a full choice of OLED screen sizes, with its Beovision Harmony model maxing out at 88-inches, and its 55-inch and 65-inch Beovision Eclipse, also updated recently, covering the mid-size options.
The company said the Beovision Contour is on sale now at its online store, priced at £5,150. The updated Beovision Eclipse 2.
Besides the Beovision Contour, B&O is also offering a new motorised Beovision Harmony Floor Stand for its Eclipse and Harmony models that can be adjusted to different viewing angles at the click of a button. The stand comes in a choice of silver, brass, bronze and gold tones to match the colour options of those TVs.
The updated Beovision Eclipse 2, plus the motorised floor stand, is priced at £8,650.