Bowers & Wilkins Launches Formation Multi-room Audio System in UK
By Mike Wheatley
- 29 April 2019
Bowers & Wilkins has announced UK pricing details for B&W Formation, its new wireless, mesh-based multi-room system for music and TV audio.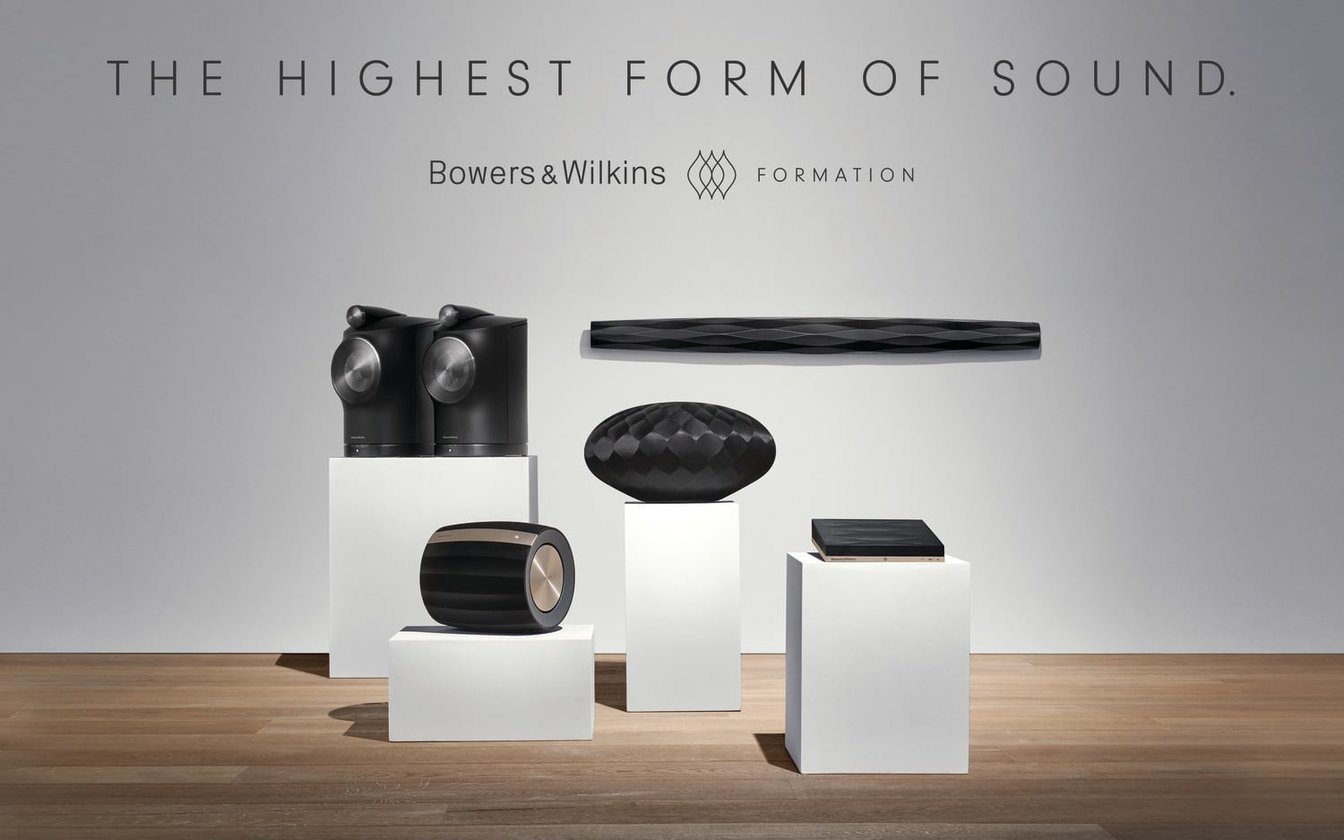 B&W Formation is said to deliver true, wired hi-fi sound quality from a series of wireless speakers and audio devices, and consists of five pieces, including the Formation Duo active wireless speakers, Formation Wedge wireless speaker, Formation Bar soundbar, Formation Bass subwoofer and Formation Audio wireless hub.
The system is meant to rival similar multi-room systems sold by companies such as Sonos and Bluesound.
B&W said the Formation system was designed completely in-house, and communicates using a patented mesh network. In its press release, the company said that ensuring a seamless connection was absolutely critical, and that the Perfect Speaker Synchronisation function its built enables audio transfer in less than a microsecond between the Duo speakers, and just milliseconds between the other components.
As such, the B&W Formation range is clearly a premium product, with prices to match.
The centrepiece of the range is the B&W Formation Duo, which is a pair of active wireless speakers that use the 6.5-inch Continuum driver found in the B&W 800 Series. They also feature a 1-inch carbon-domed tweeter that's decoupled from the main speaker, instead placed on the top of its body. The speakers sport a nice modern aesthetic, and come in a choice of black and white, priced at £3,499.99, with speaker stands sold separately at £699.99.
Next up is the Formation Wedge dedicated wireless speaker featuring a 120-degree elliptical design, which seems to be based on the company's older B&W Zeppelin model. The Formation Wedge houses five speakers with their own amplification, 2 x 1-inch double-dome tweeters, 2 x 3.5-inch FST mid-range speakers and a 6-inch subwoofer, priced at £899.99.
There's also a separate soundbar and subwoofer to go with them. The B&W Formation Bar is priced at £999.99, and packs nine drive units including a dedicated center channel, while the Formation Bass subwoofer, priced at £899.99, relies on 2 x 6.5-inch opposed drivers and Class D amplification.
As for the Formation Audio wireless hub, this does the job of connecting older audio products to the rest of the system. It costs £599.99 and serves to connect CD players, turntables and just about any other kind of audio device to the Formation multi-room system, with both digital and analogue inputs and outputs available.
Lest we forget, all of the Formation products are tied together by the B&W Formation app, which is available on both Android and iOS devices. The app is used to control both the system and various music streaming services, and features support for Apple's AirPlay wireless protocol, Spotify Connect, Roon Ready, aptX HD, Bluetooth and 96/24-bit high resolution audio.
The B&W Formation system goes on sale in the UK today.