Google will bring its Google TV skin to other brands in 2021
By Mike Wheatley
- 2 October 2020
Google said this week the Google TV interface on its new Chromecast TV dongle is coming to other Android TV platforms.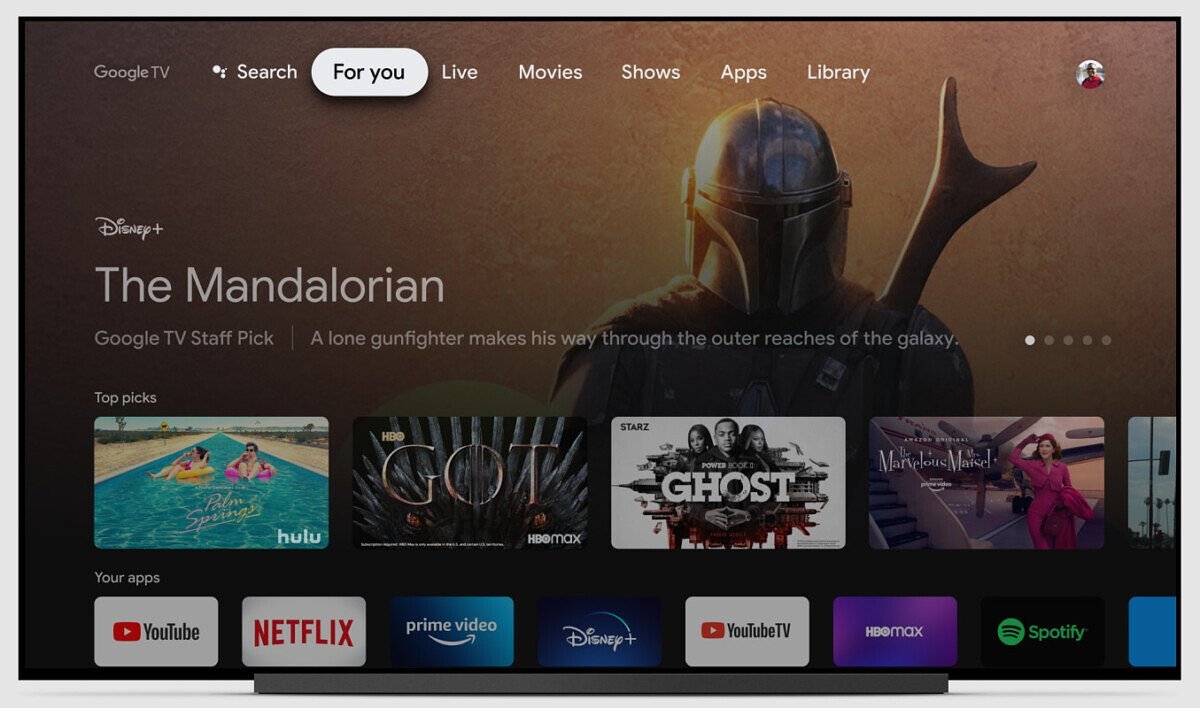 The new Chromecast with Google TV device was announced at the Made by Google 2020 event on Wednesday, and along with new features like support for HDR it also introduced the new interface, pictured above.
Google TV is essentially just a "skin" for the Android TV operating system, which is a customized version of Android that's designed for televisions with their larger screens. Android TV skins are nothing new. They're popular in China for example, with Xiaomi customizing its TVs with its PatchWall skin, and OnePlus doing the same with its OxygenPlay interface. But outside of China, most companies, including Sony, simply go with the default Android TV interface.
That could soon change though, as Google says it's making the Google TV skin available to other TV manufacturers that want to run it atop of Android TV starting in 2021. It mentioned Sony by name, and promised that other Android TV partners will also join the party. When it becomes available, OEMs will then have the choice of using Google TV or the basic Android TV platform.
Google TV brings quite a few new features to Android TV that are aimed at making it easier to find content available across various different apps, so it may be worth having. For example, there's a new "For You" tab that curates TV shows and movies on services that users already subscribe to, such as Netflix, YouTube etc. There's also a "Live" tab that integrates streaming with live content, beginning with YouTube TV at launch, with the promise of additional services to come. Finally, there's a "Watchlist" that works across the various Android TV devices each user owns, and allows them to bookmark titles and later watch them on another device.
Just like Android TV, Google TV integrates with Google Assistant, which provides a way to search for movies and TV shows using your voice, control smart home devices and so on. Google said there are more than 6,500 apps available for Google TV, including popular streaming services such as Netflix, HBO Max and Disney+. The only big app that's missing from the platform is Apple TV Plus, and we don't imagine it will get access to that anytime soon.
Interestingly, XDA Developers says Android TV and Google TV will "co-exist as solutions available to TV companies for the next two years", after which, every TV maker that wants to run Android TV will be required to use Google TV. As such, it's unclear what that will mean for brands like Xiaomi and OnePlus and their exclusive UX solutions. It's possible that Google might come to some kind of separate arrangement for Chinese TV makers. Then again, the core of Android TV is actually open-source, so there's nothing to stop TV makers basing their platforms on that software.
Google also said it will update eligible devices with Google TV, but failed to elaborate on what that means.
Besides Google TV, there will soon be a rebranded Google Play Movies & TV app, which will be known as the "Google TV" app. Google said it's rebranding the app to bring Google TVs' content aggregation features to additional devices besides TVs, including smartphones and tablets.