Hisense Innovates at CES 2019 with Laser TVs, Double Panels & More
By Mike Wheatley
- 9 January 2019
Hisense is showing off its latest batch of TVs at the Consumer Electronics Show in Las Vegas this week, based on some intriguing new technologies.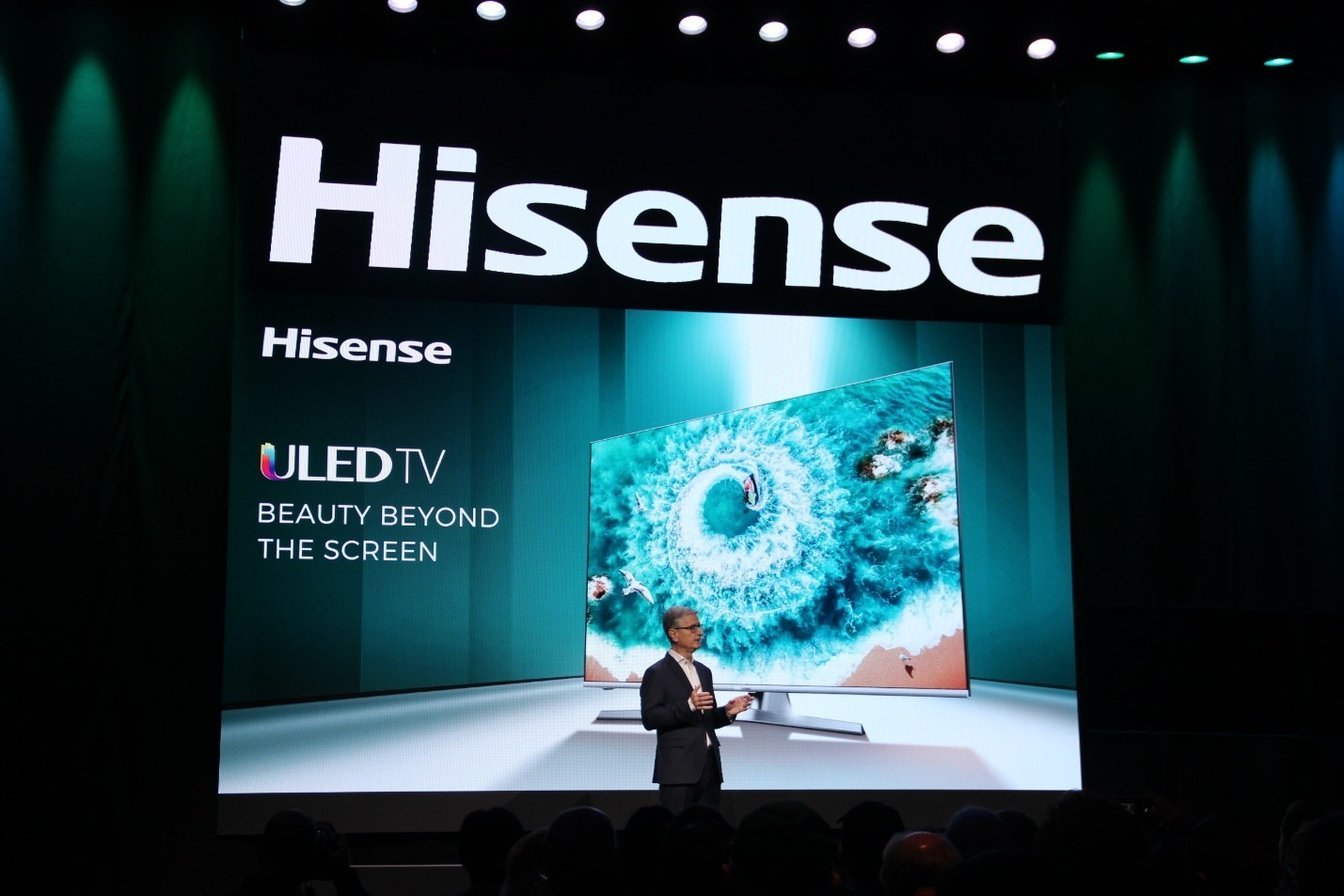 The new technologies have raised eyebrows because Hisense has traditionally been seen as a budget TV maker that relies on trickle-down technologies borrowed from its more esteemed rivals. But that doesn't seem to be the case any longer.
Take Hisense's new ULED XD lineup for example, which squeezes not one, but two TV panels inside the main body. The TV also contains "proprietary technologies" from Hisense that include a new chipset and image processing algorithm that combine to produce "incredibly deep blacks and dazzling brightness," the company said.
Of course it's the pairing of two panels that has us most intrigued. Hisense says these sit in front of the LED backlight, with a 4K RGB display in the front. And sandwiched between them is a second 1080p greyscale panel that portrays the image in black and white only. So, for local dimming you'll actually be looking at a dimmed LED source plus a black and white image, which is why the company says it can produce far deeper blacks than before.
Hisense provided few other specifications beyond those details, other than to say the ULED XD TVs provide more than 2,900 nits of brightness and what they claim is the "highest dynamic range" ever seen on an LCD panel.
We'll have to wait a little longer for any more details than this as Hisense is keeping tight lipped about a release date. No pricing details either at this point.
Elsewhere on the innovation front, Hisense showed off its latest TriChroma Laser TV, which is really a short-throw projector that pushes a 120-inch wide 4K image onto your living room wall.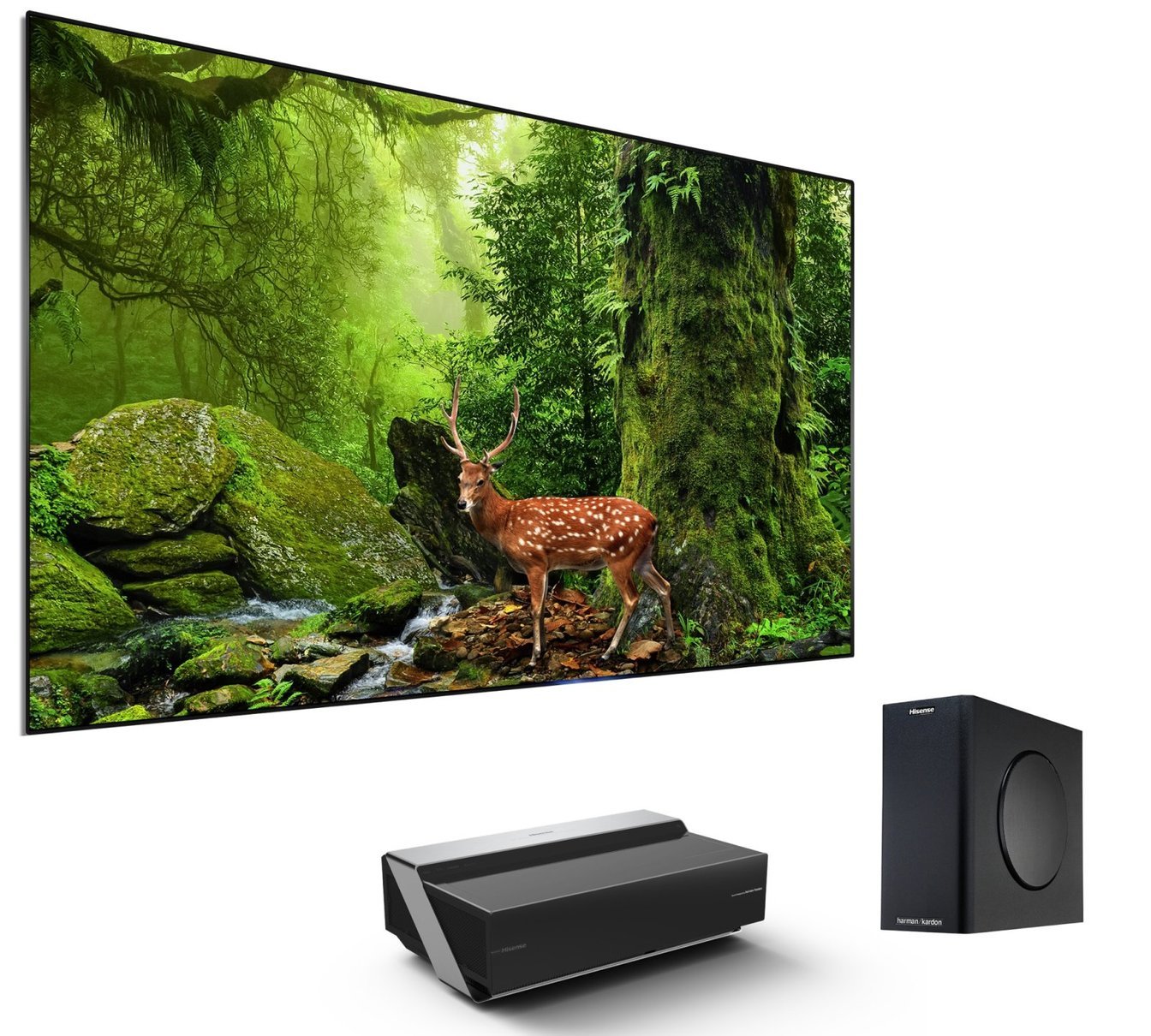 Earlier iterations of these projects used two lasers – red and blue beams that combined to create a visible spectrum. But the Hisense 4K Smart TriChroma Laser TV 100L7T unveiled at CES boasts three lasers - red, blue and green – which can combined to produce pure white when needed. Hisense therefore claims its TriChroma Laser TV can now cover 100 percent of the DCI-P3 colour space.
In addition the 100L7T also supports HDR10, Amazon Alexa and features built-in Harman Kardon sound. It also runs Hisense's VIDAA OS, as opposed to the Android or Roku operating systems its other TVs run.
Another new Hisense TV on display at CES was the Sonic One, which is one of the slimmest TVs ever made at just 1.1 inches at its deepest point. Hisense has achieved this super slim profile by making the display act as a speaker, just like Sony's OLED TVs and on LG's latest OLED model announced this week. However, Hisense seems to have achieved another first as the Sonic One sports a regular LCD panel, instead of OLED.
Besides these innovations, Hisense also refreshed its older TV series. These include the Hisense U9, which is a Quantum Dot TV that uses tiny semiconductor nanocrystals to produce pure monochromatic red, green, and blue lights. The company says it boasts 2,200 nits of brightness and over 1,000 local dimming zones, support for Dolby Vision and packs an AI-based picture quality algorithm that ensures improved brightness, colour, contrast and motion.
Other TVs on show include the Hisense Q9, a 4K ULED model with Quantum Dot technology that's powered by Android. Then there's the Hisense Roku TV 4K UHD R8 which also features a ULED backlight, Dolby Vision and Dolby Atmos surround sound.
Hisense didn't provide any pricing or availability details for any of its new products, but we can expect them to be released at some point in 2019, and they should be a lot cheaper than comparable TVs from premium brands such as LG and Samsung.