LG debuts ultra-bright new ultra-short throw CineBeam projector
By Mike Wheatley
- 22 May 2022
It can be a pain in the arse trying to fiddle around with a pesky projector during the summer time, with those long days meaning the sunbasks your living room in glorious brightness well into the evening. For a projector that means less-than-optimal viewing conditions.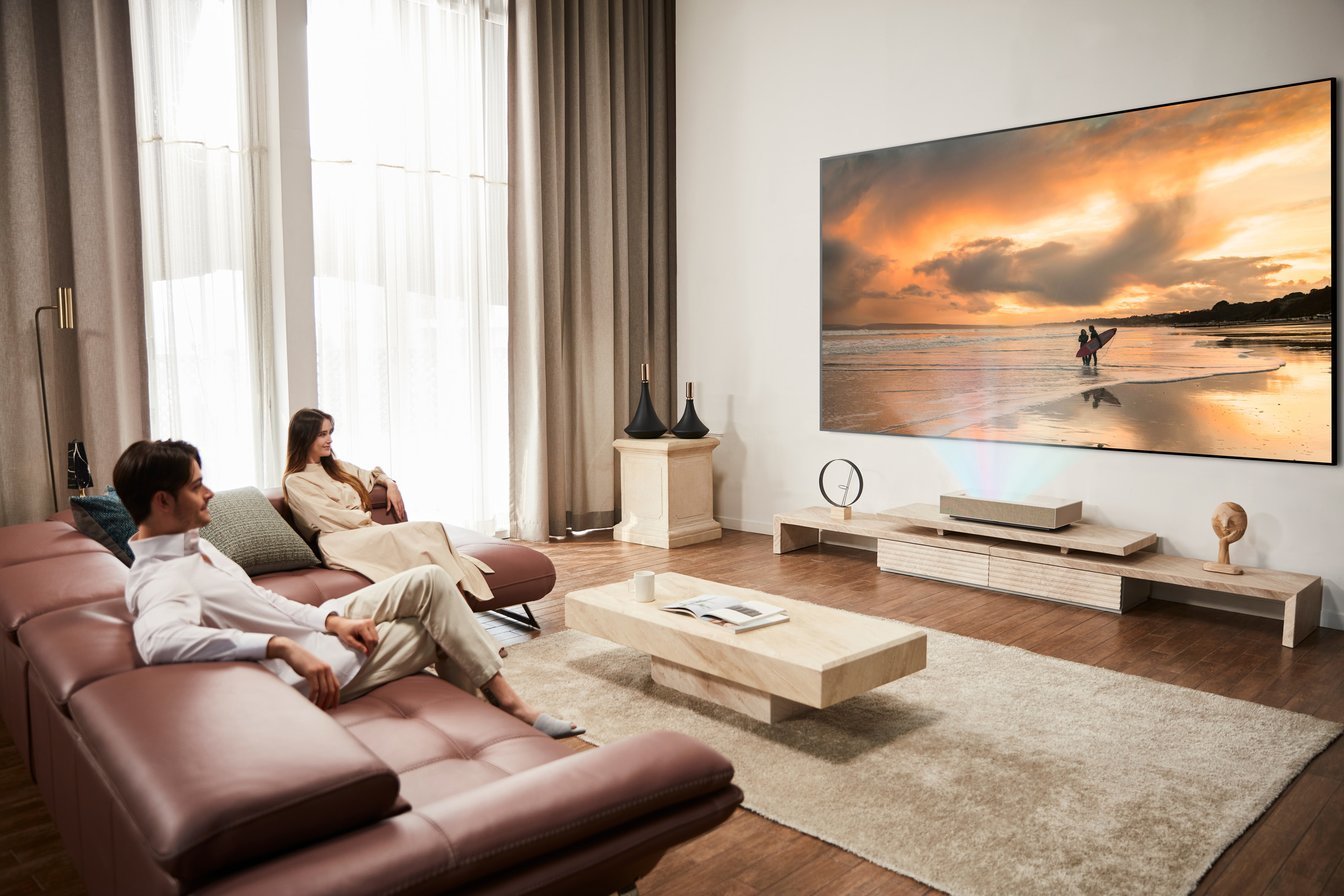 That may no longer be the case with LG Electronics' latest model though. The Korean firm has just launched the LG CineBeam HU915QE, which provides a beefy 3,700 lumens of brightness, which is far more than most ultra-short throw projectors are capable of. So it should be plenty bright enough to enjoy cinematic-style viewing in daylight conditions, even without drawing the curtains.
The LG CineBeam HU915QE is therefore a viable alternative to a TV. But why would you want that? Well, for one thing it offers a pretty massive picture when compared to a traditional box - up to 120-inches in fact when the projector is placed just 18cm away from the wall. That's the beauty of the ultra-short throw aspect of this model. These projectors are much easier to use than traditional ones, as there's no requirement to mount it on a ceiling and have acres of space to generate a picture that's big enough to enjoy properly. Just stick it close to the wall and it'll throw up a massive image upon it.
Indeed, it's possible to stick the LG CineBeam HU915QE just 5.6cm away from the wall and still generate an impressive 90-inch image, way bigger than the majority of TVs.
The LG CineBeam HU915QE has some additional cool specs too, including 4K HDR support with HDR Dynamic Tone Mapping that helps to adjust the image brightness on a per-frame basis. As for the Brightness Optimiser II, this dynamically adjusts the brightness based on the ambient light in the room, helping to optimise the viewer's pleasure. There's also an Adaptive Contrast feature that helps to adjust the light source to get the contrast just right on a scene-by-scene basis. LG claims a 2,000,000:1 contrast ratio, with a triple laser lamp that's good for up to 20,000 hours.
On the software side, we have the LG WebOS platform that comes with all of the major streaming services built in, including Netflix, Amazon Prime Video, Disney+ and Apple TV+. So it's possible to stream content directly using the LG CineBeam HU915QE, or alternatively users can beam content from a smartphone over Apple AirPlay 2 or Bluetooth. On the sound side, LG said the CineBeam HU915QE boasts a punchy 2.2-channel, 40W speaker system.
While announcing the LG CineBeam HU915QE, the company didn't reveal any pricing details or a launch date. However, a quick search online reveals an early listing on B&H's website, where it can be pre-ordered with a price tag of $5,997.