LG reveals its first MicroLED display, the 163-inch LG MAGNIT
By Mike Wheatley
- 12 September 2020
LG Display has followed Samsung and Sony with the launch of its first ever MicroLED display that's based on modular panels.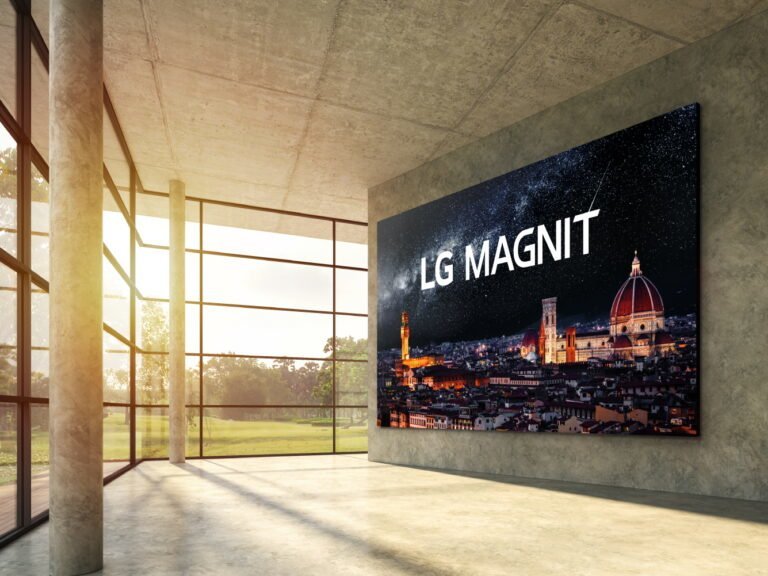 The new LG MAGNIT is a modular, 163-inch screen that's primarily designed for digital signage purposes such as advertising. However, LG said the MAGNIT can also serve as a luxury wall TV for the ultra-rich.
The MAGNIT TV runs LG's familiar webOS smart TV platform, offers 4K resolution, and is powered by the company's latest Alpha 9 Gen 3 Intelligent Processor that's used in its latest OLED TVs.
MicroLED is a new display technology that's somewhat similar to OLED as it has self-emissive properties. But rather than using organic light emitting diodes, it uses extremely tiny, non-organic LEDs that can potentially be much brighter than OLEDs, while providing better control over dimming zones.
LG said that it has applied these pixels directly to the substrate board on its MAGNIT TV, which is finished with its proprietary anti-glare Black Coating technology to help protect the LEDs from dust and moisture
LG says that MicroLED is able to deliver sharper images and better contrast, with wider viewing angles than other display technologies.
The modular nature of MicroLED is a big advantage too, as it makes it possible to build displays in almost any shape or size. MicroLED displays can also support any resolution, even beyond 8K, as the pixel density can be maintained no matter how large the screen is. They can also be made to any kind of aspect ratio.
In LG's case, it said each of MAGNIT's MicroLED cabinets measure 600 x 337.5 x 44.9mm, and link together to form a 163-inch, 4K resolution display with a pixel pitch of just 0.9mm. The screen delivers a peak brightness of 1,200 nits and provides a 100,000:1 contrast ratio, LG said.
"It's always exciting to present true innovation in LED signage and we are particularly thrilled to introduce our LG MAGNIT lineup at this time," said Paik Ki-mun, senior vice president and head of the Information Display business unit of LG Electronics Business Solutions Company. "With its combination of superior picture quality, expandability and convenient setup, LG MAGNIT is a great Micro LED signage solution for a wide variety of commercial and public spaces, including convention centres, corporate and hotel lobbies, luxury boutiques, broadcast studios, control rooms, exhibition halls and museums."
LG hasn't said how much its MAGNIT display might cost, but we can say with some confidence that it will be extremely expensive. Sony last year announced a similar 16 x 9 feet Crystal LED display built on the same technology that costs in excess of £700,000 to purchase and install. As such, it could be a few years before the average consumer is able to afford one.
Samsung also teased its own concept MicroLED displays aimed at consumers at the Consumer Electronics Show in Las Vegas in January, and promised to launch them commercially later this year. However, the company has since failed to provide an update, and rumours suggest it may well be forced to delay their launch due to prohibitively high manufacturing costs.