Panasonic announces its first transparent OLED displays
By Mike Wheatley
- 23 November 2020
Panasonic has announced the imminent commercial availability of its first transparent OLED displays, though don't go thinking that you'll have one sitting in your living room any time soon.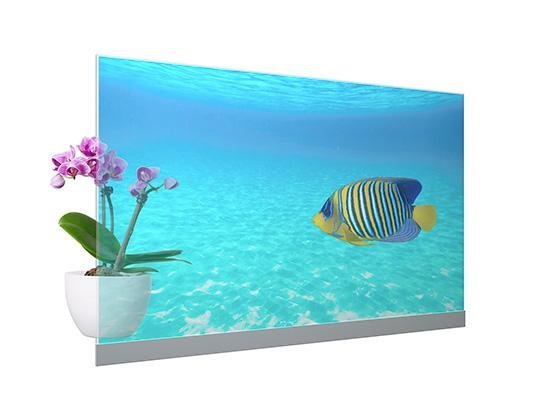 That's because the 55-inch Panasonic TZ1000 and TZ1100, although following the naming convention of Panasonic's HZ1000, HZ1500, and HZ2000 OLED TVs, are not really TVs at all. Instead, they're simply "displays" that are aimed at commercial applications, such as advertising in shopping malls, retail outlets, exhibitions and so on.
So it's safe to say that Panasonic isn't trying to compete with China's Xiaomi in the nascent transparent OLED niche, or at least not yet.
Readers may recall that China's Xiaomi launched the world's first ever transparent OLED TV, called the Mi TV Lux, back in August. It looked pretty cool but at the same time it was clearly a very gimmicky product, and one that's fairly expensive as well, retailing at a cool 49,999 RMB (around £5,524). It's also only available to buy in China.
Although they're aimed at completely different markets, Panasonic's transparent OLED displays do use the same panel as one the found in Xiaomi's Mi TV Lux. It's supplied by LG Display of course, but the critical thing is that it's not a 4K resolution panel, but rather just a 1080p, or Full HD panel. Because of this, the Panasonic TZ1000 and TZ1100 are only equipped with HDMI 1.4 ports rather than the HDMI 2.1 ports seen on today's premium TVs.
Panasonic has also done away with an integrated TV tuner or any smart TV features, which means the TZ1000 and TZ1100 are essentially just monitors rather than TVs.
There is something that Panasonic's transparent OLED displays have that Xiaomi's TV lacks, though. The Japanese firm has added what it calls a "dimming unit" that can make it seem as if the display is not transparent at all.
Why has it done this? Well, the thing with transparent OLED is that the pixels are see-through, rather than black as with traditional OLED pixels. It's an important difference because that's the black pixels are main reason why OLED TVs can create deeper contrast and deeper blacks than LCD, simply by switching off the pixels completely. Having transparent OLED pixels means it's not possible to recreate the same effect.
Panasonic claims that its dimming unit is able to reduce light transmittance to "decrease the amount of light passing through the panel from the rear side, thus making the displayed image highly visible even in an environment brightly lit by outside lights."
What that means is that when you switch to the display into "black mode", the background is no longer transparent, so the displayed image becomes more visible the with the kind of high contrast and deep black levels that you'd expect from a regular OLED display, without any reflections or glare.
There is a downside to this though, as the dimming unit adds around 6kgs of weight to the display and also makes it noticeably thicker.
The launch of the Panasonic TZ1000 and TZ1100 comes more than a year after the company debuted its first ever transparent OLED TV concept at IFA 2019. That model was housed in a glass cabinet with a wooden frame so as to be able to blend into its surroundings when not in use.
Panasonic said its TZ1000 and TZ1100 transparent OLED displays will go on sale in Australia, New Zealand, Singapore and Taiwan next month.