Panasonic's 2019 OLED TVs Win Netflix's Stamp of Approval
By Mike Wheatley
- 1 August 2019
Panasonic's 2019 OLED TV models are rolling out in stores across Europe this month, and the company has just made an announcement that might tempt shoppers to take a second look at its offerings.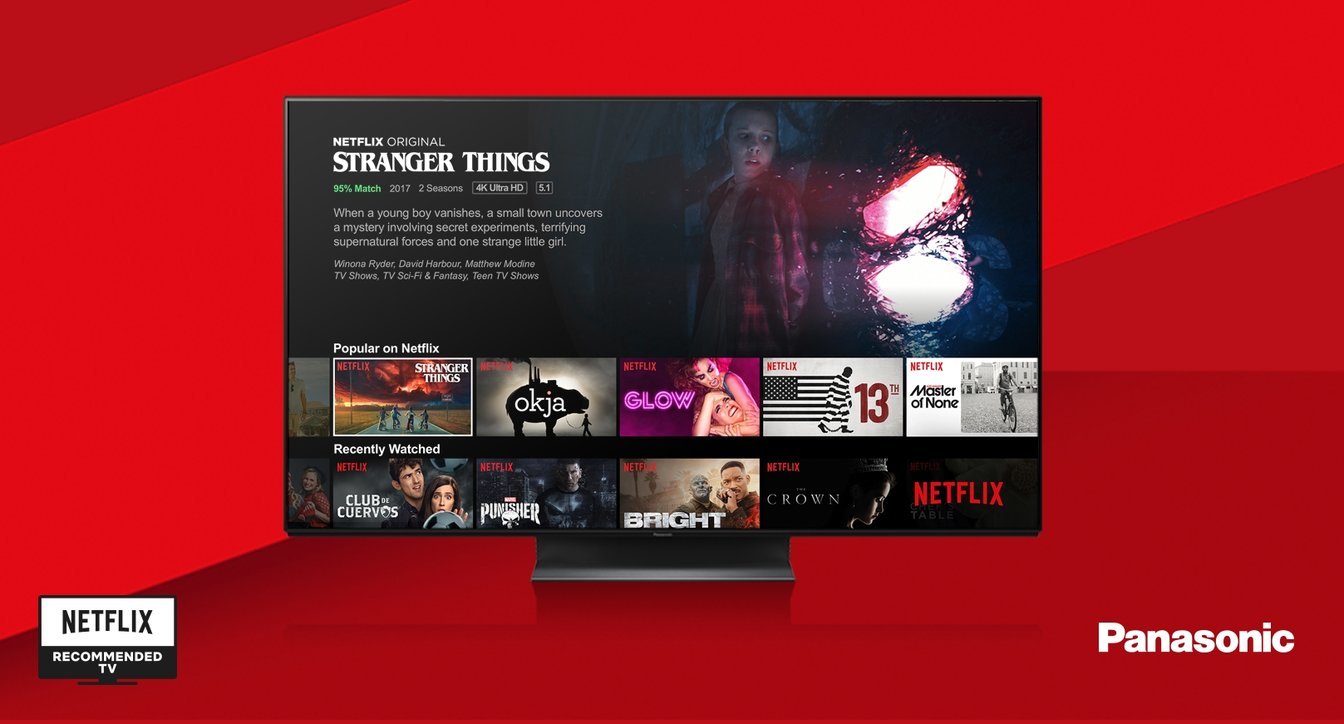 The Japanese brand has announced that all of its OLED TVs, as well as its GX800 series LCD TVs, have been designated as "Netflix Recommended TVs".
The designation is a plus for Panasonic because it means the popular video streaming service has certified that its TVs offer a premium experience when viewing Netflix. The certification is only handed out after Netflix performs some rigorous testing of the TVs for their performanceand ease of use, and checks that they have all the features necessary for the optimal Netflix experience.
Netflix actually announced its 2019 list of recommended TVs back in June, but Panasonic's OLED TVs weren't mentioned at the time. The company's GX800 LCD TV was the only one of the brand's models to make the grade back then. Perhaps, Panasonic simply asked for Netflix to hold off until its OLED TVs were ready to hit the shops for maximum impact.
In any case it's not really a surprise that Panasonic's OLEDs made the grade as the TVs all come with a special Netflix Calibrated display mode, which configures the TV in the same way as creators calibrate their monitors in post-production. What this means is that viewers get to see the action on-screen exactly as the producer intended.
Panasonic's 2019 OLED lineup includes the GZ2000, GZ1500, GZ1000 and GZ950 series TVs, which are available in 55-inch and 65-inch sizes. The flagship GZ2000 is said to differ in that it comes with a customised OLED display that's said to be brighter than the panels used on the other models. The GZ2000 is also said to have better audio capabilities and sports a slightly different exterior design. All four of Panasonic's OLED models come with support for Dolby Vision, which is an interesting addition as Panasonic is a founding member of the HDR10+ alliance. HDR10+ is a competing High Dynamic Range format that's also supported by the TVs.
Panasonic's OLED models will go head to head with rival screens from the likes of LG, Philips, Sony and others. LG's models notably aren't recommended by Netflix, but they have an advantage over Panasonic's TVs as they offer full HDMI 2.1 ports. Panasonic's 2019 TVs don't have this feature.
The Panasonic GZ950 is priced at £1,799.99 for the 55-inch version and £2,499.99 for the 65-inch model. The GZ1000 meanwhile is said to start at £1,999.99 for the smaller version, and £2,799.99 for the larger model. As for the GZ2000, this will likely set you back around £3,300 and £4,300 respectively for the 55-inch and 65-inch models, though these prices haven't been confirmed.
Here's a quick unboxing of the Panasonic GZ950 and a look at some of its picture settings: