Philips launches its high-end OLED935+ TV and a new wireless audio ecosystem
By Mike Wheatley
- 2 September 2020
TP Vision has sidestepped IFA 2020, announcing a new, premium Philips OLED TV at its own online event that sits above this year's OLED805 and OLED865 models.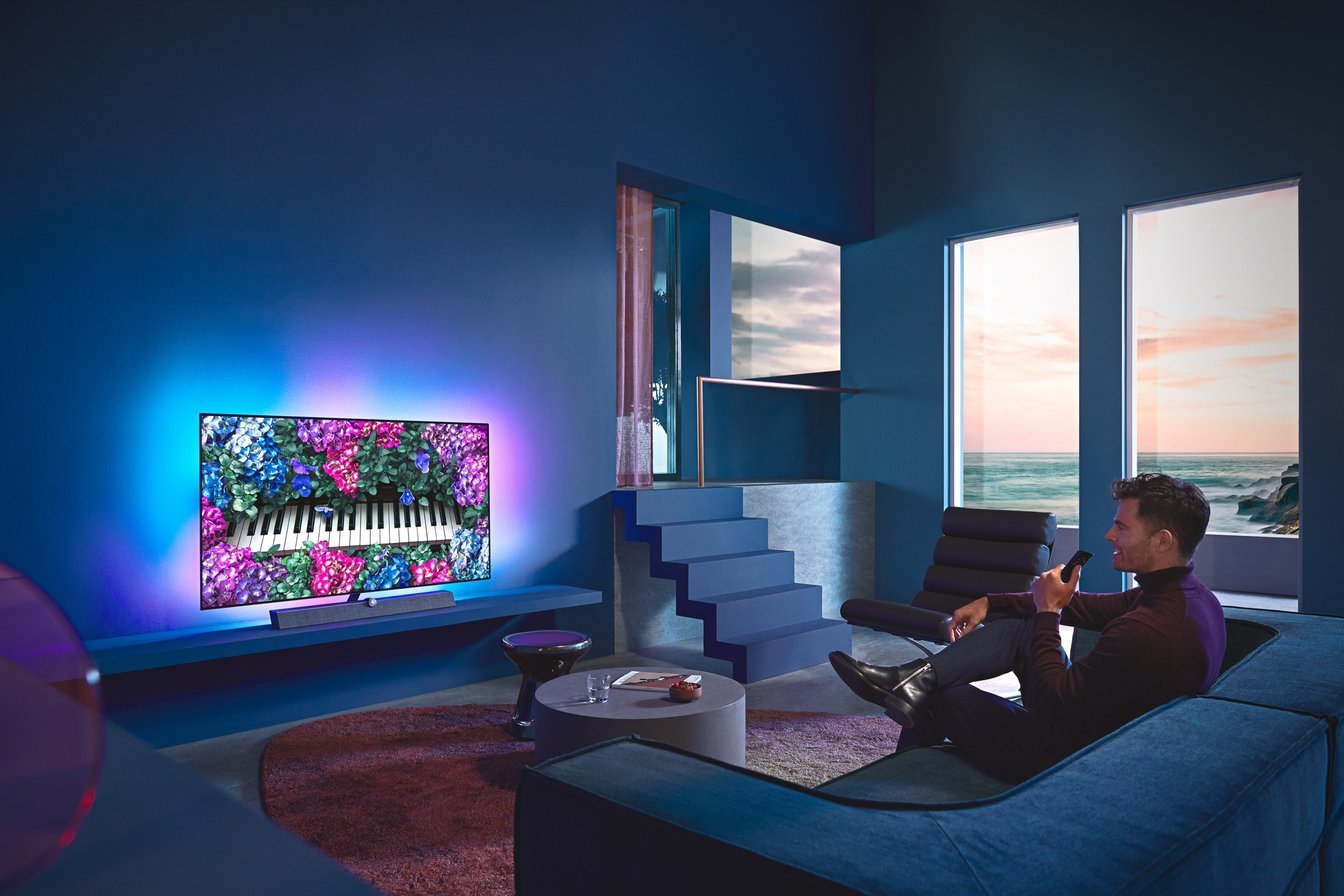 The new OLED+935 is Philip's flagship OLED TV this year, and with it becomes the third TV brand in the world to add a 48-inch OLED model to its lineup, following LG Electronics and Sony. The TV is also available in 55-inch and 65-inch models.
The Philips OLED+935 is a premium model in every respect. Like last year's highly acclaimed OLED+934 and OLED+984 models, it features a built-in Bowers & Wilkins sound system. It also sports Philip's latest 4th Generation P5 Picture Perfect image processor, Ambilight technology, support for all of the major high dynamic range formats, and a unique, anti burn-in technology that's meant to help protect the OLED panel from degradation.
One of the unique features that sets the Philips OLED+935 apart from the OLED805 and OLED865 is the addition of a second, dedicated AI chip added to the 4th Gen P5 processor, providing the TV's AI engine that's called the Intelligent Dual Engine. By using millions of image quality test clips from a massive database that's been analyzed using machine learning, the chip is able to create a better balance of source, colour, contrast, motion and sharpness to deliver a much more realistic and natural-looking image, Philips says. The system also includes a dedicated AI Machine Learning Sharpness feature, and improvements to the AI Smart Bit Enhancement and Perfect Natural Reality functions seen on last year's OLED+934 and OLED+984.
More interesting perhaps is the anti burn-in technology that uses advanced logo detection software to monitor a grid that's split into 32,400 zones. The idea is to detect static content on screen and gradually reduce the intensity of local light output in that section of the panel. That should help to avoid burn-in, which has often been cited as a worrying problem with OLED TVs, without compromising the overall experience. According to Philips, the new feature helps to reduce screen burn by up to 95%.
Film buffs will appreciate that the Philips OLED+935 supports all of the main HDR formats, including HDR10+, HDR10 and HLG, as well as Dolby Vision, which is further enhanced via a special "Dolby Bright" mode. The TV also features the new Filmmaker Mode that's meant to display content exactly as the creator intended.
The audio system is the very best Philips can offer. The company has partnered with Bowers & Wilkins on a ten driver 3.1.2 sound system that combines Dolby Atmos Elevation speakers with the British audio firm's Tweeter-on-Top technology. The OLED+935 is able to automatically recognise Dolby Atmos content, and can also "up-mix" non-Dolby Atmos content, enabling to enhance the overall sound quality whatever you're watching.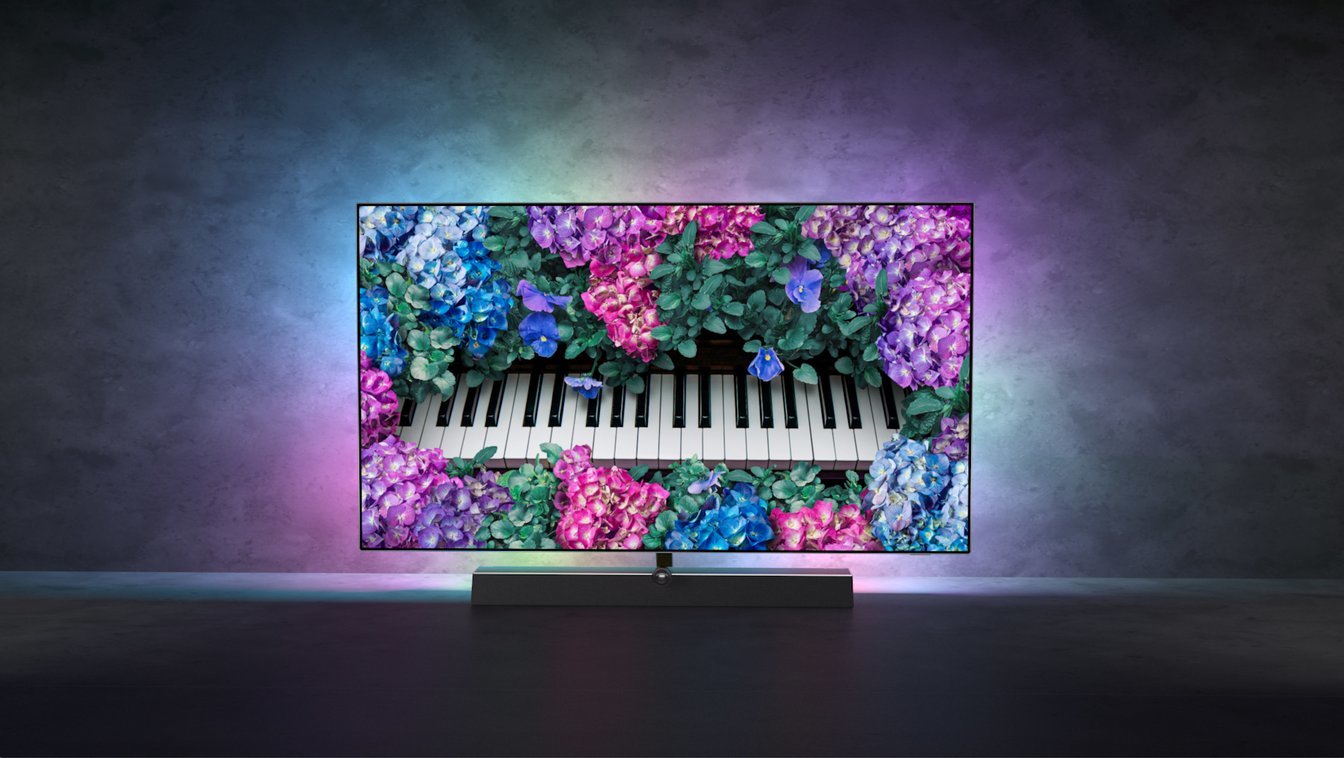 The TV also features Philips's unique Ambilight technology on all four sides. Ambilight can also project coloured lights onto the wall at the rear of the TV to mimic the action on screen or to enhance a music performance. It also serves as a bias light to ease eye strain if you're planning on watching TV in a darkened room for several hours.
DTS Play-Fi is also included, enabling connectivity with other devices to enable multiroom audio.
The Philips OLED+935 runs the Android TV platform, and will go on sale in October, priced at £1,800 for the 48-inch version, £2,000 for the 55-inch model and £2,700 for the 65-inch TV, Philips said.
The Philips TV & Sound Wireless Home System
Philips also unveiled some neat looking audio devices, including its new, premium Fidelio B95 and B97 soundbars that are compatible with DTS Play-Fi.
DTS Play-Fi is the basis of a new wireless ecosystem for connecting AV devices that the company is creating, called the Philips TV & Sound Wireless Home System. DTS Play-Fi is a protocol that uses standard Wi-Fi to stream high-quality audio from TVs and mobile devices to compatible speakers. It relies on proprietary streaming, synchronisation and authentication software.
The Philips TV & Sound Wireless Home System refers to a growing range of compatible Philips products that use the new Philips Sound App to connect to each other.
Those products include the new Fidelio B95 and B97 soundbars announced today. The IMAX Enhanced Certified soundbars both feature wireless subwoofers that deliver high quality, immersive 3D cinema sound performance, and are compatible with the Dolby Atmos and DTS:X surround sound formats.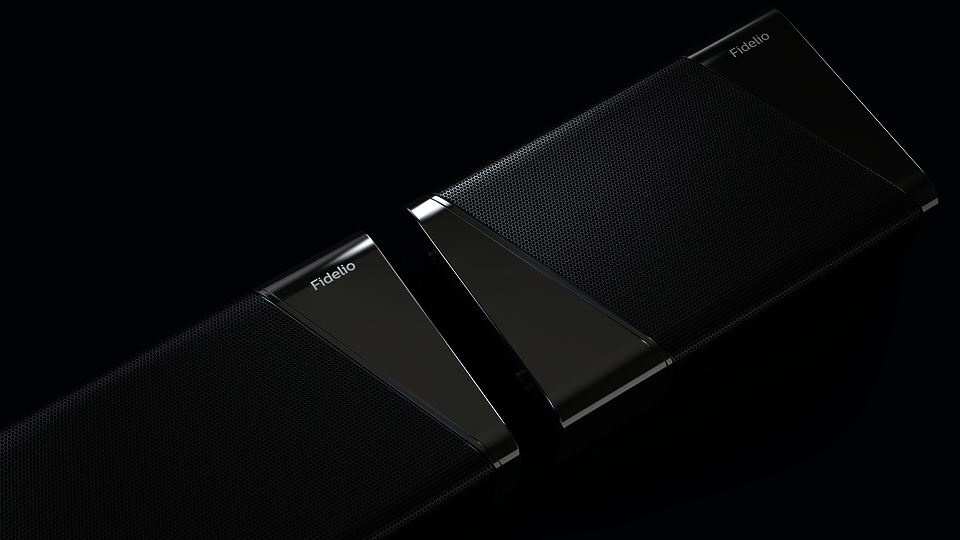 The more expensive of the two is the Philips Fidelio B97 (pictured, above), which is a slim 7.1.2 multichannel soundbar that comes with Dolby Atmos Elevation drivers and Surround-on-Demand technology. The latter feature relies on two detachable wireless speakers that become par of the left and right channels when hooked up to the main soundbar, or else they can serve as dedicated left and right surround channels when separated from the bar.
The Philips Fidelio B95 lacks the Surround-on-Demand feature and instead provides surround sound by way of a 5.1.2 format, where the drivers are divided into left, right and centre channels to deliver wide, immersive sound across the living room.
In addition to those, Philips also announced a more affordable 8000 soundbar series, as well as two high-end wireless audio speakers, including the vertically-oriented W6205 and the horizontal W6505.