Samsung Display to begin QD-OLED production trials next month
By Mike Wheatley
- 30 November 2020
Samsung Display is set to begin a trial run of its new Quantum Dot OLED display production line next month, according to reports in South Korea.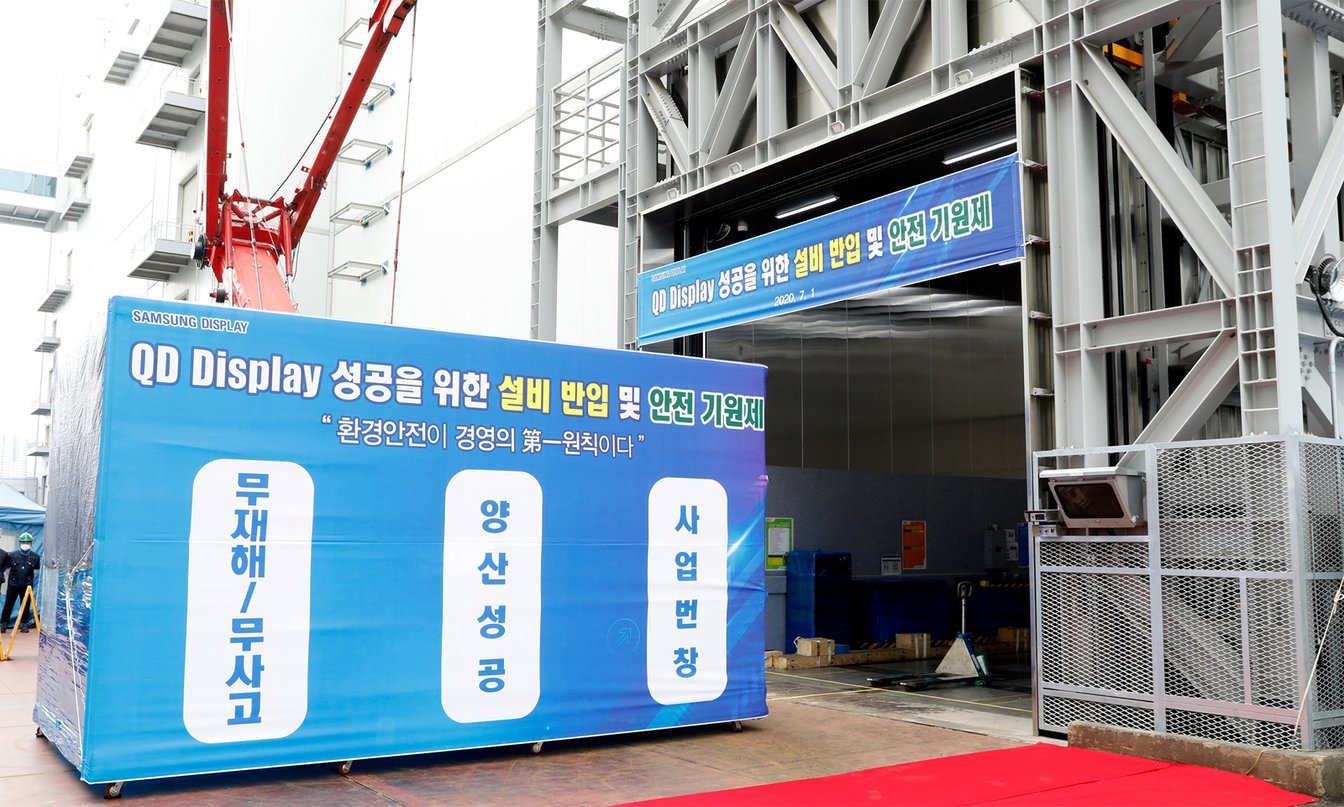 The company is making a big bet on QD-OLED, which is a new display technology that combines the quantum dots used in QLED displays with self-emissive OLED panels.
Samsung Display said last year it was investing 13.1 trillion won (around £8.84 billion) into its QD-OLED manufacturing technology, and the plan is to begin mass production of the new panels by the middle of next year.
The Elec reported that Samsung Display is desperately in need of a new revenue stream due to the decline of its liquid crystal display business, which is losing market share to Chinese rivals such as BOE as they become more price-competitive.
QD-OLED is seen as the safest bet for Samsung Display at this time. While the OLED TV market is currently dominated by LG Display, Samsung Display is the major player when it comes to smaller OLED panels for smartphones, and it has long since perfected the use of quantum dots combined with LCD. So marrying OLED with quantum dots is a logical next step.
That said, Samsung Display's parent company Samsung Electronics has shown little interest in QD-OLED technology so far, and will reportedly focus instead of MiniLED display technology for its next-generation of premium TVs.
A report in Display Daily last week cites OLED Association President and CEO Barry Young as saying that Samsung's Visual Display business will launch several premium MiniLED models next year.
"The Visual Display division has recently changed its position on miniLED LCD backlights from a mild interest to a strong commitment after seeing the performance of some Chinese-built TVs with Mini LED backlights that also incorporated QD color change films," Young wrote. "They believe that these devices can compete with OLEDs and as a result have notified Samsung Display that they will not be participating in the sales of QDOLED TVs."
While Samsung Electronics has yet to confirm its plans, the report squares with news that Samsung recently trademarked a number of marketing terms it could use with its MiniLED TVs, including "Samsung MicroLED", "QLED+" and "Quantum Matrix".
Display Daily reported that Samsung Electronics plans to ship as many as two million MiniLED TVs in 2021, and that the company believes the new models will be of comparable quality to LG Display's premium OLED TVs for the next two to three years at least.
With Samsung Electronics out of the picture for now, Samsung Display will instead market its QD-OLED panels to rival TV makers including Panasonic, Sony and TCL. The Elec says Sony could be the first brand to launch a QD-OLED television in the second half of next year, while TCL has previously promised to have at least one such model ready for IFA 2021, which takes place in September.
The Elec says Samsung Display will need around three months to properly set up its QD-OLED production equipment, and then another six months to stabilize its yield rate. The company reportedly expects to produce around 15,000 substrates a month, rising to a capacity of 30,000 per month.
Ultimately though, QD-OLED is seen as a something of a stop-gap for Samsung Display, as the company is also investing in a related, but superior display technology called QD nanorod LED, or QNED, which is expected to go into mass production in two or three years time.