Samsung debuts the world's first HDR10+ ultra short throw projector
By Mike Wheatley
- 3 September 2020
Samsung is charging headlong into the market for premium ultra short throw laser projectors with the launch of its new Premiere range, and its flagship model has the distinct advantage of being the first product of its kind to support HDR10+.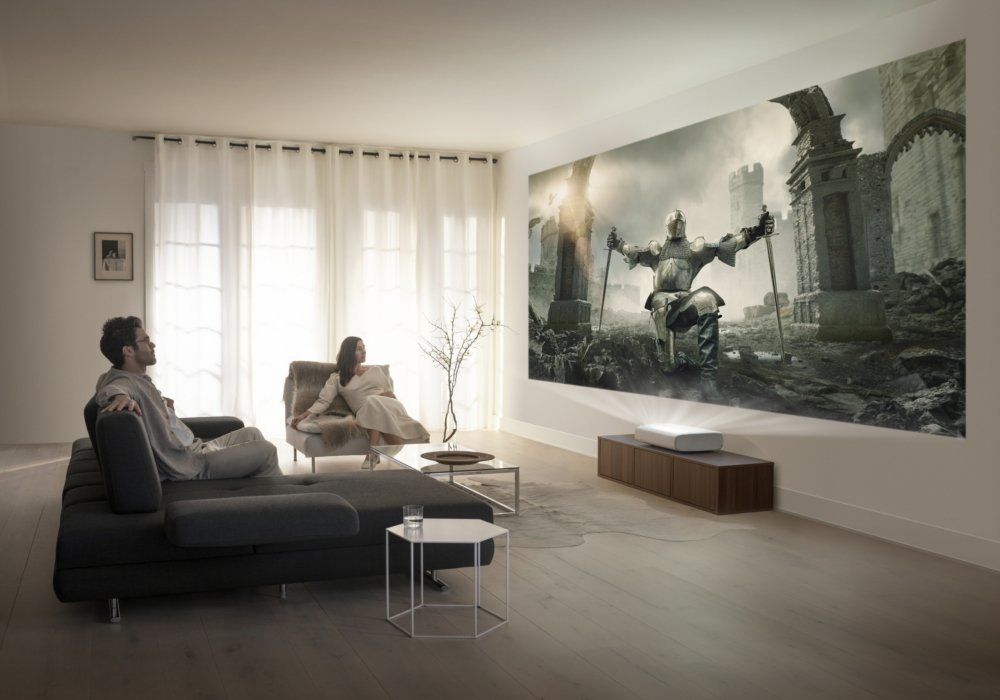 Samsung said that its flagship LSP9 is a triple-laser 4K projector that boasts a maximum brightness of 2,800 lumens, superior to the 2,500 lumens of rival products like the LG Cinebeam HU810P 4K UHD Laser projector that was announced earlier this week, and Hisense's comparable 4K L5F Laser TV ultra-short-throw projector, which was launched in August.
In addition, Samsung said the LSP9 and the more affordable LSP7 are extremely portable, with dimensions of just 550 x 367 x 128mm ensuring that it's dead easy to move them about from room to room. Of course, both models are short-throw, which means you'll be able to get a 100-inch projection with just 10 cm of space between it and the wall, and a bigger image if you increase the distance. As high-end products, they will also be wrapped in "premium fabric" and feature a "radical design unlike what we've see before", TechRadar reported.
The Samsung Premiere projectors will both run the company's Tizen OS and have full access to that platform's suite of applications, which means you'll get the same interface and experience as you get with Samsung's premium smart TVs.
The new projectors represent a strong entrance for Samsung into a market where it's yet to have much of an impact, with its previous projectors being decidedly low-end affairs.
One interesting feature unique to the LSP9 is its support for HDR10+, a premium high dynamic range format that rivals the better known Dolby Vision. HDR10+ uses dynamic metadata so the brightness range can be adapted on a frame-by-frame basis, which means the full colour range can be deployed in any scene, even in those that are predominantly dark or light. While HDR10+ isn't as popular as Dolby Vision, there is a growing catalogue of available content, with Google Play Movies being the latest service to announce support for the format.
While the LSP7 doesn't appear to support HDR10+, both models are said to sport the new Filmmaker Mode that's said to reproduce content exactly as the creator intended, with no additional processing.
Both of the projectors will come with a 4.2 channel speaker system consisting of two woofers and two tweeters with 40 watts of output, while the LSP9 also features the Acoustic Beam technology that Samsung uses in its high-end soundbars, to direct surround sound around the room without any additional speakers.
Samsung said the LSP9 has a slightly larger maximum image projection at 130-inches, with the LSP7 maxing out at 120-inches.
While the LSP9 is a triple-laser projector, the LSP7 will have a more conventional single laser system. However, it benefits from an expanded colour gamut that incorporates yellow into its RGB colour model, which should enable richer and more accurate recreation of content, the company told TechRadar.
"The Premiere re-imagines the home cinema experience with an all-new, compact design, 4K picture quality and big sound for tight spaces that can be used for any at-home activity and living room arrangements," said Samsung's executive vice president of Visual Display Business, Jongsuk Chu.
Samsung said the Premiere projectors will initially launch in the U.S., Europe and South Korea, in September or October. No prices have been announced, but Samsung told TechRadar to expect pricing comparable with its high-end 4K and 8K TVs, which means they'll almost certainly set you back something in excess of £2,000.