Samsung's "The Wall Luxe" MicroLED TV Now Available At Harrods
By Mike Wheatley
- 29 August 2019
Samsung Electronics' long-awaited luxury MicroLED TV display "The Wall Luxe" is now available to order in the U.K., exclusively from Harrods.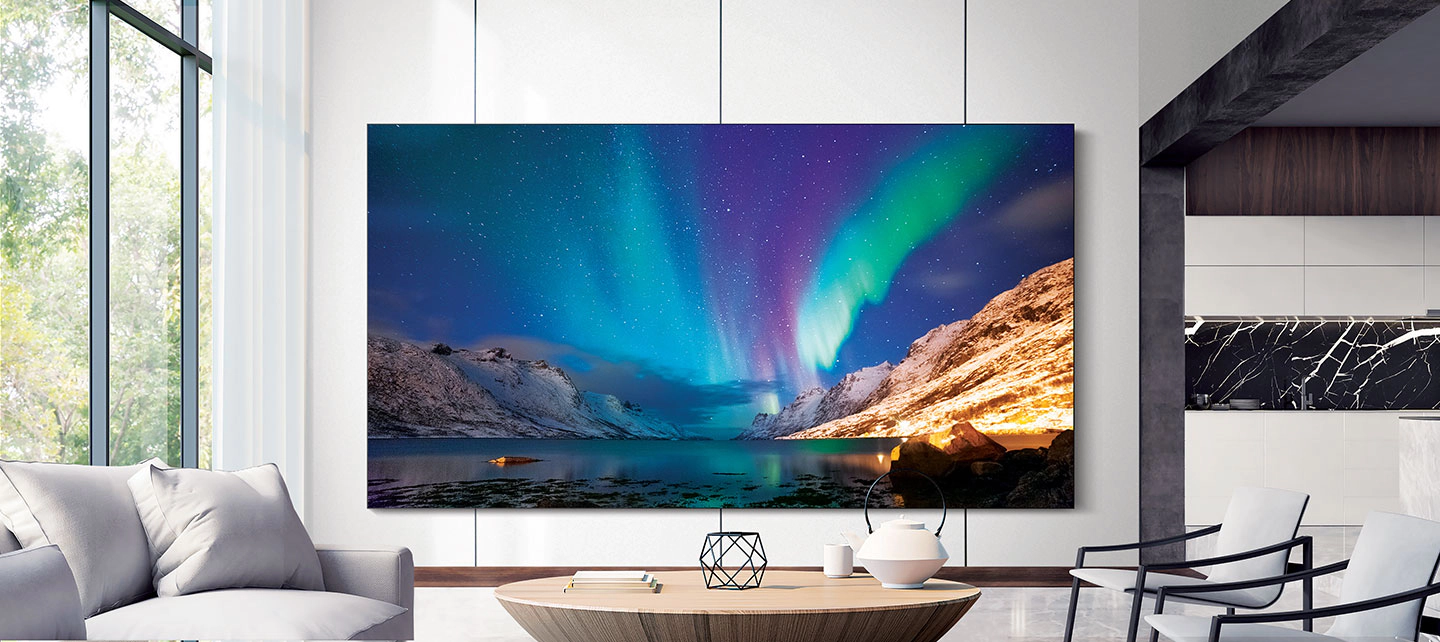 The Wall Luxe is an update to Samsung's original lifestyle TV "The Wall", featuring a new user interface and customisable décor frame that ensures the enhanced display will look simply magnificent in any living space.
The TV is built using versatile modular LED panels, which means it can be customised to fit any kind of home environment, including unusually shaped flat walls, pillars or even door frames, Samsung said.
Another unique feature is the two display modes available with The Wall Luxe, which means that it can not only act as a stunning TV, but also as a media display, showcasing all kinds of dramatic artworks. The regular entertainment mode is said to deliver total immersion, no matter if the viewer is watching movies or playing video games. Ambient mode meanwhile transforms The Wall Luxe into a digital canvas, acting as a medium for viewing artworks, photos or immersive scenes. Thanks to its ultra slim form factor and virtually bezel-less design, the TV is able to blend in completely with its surroundings.
The Wall Luxe is based on Samsung's new MicroLED display technology, which many say is the most exciting innovation since the emergence of OLED. MicroLED displays are made up of millions of inorganic and microscopic red, green and blue LEDs that can also emit their own light, in the same way that OLED screens can. But Samsung says that MicroLED's inorganic element – OLED uses organic emissive elements – can also help to eliminate burn-in issues and help the TV to last longer. It reckons the self-emitting diodes used in its MicroLED displays are good for up to 100,000 hours of use, for example.
Samsung showed off a 219-inch precursor to the Wall Luxe for the first time at the Consumer Electronics Show in Las Vegas in January.
Samsung said it was able to scale up The Wall Luxe to a massive 292-inches, to the expandable nature of MicroLED. This 'expandability' is one of the "four factors of freedom", Samsung spoke about at CES. MicroLED displays are said to be "modular" in nature, which means it's possible to build them in any shape or size. The displays also have "freedom of resolution" because the pixel density can be maintained no matter how large the screen is. MicroLED displays also benefit from "freedom of ratio" as they can deliver any kind of aspect ratio. Finally, they also have "freedom of bezel" due to their modular design, which means that like The Wall Luxe, there's no need for a bezel at all.
"As the world's first consumer modular LED screen solution, The Wall Luxe delivers the ultimate flexibility for people wanting to customise their homes with bespoke display solutions, delivering on design without compromising on top of the range technology," said Damon Crowhurst, head of visual display at Samsung UK. "Consumers will no longer have to sacrifice the design of their home to accommodate standard screen sizes. With Samsung's The Wall Luxe, we provide infinite screen size and shape possibilities which reimagine the total viewing experience. We're thrilled to be the first to offer this solution with Harrods as our retail partner."