Samsung's smaller MicroLED TVs likely to be delayed
By Mike Wheatley
- 24 July 2021
Samsung Electronics reportedly delayed the promised launch of its 99-inch MicroLED TV due to its inability to manufacture the product cheaply enough.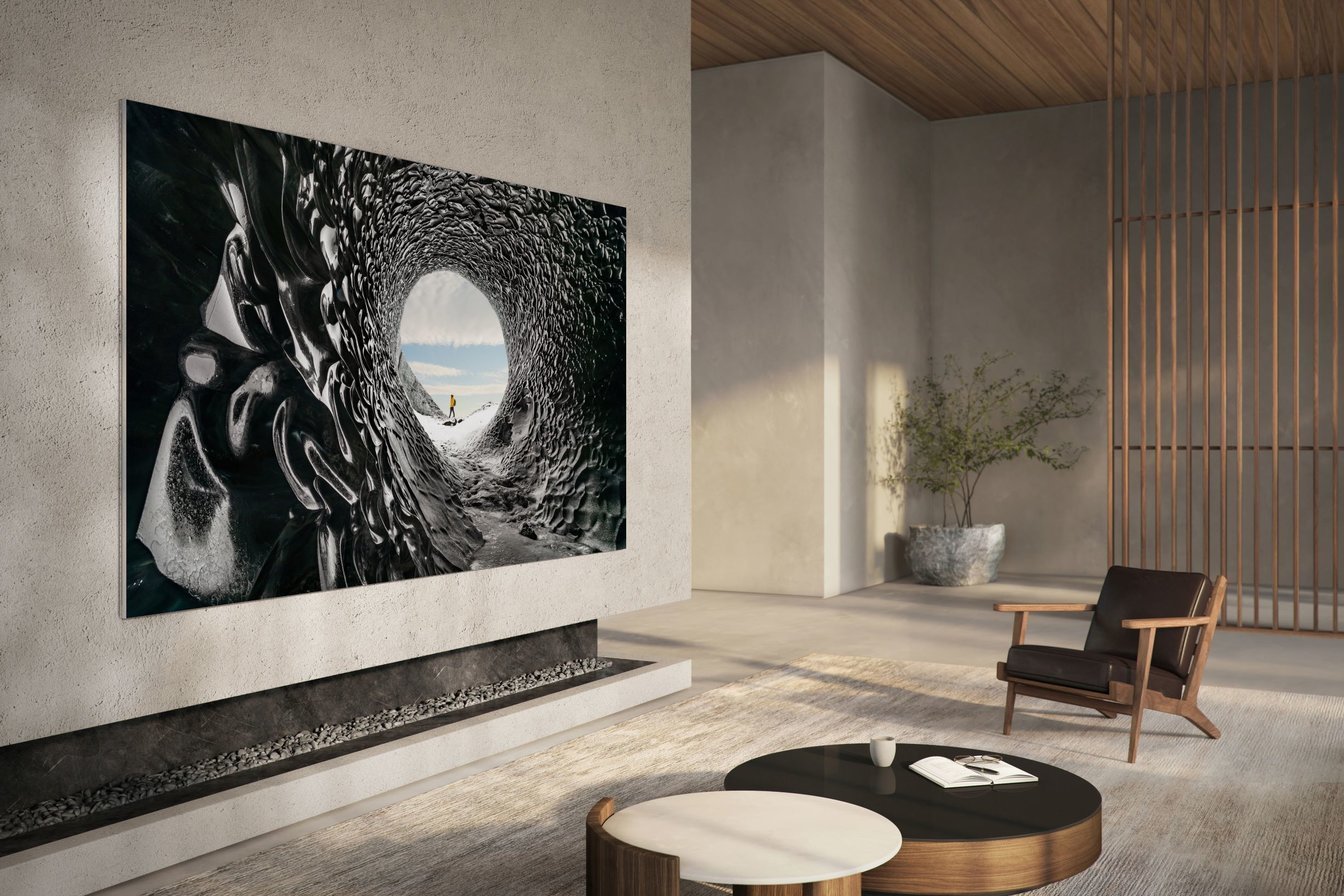 The company said in March that it would launch a 99-inch MicroLED in the first half of the year, but that never happened. The company had also promised 88-inch and 76-inch versions of the MicroLED TV later in the year, but they are also likely to be delayed due to the same problem, South Korean tech news website The Elec reported this week.
A spokesperson for Samsung said the reason for the delay is "high demand" for the 110-inch MicroLED TV. However, "people familiar with the matter" told The Elec that the real reason for the delays is because of a "cost problem" in producing smaller versions of the MicroLED TVs.
The issue is that smaller MicroLED TVs are more difficult to manufacture, resulting in higher production costs. Naturally, the 99-inch MicroLED ought to be cheaper than the 110-inch model, which is priced at 170 million won (around £107,000) in South Korea. But Samsung cannot manufacture the 99-inch models cheaply enough to sell them at a lower price tag. It has the same problem with the 88-inch and 76-inch versions too.
Samsung's MicroLED TVs promise to be superior to anything seen in people's living rooms so far. MicroLED is a self-emissive technology that provides all the best bits of OLED but without its shortcomings. The self-emissive properties mean that each pixel can switch itself off, just like OLED, to be completely black, while those next to it can display incredibly vibrant colours to create stunning contrast that simply isn't possible on a regular LCD TV, for example.
MicroLED pixels are brighter than their OLED equivalents too, so it means the TVs should be able to deliver more spectacular contrast and better pictures overall. In addition, MicroLED pixels are said to be inorganic, which means they won't degrade over time and suffer from issues such as image retention.
Despite the promise, building the TVs isn't easy. The pixels of MicroLED TVs are made up of LED devices that measure just micrometers in size. These LED devices are packed into 9.7-inch modules that are then assembled into larger TVs. But the LED devices must be packed onto a smaller surface when the screen size is reduced, and that is where Samsung is reportedly struggling.
As Samsung goes smaller, its production yield rates decline further, The Elec's anonymous sources said. In addition, the repair process for swapping out defective LED devices on the substrates is also more expensive when trying to produce smaller screen sizes, the people said.
These production hiccups means Samsung will likely delay the commercial launch of smaller MicroLED TVs, The Elec reported.
The report didn't mention how long the smaller models might be delayed for, but earlier this week the same publication revealed how Samsung has turned to its subsidiary Samsung Display to design and manufacture components called low-temperature polycrystalline thin-film transistors that will enable it to make smaller MicroLED TVs. It's said that by using LTPS TFTs, Samsung will be able to build a "micro circuit design" that's better able to control the smaller LEDs, potentially resulting in higher production yields.
Samsung is exploring other ways of reducing the manufacturing costs of MicroLED besides.
In February, it was reported that the company is working on implementing RGB (red, green and blue) one-chip transfer technology. The technique involves squeezing the R, G and B LEDs onto a single chip, as opposed to separate chips, therefore increasing the size of each chip. That would make it easier to transfer them to printed circuit boards, minimising production defects and improving yields. That would result in lower costs that can then be passed onto buyers.
Cost is proving to be the biggest roadblock in terms of commercial viability for MicroLED. While Samsung's 110-inch MicroLED TV sells at 170 million won, rival LG Electronics' most expensive OLED, the 88-inch 8K resolution Z1, costs just 47 million won (about £29,600), The Elec said. Therefore, Samsung likely has a long way to go before MicroLED goes mainstream.
Not everyone needs to wait until a new technology becomes commercially viable though. High net worth individuals who have several hundred thousand pounds burning a hole in their pocket may want to check out Samsung's newest MicroLED TV, the 2021 version of The Wall, which offers up to 16K resolution and weighs in at a staggering 1,000-inches, depending on the configuration.