Skyworth's S81 Pro OLED TV launches in China
By Mike Wheatley
- 23 July 2020
Skyworth is ramping up the competition in China with the launch of its latest OLED TV offering that boasts HDMI 2.1 connectivity to enable premium gaming features at a very affordable price point.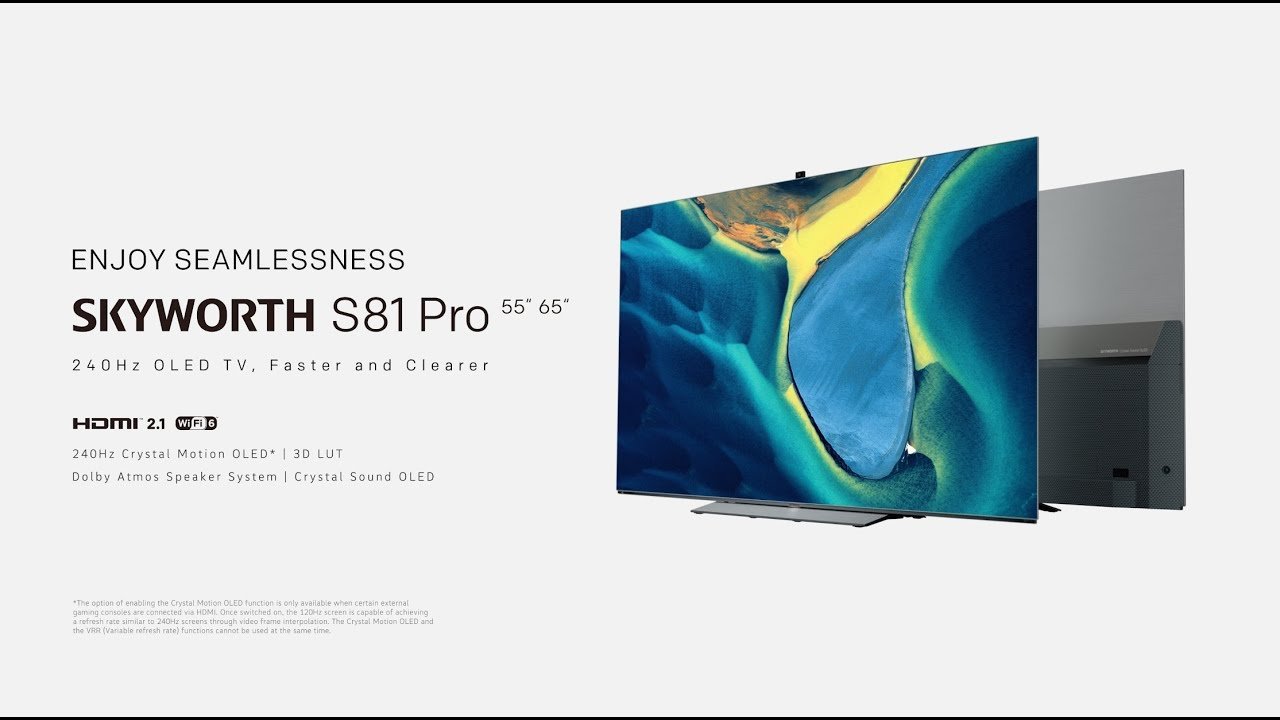 The Skyworth S81 Pro OLED TV offers 4K resolution and is available in a choice of 55- and 65-inches. It's said to deliver a "supreme gaming and viewing experience" thanks to the company's proprietary Crystal Motion OLED (CMO) technology and built-in WiFi 6 hardware that enables the equivalent of a 240Hz refresh rate.
It also boasts technologies such as Crystal Sound OLED and 4K AI image processing that should appeal to anyone who's interested in buying a premium OLED TV at a relatively cheap price.
Unfortunately, with Skyworth only showing an interest in its domestic market at the moment, it's unlikely we'll ever see the S81 Pro go on sale in the U.K.
The S81 Pro is said to use its proprietary Crystal Motion OLED (CMO) technology to enable frame interpolation that replicates a refresh rate similar to 240Hz. The refresh rate is adapted on the fly using the HDMI 2.1 Variable Refresh Rate feature to guarantee an optimal frame rate and ensure the smoothest gaming experience.
Meanwhile the 4K AI Image Processing Engine uses facial recognition and scene detection to brighten, sharpen and make other improvements to the image quality in real time. Skyworth said this, combined with a professional-level colour calibration technique and its 20-point White Balance setting, helps the S81 Pro to deliver colours calibrated to Delta 0.98 E.
The S81 Pro is Skyworth's first OLED model that integrates Crystal Sound OLED (CSO) technology, producing audio directly from the screen via its vibrations, to make it seem as if the sound emanates directly from the images on-screen. Audio quality is further boosted by support for Dolby Atmos surround sound.
The Skyworth S81 Pro can also serve as a hub of connectivity for more than 60 categories of "internet of things" devices, while voice commands are handled by its TrensAI digital assistant.
Skyworth said the S81 Pro OLED TV will go on sale in China in August, priced at 12,999 RMB (around £1,450) for the 55-inch model, and 19,999 RMB (around £2,250) for the 65-inch version.
The TV will rival Skyworth competitor Xiaomi's first ever OLED TV, the 65-inch Mi TV Lux, which went on sale in China last month priced at 13,000 RMB.