Sony Refreshes OLED TV Lineup At CES 2020
By Mike Wheatley
- 7 January 2020
Sony has announced its first 48-inch OLED TV at the Consumer Electronics Show in Las Vegas alongside a range of new models in its 2020 TV lineup.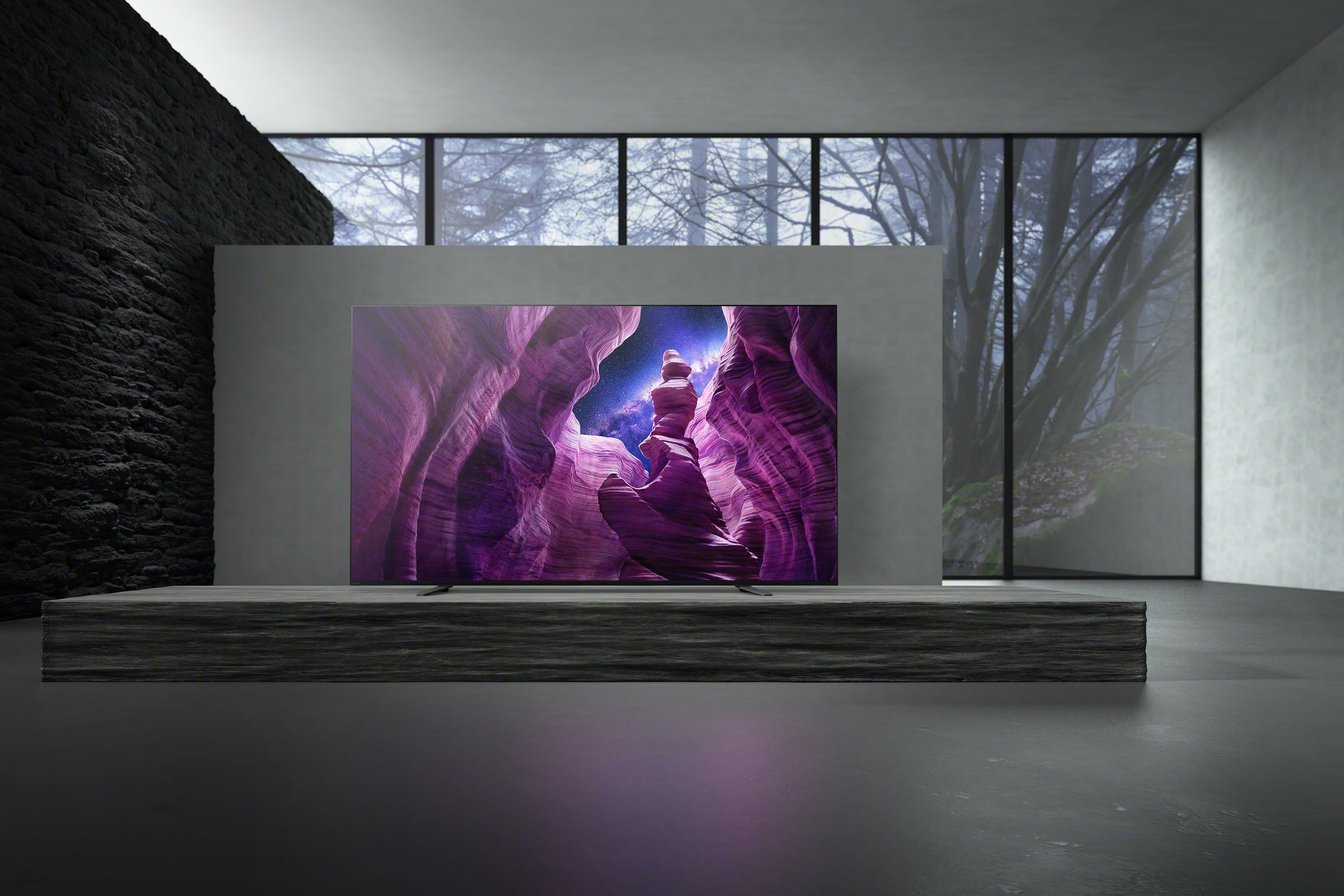 The smaller OLED is part of Sony's older A9G series which carries over into 2020. In addition, the company announced new A8 OLED models in 55-inch and 65-inch sizes that feature a two-way stand with room for a soundbar underneath when the feet are flipped up vertically.
The Sony A8 series OLED TVs come with the company's latest X1 Ultimate processor and support Dolby Atmos, Apple AirPlay 2 and Apple Homekit for the first time. The Dolby Vision, HDR10 and HLG high dynamic range formats are also supported, though Sony has once again neglected HDR10+, as it insists that it can achieve the same effect through the adoption of dynamic tone mapping in its TVs.
The TVs also come with two subwoofers and boast Sony's Acoustic Surface Audio system where the sound is generated directly by the OLED panel, similar to the older A9.
Sony's newest OLEDs also feature "X-Motion Clarity for OLED", which helps to make images clearer without impacting brightness levels.
The TVs all run the Android TV platform, pre-installed with Android 9. Both Chromecast and Google Assistant are built-in, too. The TVs will also support Netflix Calibrated Mode and IMAX Enhanced, but strangely, Sony has rejected the new Filmmaker Mode that's been embraced by most other TV manufacturers this year, without explaining why.
One odd omission from Sony's latest OLEDs is that none of them appear to be equipped with HDMI 2.1 ports. That's unusual because Sony has already said it will use HDMI 2.1 with its upcoming PlayStation 5 console. Perhaps, it means Sony is planning to launch further high-end TVs later in the year.
Sony said the A8 and A9 OLED TVs will go on sale later in the year, but no prices have been announced.
The company also lifted the lid off its comprehensive range of 8K and 4K LCD TVs for 2020, with its high-end models featuring full array local dimming, and in some cases, HDMI 2.1 ports.
Sony's flagship LCD TV this time around is the Z8H, available in 75-inch and 85-inch sizes. The Z8H series features full array local dimming but Sony hasn't yet said anything about the number of dimming zones, nor the peak brightness the TVs are capable of. The Z8H TVs are also powered by Sony's XI Ultimate processor, and come with a new "ambient optimisation" function that's able to adjust the picture brightness according to the ambient light in the living room.
"The most immersive experience is realised through enhanced picture quality, slim design and Sound-from-Picture Reality with Sony's new Frame Tweeter technology," Sony said in its pitch. "The frame tweeter vibrates the frame of the TV to emit sound, giving customers the feeling that sound is coming directly from the screen."
Sony also unveiled a batch of more affordable 4K LCD TVs, namely the X950H and X900H series, which both feature full array local dimming and will be available in a range of sizes starting from 49-inches all the way up to 85-inches.