TCL Goes After Samsung With Its First Vertical TV, "The XESS"
By Mike Wheatley
- 20 August 2019
TCL is looking to take on Samsung in the vertical TV stakes, according to a report from South Korean technology website The Elec.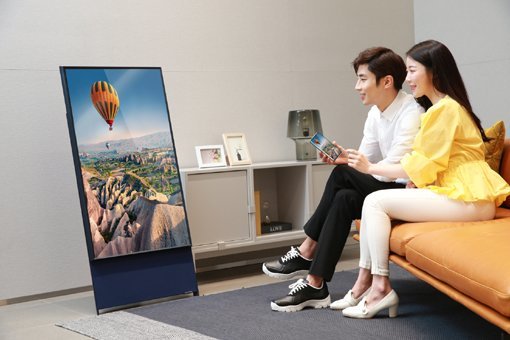 Samsung raised eyebrows earlier this year with the launch of its multi-format Sero TV, part of its "Lifestyle" TV lineup, which is capable of swiveling on its axis to stand upright, as well as being a regular, widescreen TV. At the time of the launch, Samsung said the peculiar design was all about getting people to try enjoy the big screen "in a new way", though it did offer one practical use case, as it's able to connect to a smartphone and mirror its screen when in vertical mode.
Now, TCL has responded with its own upright TV design, called the XESS, which was announced at a special event in Guangdong, China, on August 16. The TV stands pretty tall thanks to its hefty 55-inch screen, making it bigger than the 43-inch Sero. The XESS is also said to be cheaper, as it will be priced at 3,999 yuan (around £470) when it goes on sale in China later this year. Samsung's Sero meanwhile will set you back 1.89 million won (£1,285) if you're willing to travel to South Korea to actually buy one, as it's currently only on sale there.
Whether buyers will be tempted by the XESS's cheaper price tag remains to be seen, as we're still struggling to think of a reason why anyone would really want one, aside from the novelty factor. Still, TCL seems to think there might be a few takers, as it cited data from Penguin Think Tank that says more than 80% of consumers desire a new way to view their images and videos.
It's not clear from The Elec's report if the XESS has the Sero's ability to mirror a smartphone screen, but it's fair to assume it that does. Otherwise, what's the point, really?
Then again it could just be that TCL is copying Samsung simply for the sake of it. After all, it does have a bit of history when it comes to borrowing some of its more unusual ideas. For example, just one year after Samsung debuted its arty "The Frame" TV that doubles as a kind of picture frame for digital art when not in use, TCL showed off a similar design at the 2018 Consumer Electronics Show in Las Vegas. TCL also followed Samsung's lead in 8K, announcing its first such model several months after the Korean firm broke new ground in that particular market.