TCL's 8K OLED TV concept transforms into a table
By Mike Wheatley
- 26 May 2023
TCL still stubbornly refuses to launch any consumer OLED TV products, but that may soon change if its exhibits at SID Display Week 2023 are any indication of its future plans. The company showcased no less than six new prototype displays that aim to push the envelope in very different areas. Star of the show was an inkjet-printed, 8K resolution, flexible OLED display that doubles as a table!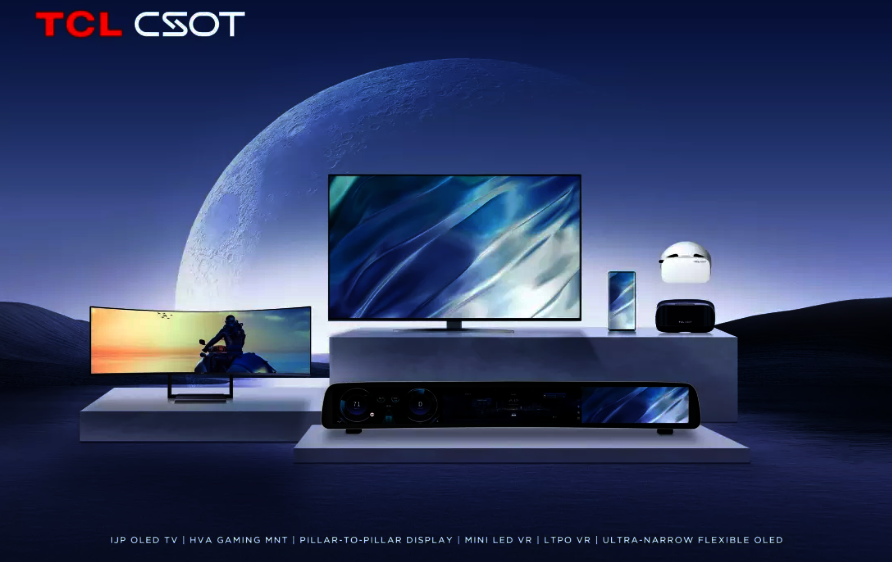 Yes, you read that right. TCL's prototype 65-inch 8K 120Hz foldable OLED display is built using indium gallium zinc oxide thin-film transistors and inkjet printing technology. TCL claims that it's the largest foldable OLED display ever made, with a super-thin screen that can display 33 million pixels per frame, bend to under R25mm, with a 100,000-bend lifetime.
Perhaps the most impressive thing was its neat little trick, where with the click of a button the screen folds up in half and lays itself down flat. Then, the plastic casing on the back lowers itself down as a protective cover for what is now an OLED display tabletop. While it's not immediately clear what benefits an OLED table may bring, it's certainly a fantastic party trick.
Besides that, TCL also showed off a second flexible OLED display. It said it's the world's first low-temperature polycrystalline oxide (LTPO) ultra-narrow flexible AMOLED display for mobile devices. It features a four-sided 0.9 array panel frame, a four-sides 1.6mm module frame, a 0.33mm zero-cut array border and a 0.36mm module border. TCL said it offers a high-touch report-rate with support for variable refresh rates of between 1H and 240Hz, making for super efficient power consumption. It also boasts 1,920Hz PWM dimming technology, and a C7 organic light emitter that provides more accurate colours.
A second 8K display on show was TCL's 57-inch 240Hz curved ultrawide monitor, which is capable of bending to 1,000R. It provides a 32:9 aspect ratio and 7,680 x 2,160 resolution.
TCL also showed off a second monitor, which looks a lot like Samsung's Odyssey Neo G9. It's just as big as the 8K display, measuring 57-inches diagonally with a 32:9 aspect ratio and 240Hz refresh rate, only it has 4K resolution. TCL hasn't confirmed any prices, but said it will definitely be launched as a product to compete with Samsung's 49-inch Odyssey.
In addition, TCL also showcased a couple of premium virtual reality displays that it said attempt to eliminate the "screen-door" effect, which is unique to VR headsets and results in the user being able to make out the individual pixels on a display. To eradicate this problem, TCL has employed a 1,512 pixel-per-inch density, meaning that the pixels are smaller and more condensed than with standard VR headsets. The first VR display on show was a Mini-LED device with an RGB 2,280 x 2,280 resolution, support for 120Hz and a 100,000:1 contrast ratio. The second is an LTPO realRGB LCD display with 4K resolution.
Last but not least, TCL's sixth exhibit was a 47.5-inch ultrawide curved pillar-to-pillar automotive display for vehicle dashboards. It's extremely long, measuring 1.4 metres length-wise, with a curvature of 4,200R. It's also touch sensitive, and can be operated by both the driver and the front-seat passenger, TCL said. Its Mini-LED backlight provides more than 3,000 local dimming zones.