Nearly one out of five viewers cannot see the difference between high-definition (HD) and standard-def (SD) TV programmes, according to an informal online poll put up this month by UK-based computer magazine PC Advisor. However, it is unclear whether these sceptics were actually getting the best HD picture quality possible by using the appropriate HDTV display, connection method and video source.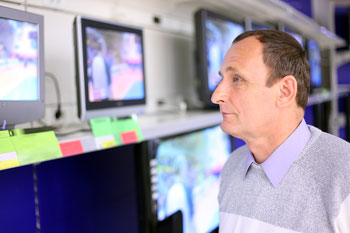 The PC Advisor web survey posed the question, "What do you think of HD TV?". Out of 802 visitors who participated in the poll, 19% voted that "they can't really see the difference". 32.4% thought that high-def content is great, but a quarter (25.4% to be exact) of respondents said that it is not worth the extra money even though they like the effect.
8.4% of the respondents preferred "normal" standard-definition TV broadcast over high-def ones, although the increased costs of HD subscriptions and necessary equipments may have played a factor. The rest of the participants – 14.8% – said that they have never watched high-definition television programmes.
Here at HDTVTest, we firmly believe that anyone with reasonable eyesight should be able to appreciate the superior image quality – mainly heightened detail and more vibrant colours – delivered by pristine HD video material. That said, there are a few possible reasons why HDTV owners are not optimising their HD viewing experience, to the extent that they cannot perceive any increase in picture quality compared to SD content.
Some viewers may be sitting too far from their HDTVs, so much so that any extra resolution benefit provided by high-def content is lost. Some may be plugging their source devices to their displays via analogue connections (like Scart, composite or S-video) instead of higher-quality digital interfaces such as HDMI. Others may have simply left their TV at its default factory settings which are typically overly garish, therefore negatively impacting on the displayed image.
On the digital TV broadcast front, recent programmes that are filmed and transmitted in native HD should look better than those which are upconverted. Of course, certain HDTV models (for example the 2010 Samsungs) are very competent at upscaling standard-definition material, in effect reducing the gap between the SD and HD pictures displayed on screen.