You seldom get Samsung announcing a "world's first" display without cross-town rival LG Electronics staking the same claim with a similar product, and so it proved today as the battle to garner attention at the Consumer Electronics Show (CES) in Las Vegas next month heats up. In the early hours of this morning, both companies have announced that they will be unveiling the world's first 105-inch curved 4K Ultra HD TV with 21:9 aspect ratio at CES 2014.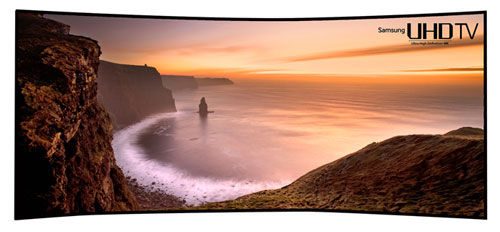 Interestingly, both of these gigantic 105-inchers from Samsung and LG will feature Cinemascope aspect ratio, allowing viewers to enjoy 2:35 aspect ratio movies in their full-screen glory without seeing top-and-bottom black letterbox bars. The last major TV brand to be big on 21:9 format was Philips, and even they discontinued their Cinema 21:9 line in 2012.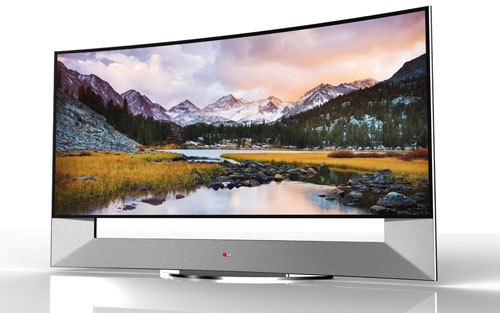 To accommodate the Cinemascope aspect ratio, the native screen resolution of Samsung's and LG's 105in ultra high-definition (UHD) televisions is higher than that implemented on conventional 4K tellies on the market currently, coming in at 5120×2160 totalling 11 million pixels. Both screens will be based on LED LCD instead of OLED display technology: LG specifically mentioned that new technology has been developed to maintain structural integrity and tackle uneven backlighting through refinement of its TFT LCD pixel circuitry; while Samsung emphasised the quality of its "Quadmatic Picture Engine" that delivers optimised color and greater sense of depth no matter the source.
Of course, these days no groundbreaking TV can make its way past R&D (research and development) and marketing onto the show floor without sporting a curve however slight. We do think that a curved screen makes sense at this mammoth size, contributing to a more immersive viewing experience a la IMAX.
LG has even gone as far as to give its 105″ curved UHD TV a model number of 105UB9, and cleverly alluded to the brand's new slogan of "It's All Possible" in its press release. The LG and Samsung 105-inch curved 4K TVs will be exhibited at CES 2014 in Las Vegas next month, where we will bring you more news and eyes-on impressions direct from the show halls.