The world's largest ultra high-definition (UHD) television has gone on sale today, making the rare transition from trade shows into the homes of consumers property/oil tycoons, footballers and high-rolling investment bankers. The honour belongs to Samsung, who has today announced the global launch of its 110-inch S9 4K UHD TV. Boasting a width of 2.6m and a height of 1.8m, the gargantuan panel is even larger than your average king-size bed.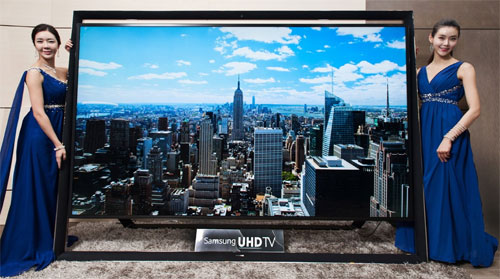 The South Korean manufacturer first mentioned the 110-incher at CES 2013 back in January when it unveiled the smaller 85-inch S9; a prototype was then subsequently exhibited at IFA 2013 in Berlin in September. With just two days to go before 2014 arrives, Samsung has made good on its promise to release the 110S9 before the end of 2013.
Few details are known about the Samsung 110in UHD TV, other than it sports the same "easel" design as its 85in sibling, as well as a native screen resolution of 3840×2160 which is four times that of regular 1080p HDTV. If the Samsung 85S9 is any indication, the 110S9 should feature the company's "Quadmatic" Ultra HD upscaling engine, and also full-array local dimming LED backlight technology which is intended to deliver deeper blacks and brighter whites within the same scene depending on how many dimming zones are implemented.
The Samsung 110″ UHD television will initially be rolled out in China and the Middle East as a commercial display targeted towards government agencies and major corporations needing a huge screen for video conferencing, although there's no stopping VVIPs like yourself from placing an order should you have the space and budget to accommodate the beast. The Samsung 110S9 is priced at $150,000 (around £90,000), and if Amazon ever stocks the UHDTV, we expect it to receive the same "funny reviews" treatment as the $40,000 85in S9.
Source: Samsung's official blog (Google translated from Korean)