Always eager to give its customers greater flexibility, BSkyB (British Sky Broadcasting) has just announced the launch of an innovative one-week catch-up TV service on Sky Plus, together with a brand new HD box packing 2TB of storage, and the integration of Zeebox functionality to its Sky+ iPad app.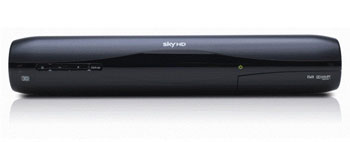 BSkyB intros 7-day catch-up TV & 2TB Sky+HD box
The improvements are part of a batch of updates that Sky promised to unveil last month, as it looks to enhance the range of services it provides to its 9 million UK customers.
Of the new additions, by far and away the most exciting for most users will be the arrival of catch-up TV, which can be found in the on-demand section of Sky's electronic programming guide (EPG), replacing the old Anytime service. As of today, Sky+ customers can benefit from even greater flexibility in their programming, as they'll be able to access catch-up TV content from any of Sky's major channels for the last seven days in addition to standalone Demand 5 and ITV player services. And with the BBC iPlayer and 4oD set to join Sky+ by early next year, those using the platform will soon be able to enjoy catch-up and on-demand television services from all four of the UK's main public service broadcasters.
Up until this feature was rolled out, the Sky+ users could catch-up with the programmes they missed was if they recorded shows in advance, saving them onto their box's internal hard drive storage – otherwise, they wouldn't be able to see them, simple as that. Despite this limitation, Sky+ has nevertheless proven to be extremely popular, with around 1.2 billion recorded shows being viewed by its 9 million customers every single month.
Coinciding with the launch of seven-day catch-up TV, Sky has also announced an upgrade to its latest set-top boxes – it's now offering a whopping two terabytes of storage space in its brand new 2TB Sky+HD box, which is due to be released this week. Sky's new box comes in response to demand from its customers for more storage capacity, and offers six times the memory of its regular Sky+ box – up to 350 hours of HDTV content, or two week's worth of viewing.
Finally, one new feature just rolled out is the integration of Zeebox into the Sky Plus for iPad application. This move comes just a few months after Sky snapped up a 10% stake in the second-screen TV app following its launch by Anthony Rose, formerly chief designer of the BBC iPlayer.
Sky+'s revamped iPad app will now come powered by Zeebox technology, and allows users to connect with dozens of different online communities based around their favorite TV channels, flick between channels and browse through their TV guide, directly through their iPad.