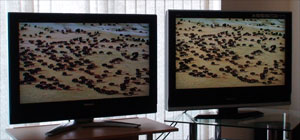 So far all the HDTVs we've reviewed are 40 inches and above, so we thought that we would test a couple of 32″ LCD TVs for a change.
In March 2007, 2 Japanese electronic giants rolled out their products in this hotly contested market segment: Toshiba 32C3030D replacing the ever-so-popular 32WLT66; Panasonic TX32LXD70 succeeding the highly-acclaimed TX32LXD70. Both are HD ready, and feature a native resolution of 1366 x 768, DVB Freeview tuner and two HDMI inputs.
And both arrived today… just when Colin and I were starting to twiddle our thumbs. We'll first test the Toshiba 32C3030D, and then the Panasonic TX32LXD70, culminating in a 32″ LCD TV head-to-head shootout between these 2 models.
For those who are waiting for the new Samsung M86 / M87 review, don't worry – we've placed an order and one's on the way…