At the ExCel International Convention Centre (ICC) in London this afternoon, Panasonic showcased their new range of Viera HDTVs for the year ahead. Understandably its top-of-the-line VT30 series of 3D plasma TV – the first from the Japanese corporation to be 3D THX-certified – hogged most of the limelight, but there have been some improvements made to step-down models too. Here we highlight some of the new innovations spotted on Panasonic's 2011 HDTV models at its annual convention today.
3D CMS (Colour Management System)
The term "3D CMS" has nothing to do with the extra-dimensional display technology TV manufacturers are counting on to drive HDTV sales, but refers to an array of picture-affecting controls on a television set that allows all three colour parameters of hue, saturation and intensity/ luminance/ brightness to be adjusted separately. Last year's Viera TVs only offered control over hue and saturation, so imagine our delight when we found out that Panasonic has added [R-Luminance], [G-Luminance] and [B-Luminance] in the [Colour Management] submenu on selected 2011 sets: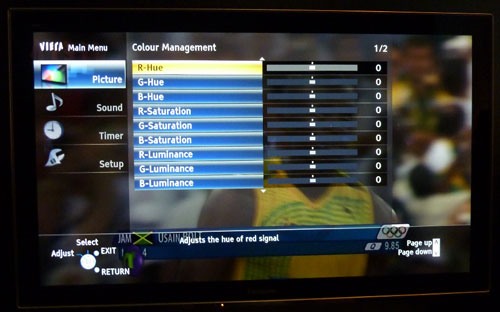 The high-end models including the VT30 should be equipped with this calibration feature, in theory allowing near-perfect colours to be achieved on these Viera flat-panel TVs. However, whether or not Panasonic's implementation permits truly independent calibration of the three colour values will only be known when we get our hands on a review sample.
Design
"Functional" is usually the word that springs to mind when describing the styling of Panasonic HDTVs in the past, but the company seems certain to shed this reputation with its latest offerings.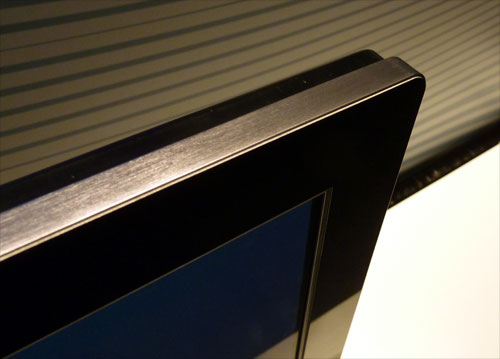 Single-sheet-of-glass design that gives a frameless appearance, slimmer chassis, rounded corners and brushed metallic edges are but some of the characteristics which bring Panasonic closer to its competitors (especially those from Korea) in aesthetics term.
Remote Control

The remote control (at least on higher-end 2011 models) has received a cosmetic update as well, although we're not sure if this is a good thing. The glossy buttons and chrome number keys look classy especially when contrasted against the matt front surface, but they attract too many fingerprints for our liking.
3D Vertical Resolution
Last year, we discovered that Panasonic's 3D TV displays that are smaller than 50 inches in screen size are not capable of displaying all 1080 vertical lines of the full HD resolution in 3D mode. The good news is that this issue has been resolved on all the new 2011 3DTV models except the entry-level ST30 range (which still uses last year's technology), according to a reputable Panasonic source at the event. We will verify this information ourselves when we get the chance.