According to the most recent Quarterly Large-Area TFT LCD Shipment Report published by market research firm DisplaySearch, 3D LCD TV panel shipments have seen healthy growth over the third quarter of this year. In Q3'11, shipments of these extra-dimensional LCDs are said to have reached 6.6 million units, which represents a growth of 27 percent quarter on quarter.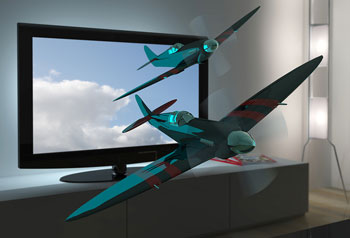 3D LCD TV panel shipments saw healthy growth in Q3'11
In a breakdown of the figures, the report revealed that shipment of passive 3D (patterned retarder) LCD panels has grown faster than that of active 3D (shutter glasses) panels, with a quarter-on-quarter rise of 34 percent and 23 percent respectively. Keen to build on their momentum, LCD panel manufacturers are targeting very healthy growth for the fourth quarter of this year, with a projected 30 percent increase in 3D LCD television panel shipments for Q4'11. Based on the targets set out by LCD panel makers for the final quarter of this year, it is thought that 3D LCD TV panel shipments could hit a total of 21.5 million units in 2011.
Consumer awareness and interest in 3D-capable HDTV displays have enjoyed sustained growth this year, as TV makers and brands continue to promote this technology. The data showed that 3DTV penetration among the total number of LCD TV screens shipped during the third quarter of 2011 reached 12 percent.
David Hsieh, vice president in the greater China market at DisplaySearch, said that for the past six consecutive quarters the TFT-LCD industry had been in oversupply. However, he explained that although there are still some concerns about the availability of 3D services and content, panel makers have been improving and strongly promoting this display technology. The oversupply over the past six quarters has also helped to bring prices down to a more affordable level for consumers, further boosting interest in these tri-dimensional TVs.
Source: DisplaySearch