The best large-screen HDTV displays in 2010 – both with and without 3D capabilities – came from Japanese TV manufacturer Panasonic, according to readers who participated in our year-end poll. The Panasonic VT20 and the Panasonic V20 plasma series were voted as the best 3D TV and the best non-3D big-screen (40″ and above) HDTV respectively, despite concerns raised by some quarters over the 50hz motion handling, black level retention, and long-term black-level performance of Panasonic plasma televisions.
An online survey was sent out to 5,554 HDTV Test subscribers, of whom 1,063 responded by voting for the HDTVs they thought reigned supreme in each class this year. The poll ran from the second week of December to Christmas, and the collected data was then analysed to see which HDTV displays were deemed as 2010's best in the eyes of the public.
Best 3D TV 2010
With most TV manufacturers fighting tooth and nail throughout this year to get a head start in the emerging domain of 3D technology, the 3D TV sector became perhaps the fiercest battleground. And it was Panasonic who emerged victorious in the first round: its VT20 series of 3D plasma TV displays topped the "Best 3D TV 2010" category among the first generation of 3-dimensional HDTVs.
The Panasonic VT20 received an impressive 39% of votes from our readers, despite facing strong competition from the Sony HX903 local-dimming 3D LED LCD TV (which came second with 9% of votes) and the Samsung C9000 3D-ready edge LED LCD HDTV (in third place with 7% of votes).
The positive attributes which probably clinched it for the Panasonic VT20 plasma 3D TV are its inherently fast motion response time (that results in less crosstalk during 3D viewing compared to LCD-based 3DTVs) and its ability to produce supremely deep, Kuro-like blacks. In fact, the Panasonic TX-P50VT20 we reviewed back in May was the first HDTV outside the elite group of now-discontinued Pioneer Kuro plasmas to walk away with our "Reference Level" award.
Best HDTV 2010 (non-3D, 40-inch and larger)
On the non-3D front, Panasonic NeoPDP plasma HDTVs led the pack again, with its high-end V20 series winning the category after securing 41% of our readers' votes, followed by the mid-range Panasonic G20 at 10%.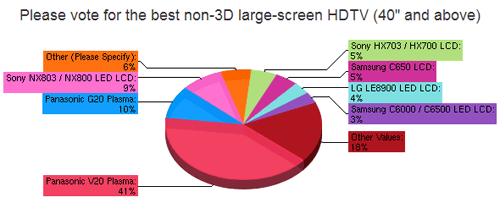 Indeed, we "highly recommended" both the Panasonic TX-P42V20 and the Panasonic TX-P42G20 in our reviews, because of the plasmas' extremely deep blacks, excellent greyscale tracking, accurate colours, crisp motion, and low input lag. While plasma display technology has seen its market share dwindle over the past few years, it appears that plasma TVs still have the beating of LCD televisions (be them LED-backlit or not) when it comes to pure picture quality… at least for 2010.
So well done to Panasonic for bringing out several corking plasma HDTV displays this year. It will be interesting to see if the company can sort out the niggling issues on its plasmas next year, or if other TV makers will be able to raise their game. Roll on 2011!