In order to give viewers the best possible experience whilst watching extra-dimensional content on their 3D-capable HDTV displays, media and entertainment giant British Sky Broadcasting (BSkyB) has now released a 3-dimensional version of the test card on its Sky 3D channel.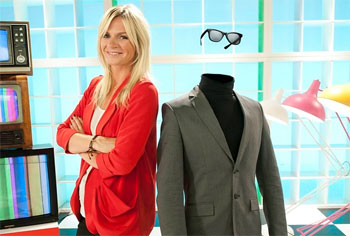 3DTV test card debuts on Sky 3D channel
The brand new 3D test card provides users with lots of advice on how to set up their 3D TVs including positioning the television set, getting the sound settings right in their room, changing the colours, contrast and aspect ratio of the picture on screen, as well as setting the ambient room lighting for optimal effect. To help explain things, the hosts of the tutorials are Zoe Ball and a character called "Mr 3D" who is a life-size, headless figure wearing 3D glasses.
According to BSkyB's chief engineer of broadcast services Chris Johns, these guides are an attempt by the digital satellite TV company to give the old test card a 21st century feel by introducing advanced 3D technology to it, and also to provide simple and clear instructions on how to get the very best out of any 3DTV set, which can often be quite a complicated process.
John went on to state that these tutorials are designed to provide users with information on how to get the best out of any tri-dimensional viewing experience in the most user-friendly way possible, by watching Zoe Ball walk them through the tutorials in either 2D or 3D.
There are currently a number of different ways for viewers to see the new 3D test card if they are interested in watching these latest tutorial videos: on Sky 3D (channel 217 where the test signal can either be seen or recorded at 12:45am every day), online, or through Sky Anytime.