A senior BBC technology chief has admitted that viewers are becoming "less and less enthusiastic" about 3D TV. Speaking at the recent Future TV summit in London, the BBC's Andy Quested said that although the broadcaster was one of the keenest proponents of 3D television, audiences had progressively gotten lower each time they televised a new show.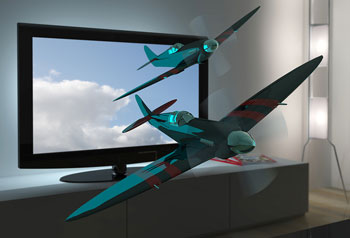 3D TV dead in the water? The BBC seems to think so
Quested made his comments following the end of a two-year testing period at the BBC. During that time, the broadcaster experimented with televising several shows and events in 3D, including its flagship Strictly Come Dancing programme, the comedy show Mr. Stink, natural history documentary Walking with Dinosaurs, and last summer's Olympic Games.
But unfortunately, it seems that 3D TV just doesn't appeal to British viewers, despite there being an estimated 1.5 million households that now own 3D capable TVs.
According to Quested, the BBC's 3D coverage of the Olympics opening ceremony was watched by around half of all 3D TV owners in the UK, and consequently deemed to be a success. But following that event, 3D TV audiences for the rest of the Olympics declined rapidly, with subsequent shows drawing an average of just 4,000 viewers, suggesting that most people have little interest in the special effects at home. Last Christmas's broadcasts of Mr. Stink and the Queen's Speech proved to be disappointing as well, drawing the interest of less than 5% of potential viewers, Quested added.
"We saw viewing figures fall dramatically after the Olympics, and from our point of view as a public service broadcaster that's pretty worrying," stated Quested.
"The thing is we have to justify the money being spent. Is this something best left to a private broadcaster? I'm afraid to say that it's unlikely we'll ever see a 3D channel launched on the BBC now."
No Future for 3D TV?
It's pretty hard to ignore the BBC's numbers, which suggest that 3D TV in its current form really doesn't interest that many people, but we should bear in mind the limited extent of the Beeb's trial period. To date, the Olympics opening ceremony coverage was by far and away the most popular 3D programme on the BBC, given the nature of the event. However, it's hardly surprising that there were less viewers watching specific sports events in 3D, given that these don't capture the imagination in quite the same way.
In hindsight, filming the Queen's Speech in 3D probably wasn't the most inspired idea either – her majesty is hardly the most animated of characters these days, and having her sat in a chair talking to viewers doesn't really exploit the full potential of the technology. Maybe if the BBC had chosen more sports events, like a World Cup qualifier or FA Cup football match, or alternatively some movies to broadcast in 3D, we'd see greater audiences.
In any case, Quested didn't completely rule out a future for 3D TV, saying that the development of "glasses-free" 3D TVs could one day deliver a truly compelling experience that might just make a difference.
Source: 3D Focus