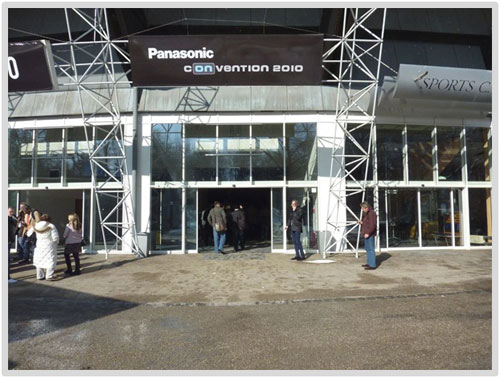 On the 16th of February 2010, Panasonic chose the beautiful city of Munich to launch and promote their 2010 line-up of products – ranging from home entertainment systems to portable devices – at their annual convention. However, the central theme of this year's convention was primarily on 3D TV.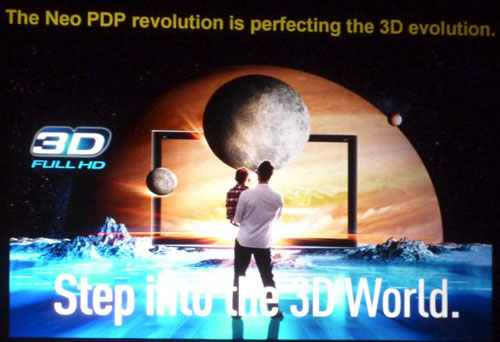 Financial Report
We were greeted with an intro video, which was followed swiftly by a presentation outlining Panasonic's financial successes in 2009.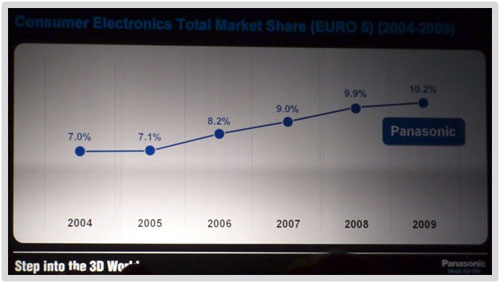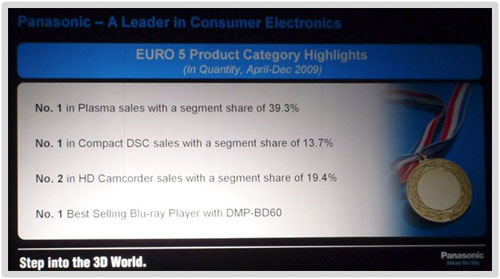 Display Devices Strategy
20 minutes later, the focus moved onto display strategy, which was primarily based on the core objectives that combined rich networking capabilities, eco-friendliness and superb picture quality delivered via Panasonic's very own LCD and plasma technology.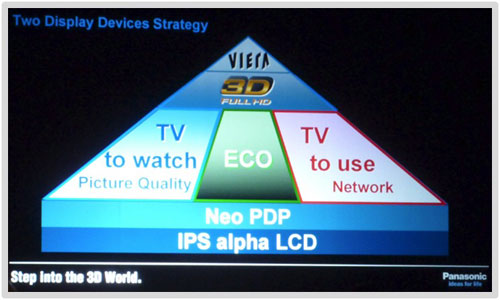 Panasonic completed the construction of its 13th generation plasma panel factory, and is currently in the process of building its 8th generation LCD plant in Himeji. In other words, we may not see Panasonic NeoLCD HDTVs for some time yet.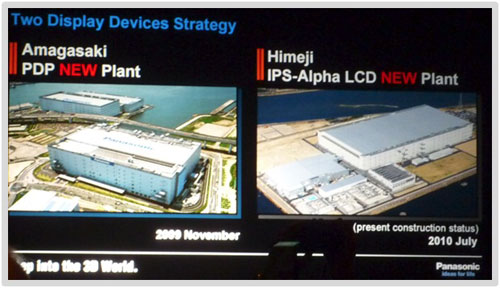 The second generation NeoPDP plasma panels will feature approximately 4 times the luminance efficiency compared to the 2007 (10th generation) models thanks to the new Xenon discharge gas, high-density phosphors and cell structure.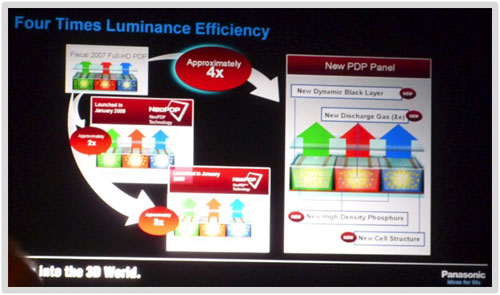 In comparison to the 2009 models, Panasonic claimed that their 2010 line-up will boast a 36% reduction in power consumption. We'll probably wait for the actual power consumption test results when we get our hands on review samples before drawing any conclusions.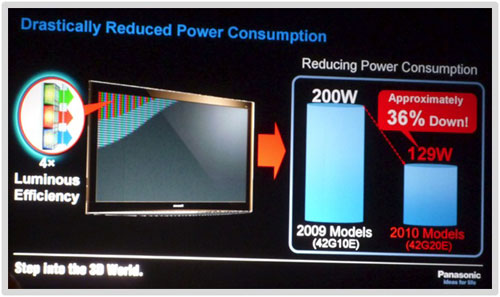 Aside from 3D, black level was the subject of discussion among many of the attendees. So it was welcoming news to hear of Panasonic's continuous stride towards perfect blacks.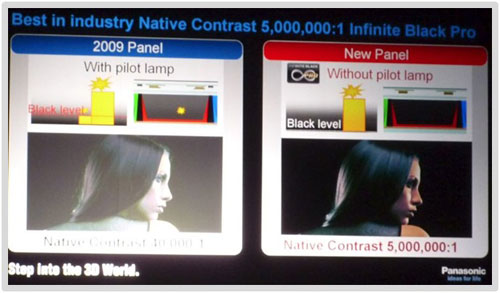 However, we are a little sceptical of the "5 million to 1 contrast" quote, which ironically (in a small way) contradicts the "Infinite Black" slogan.
3D TV Revolution
2010 is the advent year of 3D designated for the living room, and it will come as no surprise that Panasonic is at the forefront of the 3D TV revolution.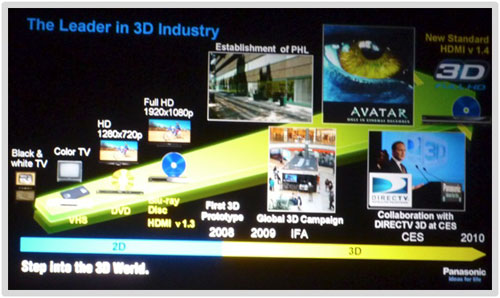 In contrast to competing manufacturers, Panasonic is uniquely situated to fully utilise the 3D technology in conjunction with the newly developed second generation NeoPDP screens and RealD-powered Active Shutter Glasses, which together will provide full HD 1920 x 1080 Frame-Sequential 3D (FS3D) per eye as illustrated below: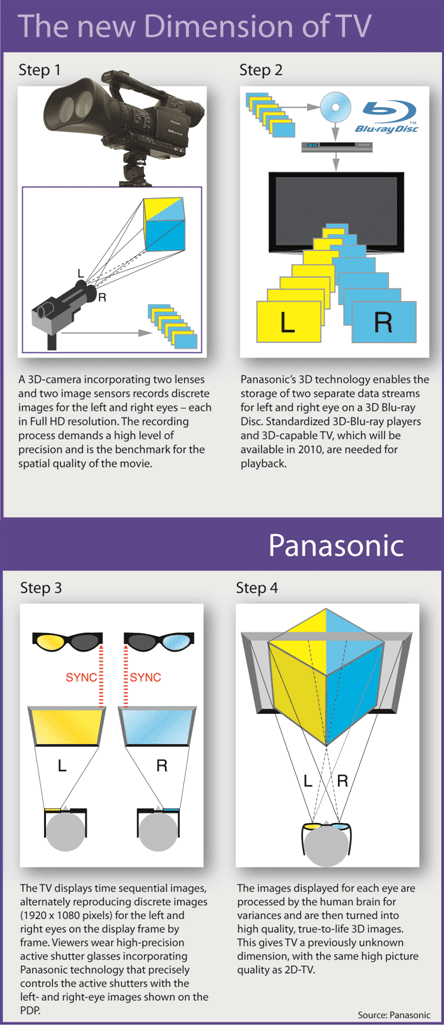 Introducing 3D in a problem-free format to the masses is difficult to say the least, as both LCD televisions and plasma display panels suffer from several limitations which have to be tackled without significantly increasing production costs. The main problem is crosstalk. On LCD TVs, pixel latency and high hold-time lead to image overlap, which in the 2D world is perceived as motion blur. In the 3D world however, it manifests itself as double-image. The same is true of PDPs, but the culprit is prolonged phosphorus lag. As a result, Panasonic had to redesign their underlying plasma technology not only to drastically reduce phosphorus lag, but also to eliminate perceivable flicker, amplify luminance (with minimal power increase), and minimise uneven phosphorus aging.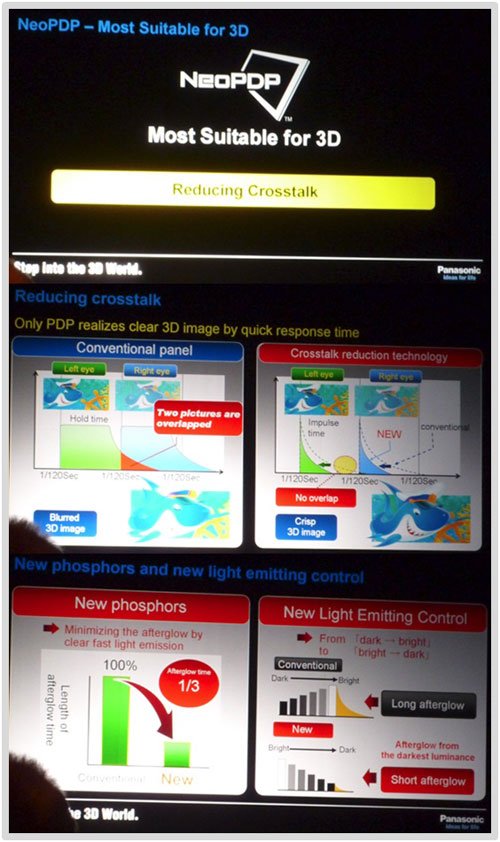 Panasonic also eliminated the traditional dual-glass shield, and implemented single-glass technology to completely eradicate internal reflection while yielding superior ANSI contrast.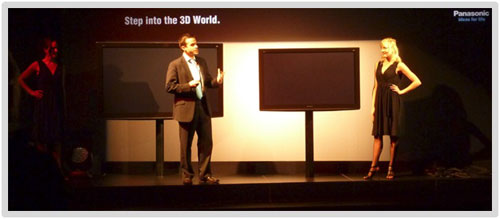 The end result: the Panasonic VT20 series of full HD 3D TV. Detailed information regarding the models will follow shortly, so stay tuned.