A recent survey among 3D TV owners has found that most of them are extremely happy with their purchase, citing high indices of satisfaction with picture quality (PQ), negligible price premiums versus a non-3D-capable HDTV, and even the minimal adjustments needed for wearing 3D glasses. The respondents enjoyed a variety of 3D content including movies, sports and games on their 3DTV sets, and looked forward to even more widespread availability of tri-dimensional material in the near future.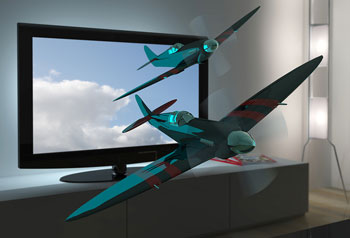 The study was carried out by market research firm SmithGeiger on behalf of the Digital Entertainment Group (DEG), an industry-funded corporation based in Los Angeles. Between the 1st and 31st of March this year, 3065 owners of 3D TVs (whose names were supplied by Panasonic, Samsung, Sony, LG and Mitsubishi – all members of the DEG) were asked to complete an online survey that delved into various 3DTV-related aspects, such as image quality, perceived differences in price, viewing experience, content preferences, and attitude towards 3D eyewear.
According to the survey results, most owners were satisfied with their 3D-at-home viewing experience, with 88% rating the 3-dimensional PQ highly, though this figure is still slightly lower than the 91% scored for 2D picture quality. Almost a quarter (24% to be precise) admitted to watching more television – in both 2D and 3D – since buying a new 3D-capable display. In addition, 85% of respondents preferred to watch at least half of the programmes in 3D.
Owners also believed that upgrading to a television set featuring 3D capabilities was worth the higher price premium (which was perceived to be minor compared to the extra pleasure derived from three-dimensional viewing). In fact, nearly four out of five respondents claimed that the 3D televisions they purchased were either less expensive, around the same, or just slightly more expensive than a comparable HDTV sans 3D.
The compulsory 3D glasses did not seem to be a major issue: 83% of 3DTV owners adjusted to wearing them reasonably quickly, although a not insignificant proportion (at least 17%) stated that they "never feel like they fully adjusted to the glasses". Nearly three-quarters (74%) of owners have two or more pairs of 3D eyewear; on average there are 2.38 pairs of glasses per home.
The findings of this research – a first among actual owners of 3D TV sets – contrast favourably against the huge amount of apprehension revealed in previous studies conducted on the general public. Of course, sceptics will point out that the recruited sample is hardly fair (owners are more likely to be biased after spending so much money on their 3D TVs), and that the study was commissioned by an industry body whose members have a vested interest in seeing 3D home entertainment take off.
Source: DEG