Dixons Retail Group this week revealed that sales of 3D TV displays in its network of stores have increased dramatically over the last quarter. The British consumer electronics retailer, who owns Currys and PC World, said that 3D-capable HDTV sets accounted for 20 percent of all televisions sold between April and June this year.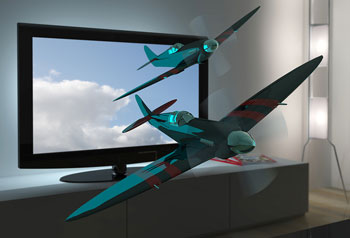 3D TV sales at Currys and PC World saw 500% annual growth
Passive 3D TVs, such as the LG LW650T and the Toshiba VL863 series, were singled out for praise by the retail group who said that these models sold particularly well, contributing heavily to the jump in overall 3DTV sales. Given the significantly cheaper prices, reduced weight and increased convenience of the polarized 3D glasses (when compared to their active-shutter counterparts), as well as tri-dimensional images that promise to be flicker-free, it's not surprising to find passive 3D televisions gaining popularity among UK consumers.
Dixons also stated that like-for-like 3DTV sales are up 500 percent on twelve months ago. The retailer attributed this to lower prices, greater availability of 3D content, and the fact that 3D capability is increasingly found on a wider range of flat-screen TVs (even entry-level and midrange ones). Currently 40 percent of the company's stock of televisions are made up of 3-dimensional sets.
John Mitchell, Dixons Retail's category manager, noted that there has been heightened interest in 3D display technology in both the company's online ecommerce websites and brick-and-mortar shops over the past three months. He explained that competitive pricing played a part, with prices as low as £499 boosting the appeal of extra-dimensional home entertainment displays among consumers. He also tipped his hat to the growing selection of 3D material – ranging from movies to sports and documentaries – which is poised to be bolstered by the arrival of the new Barclays Premier League 2011/12 football season and the final instalment in the Harry Potter saga.