The boffins at ITU – the international organisation responsible for setting worldwide standards in TV broadcasting among other things – have been busy lately. Fresh from preparing the technical specifications for 4K and 8K UHDTV, the institution's Radiocommunication division (ITU-R) has also developed the standards for 3D TV programming, again with the help of television industry professionals, broadcasters and regulating bodies who participated in its Study Group 6.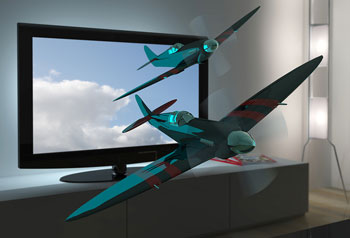 3D TV gets standardisation boost from ITU
The new 3DTV standards (which are called "Recommendations" by ITU) aim to provide a recognised platform for the evaluation, production and broadcast of extra-dimensional programmes, in an effort to popularise 3D technology among global consumers. Focusing upon the two high-definition formats commonly used by countries around the world (namely 720p and 1080 HDTV), ITU-R's newly drafted Recommendations lay down the guidelines for the digital interfaces used by film studios to make tri-dimensional content, as well as the requirements for 3D TV in general.
The procedures of judging the visual quality of 3DTV content have also been agreed upon. ITU-R Study Group 6 have outlined three "quality factors": the image quality in the third dimension; the perceived 3D depth; and last but not least the level of viewing comfort experienced by the audience.
Commenting on the development, ITU's secretary-general Hamadoun Toure hoped that the new standards – which have been submitted for fast-track approval – will give a boost to the 3D TV format which has opened up new possibilities for television broadcasters and consumer electronics manufacturers in recent years. ITU-R Working Party 6C (WP 6C) chairman David Wood added that the body's Recommendations will prove invaluable to those who are involved in the production and distribution of 3-dimensional programmes, both in the present and in the future.