It has been suggested that advanced 3D TV technology is gaining popularity amongst viewers in the UK, with figures showing that there has been a massive increase in the number of shipments of these high-tech sets. Whilst some people may have been a little sceptical about this display technology catching on in the home at first, it seems that 3D TVs have managed to develop a faithful following with many others looking to get on board.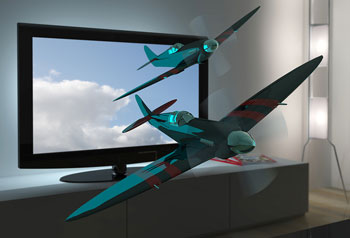 Data was released with regards to shipment figures recently in the Quarterly Large Area TFT LCD Shipment Report – Advanced LED+3D by DisplaySearch. This showed that in the first quarter of this year there was a massive 104% increase in the number of shipments of 3D-capable HDTV displays to meet rising demand for the technology. More and more people these days are heading to the cinema to watch movies in high quality 3D, and this has helped to make the concept of having extra-dimensional viewing within the home more appealing to the masses.
Having seen the figures for the first quarter of this year, analysts are now predicting encouraging figures for the rest of the year, with forecasts of an overall 12% penetration over the course of the year. The penetration for the first three months of this year for the 3D television sector was said to be around 3.9% according to the report.
It is thought that figures and forecasts will continue to be upwardly revised as a great number of offerings come onto the market within the 3D TV sector. David Hsieh, vice president of the greater China market for DisplaySearch, stated: "LCD TV panel makers are leveraging 3D as an important feature to rejuvenate TV market demand, in the hope that 3D provides a new viewing experience for consumers."