A Sony chief has predicted that the adoption rate of 3D TV technology will be faster than that seen during the transition from standard-definition televisions to HDTV displays, fuelled primarily by content from the recently launched Sky 3D channel as well as a good dose of 3D games. However, he did concede that the economic uncertainty currently gripping the UK and most of Europe has put a damper on progress.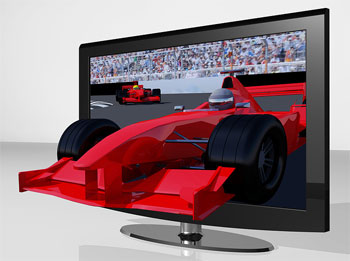 Andrew House, president of Sony Computer Entertainment Europe (SCEE), made this claim in an interview with MCV, the UK-centric video game trade magazine. When asked about when he thought the tipping point for 3D penetration at home would be, Mr House coyly sidestepped the question, instead declaring that "it will be a faster adoption than the shift from standard to high definition".
He also acknowledged the importance of 3D content availability and sales of 3D TVs and related products in driving the growth of 3D technology. In a rare thumbs up to British Sky Broadcasting (BSkyB), he praised the broadcaster's track record in stimulating HD uptake, and hoped for much of the same (or better) with 3D, particularly following the introduction of Sky 3D as Europe's first dedicated 3D channel at home.
Being the head of Sony's video gaming operations in Europe, Mr House naturally could not refrain from bigging up the role 3D gaming is going to play in the 3D revolution, claiming that 3D games not only heighten the 3D effects due to their interactive nature, but also deliver a 3D experience that is largely unattainable outside the home environment (unlike 3D movies which can be enjoyed in 3D cinemas, or 3D sports which can be watched in pubs equipped with 3D screens).
While it's true that 3D games are widely regarded by the industry as key to driving 3DTV adoption, whether or not consumers are willing to buy 3D displays in their current form (i.e. needing to wear 3D glasses to watch 3D material) remains debatable, especially with glasses-free 3D TV sets looming on the horizon.
Source: MCV