Channel 4's video-on-demand app 4oD has finally arrived on the Samsung Smart TV platform, with the popular app from the nation's third-largest broadcaster available to download from the Samsung Apps store as of today.
For Samsung Smart TV owners, the new app brings a wealth of new Channel 4 programming on demand, with no less than 30-days of catch-up TV in addition to 4oD's growing archive of classic shows. Samsung viewers will now be able to access all of their favourite Channel 4 hits, including classics like the Peep Show, Father Ted, BrassEye, Hollyoaks, Drop The Dead Donkey and Grand Designs to name just a few.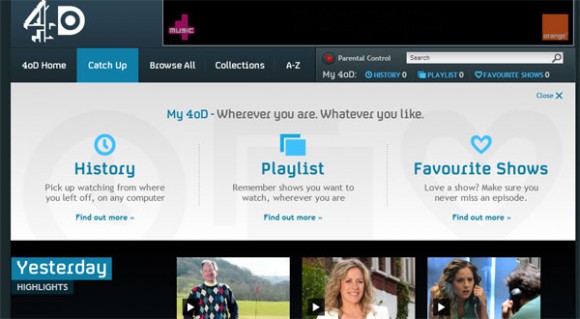 Channel 4's 4oD hits Samsung Smart TV apps store today
Following on from 4oD's launch on platforms like Sky TV, Android, iOS, YouView, and Virgin Media, the addition of 4oD to Samsung's popular Smart TV platform means that the app now boasts an availability that's almost the equal of the BBC's iPlayer, to the clear delight of Channel 4's Sarah Milton.
"We're very happy to announce the extension of 4oD's availability, which is just the latest step in our ongoing plans to widen the reach of Channel 4 content onto key platforms," states Milton in a press release.
"With 4oD now available to download from the Samsung Apps store, Smart TV viewers will never have to miss one of their favorite shows ever again, while they'll have access to all of our most popular recent programmes, and of course our enormous archive that spans more than 30 years of Channel 4 broadcast history."
Meanwhile, Samsung's Robert King, Vice President of Consumer Electronics in the UK, expressed his satisfaction that 4oD was now available
for the company's customers to enjoy.
"Not only does the addition of 4oD strengthen our vast catch-up TV offering, but it means that our customers have the widest possible choice of content options for their viewing pleasure. We're constantly working to bring even more high quality content to our customers, and the widespread availability of popular classics, movies and dramas guarantees to provide hours of entertainment."
The 4oD app for Samsung Smart TVs is compatible with all 2012 models, available to download from the app store today, sitting alongside popular apps like Facebook, Spotify and Netflix.
Source: Samsung