At a time when TV manufacturers are falling over themselves to release one 4K TV after another, Toshiba is steadfastly insisting there remains a market for premium 1080p HDTVs – the company hasn't even officially announced its L94 series of Ultra HD television for the UK market at this time of writing. Instead, what we have in for review today is the Toshiba L74 series, its flagship full HD LED TV which comes in three sizes: the 42-inch Toshiba 42L7453, the 47-inch 47L7453 (we're testing this), and the 55-inch 55L7453.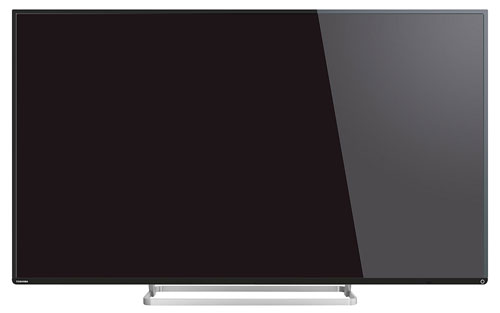 Fortunately for potential buyers, the "premium" tag that Toshiba's been happily using to describe its latest L7 Series refers to its specifications rather than its price. The L7453 features an IPS LCD panel with direct-lit LED backlighting (boosted by some sort of local dimming system according to the Japanese brand), passive 3D capabilities, CEVO video processing, and the firm's revamped Toshiba Cloud Smart TV platform. The RRP (recommended retail price) of the Toshiba 47L7453DB is a very reasonable £750… let's see if its picture quality impresses.
Design
The 47in Toshiba L74 is a decent-looking set whose black bezel is surprisingly slim for a direct LED display. Rounded bottom corners and a circular LED indicator on the bottom right of the panel are cute touches.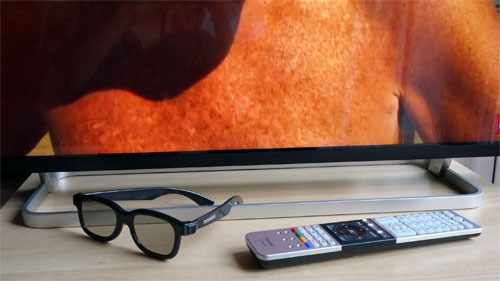 The LCD panel sits on a non-swivel table-top stand with an open-frame rectangular base. Build quality is nothing to shout about, which is hardly surprising given the TV's affordable price point.
Connections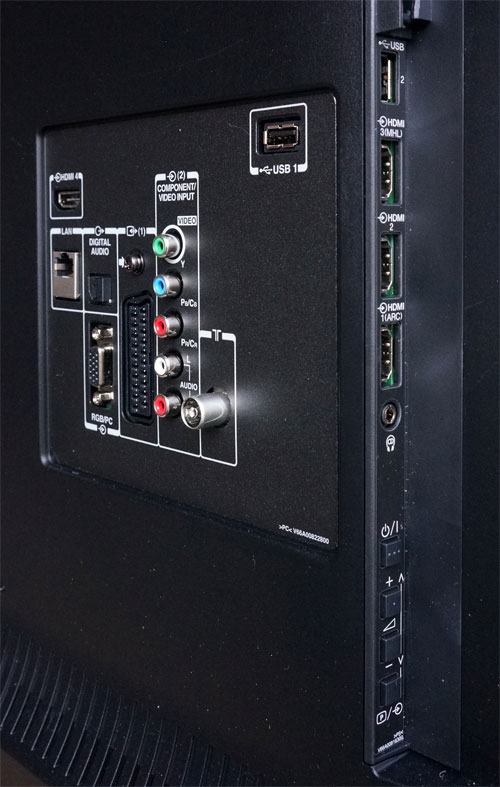 Rear: 4x HDMI, 2x USB, component, VGA, SCART, aerial, LAN & audio outs
Calibration
Note: Our Toshiba 47L7453DB review sample was calibrated using CalMAN 5.3, the industry-leading video calibration software.
The most accurate out-of-the-box picture presets on the Toshiba L74 are the three [Hollywood] modes, namely [Hollywood Day], [Hollywood Night] and [Hollywood Pro], with the first delivering the highest light output for daytime viewing. For no reason other than its cool-sounding name, we went with [Hollywood Pro] for our calibration process.
Greyscale
Pre-calibration, greys were tinted blue: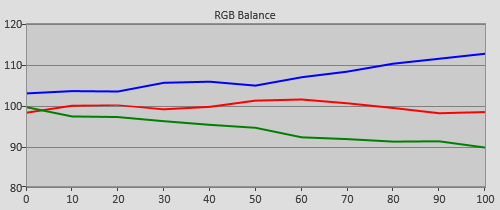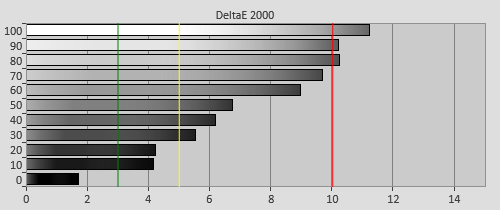 Pre-calibration RGB tracking and delta errors (dEs)
Although Toshiba has implemented both 2-point and 10-point [White Balance] controls on the 47L7453, they work independently of each other and are not additive, unlike similar systems found on Panasonic and Samsung TVs. Because of certain issues with the 10-point WB system (adjusting one interval would affect adjacent ones), we were restricted to using the two-point [White Balance] controls to bring greyscale closer to spec: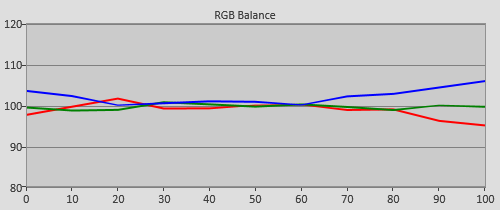 Post-calibration RGB tracking and dEs in [Hollywood Pro] mode
Due to lack of precision, we couldn't flatten out greyscale as much as we'd like, but fortunately delta errors (dEs) did not exceed the humanly perceptible threshold of 3 for the most part.
Gamma
The Toshiba L7453 doesn't come with 10-point [Gamma] controls, but does offer a few gamma presets which are curiously labelled as [Black/White Level]. Unfortunately enabling [Black/White Level] in any of its three settings of "Low", "Middle" and "High" resulted in S-shaped gamma curve which is detrimental to accurate video reproduction, so we had to leave it off.
| | |
| --- | --- |
| | |
| Pre-calibration gamma tracking (2.06) | Post-calibration gamma tracking (2.24) |
With [Black/White Level] disabled, thankfully overall gamma tracked fairly close to 2.2 after greyscale calibration. We did not pursue 2.4 gamma owing to the circa-0.2 cd/m2 blacks and compressed dynamic range of the onboard IPS-type LCD panel.
Colour
Considering the issues with the greyscale and gamma controls, it will probably come as no surprise that Toshiba's colour management system on the 47L7453DB – dubbed [ColourMaster] – is flawed in its implementation too. Tweaking [Brightness] introduced serious errors to the sub-100% saturation tracking points, so we only had the main [Colour] slider at our disposal to affect proceedings: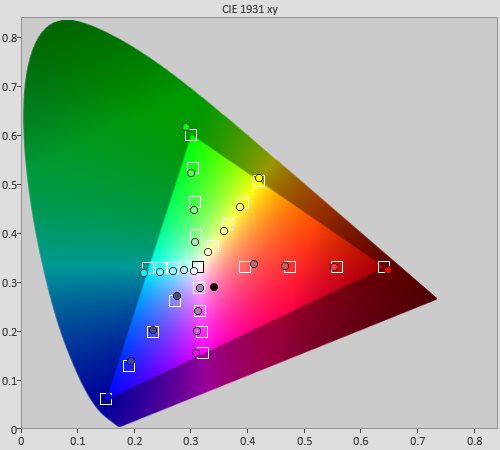 Post-calibration colour saturation tracking in [Hollywood Pro] mode
Nevertheless, after making some adjustments, we achieved a decent result, with only a couple of measured colour saturation tracking points registering mildly visible errors:
Post-calibration colour errors (<3 not appreciable to the eye)
Benchmark Test Results
| | |
| --- | --- |
| Dead pixels | None |
| Screen uniformity | Very good for an LED LCD TV |
| Overscanning on HDMI | 0% with [Picture Size] set to "Native" |
| Blacker than black | Passed |
| Calibrated black level (black screen) | 0.192 cd/m2 |
| Calibrated black level (ANSI checkerboard) | 0.192 cd/m2 |
| Black level retention | Stable |
| Primary chromaticity | Good |
| Scaling | Decent |
| Video mode deinterlacing | Very good |
| Film mode deinterlacing | Passed 3:2/480i & 2:2/576i with [ClearScan] on |
| Viewing angle | Good for an LED LCD display |
| Motion resolution | 1080 with [ClearScan] engaged; 300 baseline |
| Digital noise reduction | Optional; occasional tendency to exaggerate noise in SD |
| Sharpness | Defeatable edge enhancement |
| Luma/Chroma bandwidth (2D Blu-ray) | Full luma; chroma horizontally blurred except in [Game] & [PC] modes |
| 1080p/24 capability | Subtle telecine judder |
| Input lag (high-speed camera) | 7ms compared to lag-free CRT |
| Leo Bodnar input lag tester | 18ms in [Game] mode |
| Full 4:4:4 reproduction (PC) | Yes, in [Game] and [PC] modes |
Power Consumption
| | |
| --- | --- |
| Default [Standard] mode | 55 watts |
| Calibrated [Hollywood Pro] mode | 56 watts |
| Standby | <1 watt |
Picture Quality
Black Level & Contrast Performance
The Toshiba 47L7453 uses an IPS LCD panel from LG Display, whose black-level response and contrast performance are understandably not its strongest suite. After aligning peak white to 120 cd/m2 (as we do for every TV we review to maintain a level playing field), native black level came in at 0.192 cd/m2 on both a full-black screen and a 4×4 ANSI chequerboard pattern. Backlight uniformity was very good by LED LCD standards, benefiting from the direct-lit configuration.
Subpixel structure indicating LG IPS matrix
The local dimming system on our 47″ L7453DB was not full-array. Using our custom-authored test sequence where a small white box was scrolled horizontally and/or vertically along the borders of the LCD screen, we determined that the TV would dim its LED backlight only in rows (we counted 6 horizontal zones in total) but not in columns. Interestingly, the per-row dimming took place even with [Active Backlight Control] switched off, so there's really no need to engage [Active Backlight Control] since it darkened everything including brighter elements on screen, as well as caused some fluctuation in luminance.
For the record, ANSI black level measured 0.15 cd/m2 and 0.138 cd/m2 with [Active Backlight Control] set at "Low" and "High" respectively.
Motion
The 47L7453DB's motion-compensated frame interpolation (MCFI) technology is controlled via the [ClearScan] option which is also tied to film-mode deinterlacing – the television won't be able to correctly detect and process 3:2 and 2:2 cadences with [ClearScan] disabled. Engaging [ClearScan] improved motion resolution (evaluated using the horizontally scrolling lines pattern in Chapter 31 of the FPD Benchmark Software test disc) to 1080 lines from the LCD baseline of 300.
The least aggressive [ClearScan] "Standard" setting was our favourite, reducing motion blur effectively without introducing overly obvious interpolation artefacts or soap opera effect to 24fps films. It also worked well to smooth out the subtle telecine judder in Blu-ray movies stemming from the L74's lack of native 1080p/24 playback.
There's another option called [Scene+] in the picture menu which we initially thought was some sort of black frame insertion (BFI) since activating it dimmed the whole screen, but because it didn't bring about any increase in motion resolution, we left it off.
3D
The 3-D display technology on the 47L7453 was the FPR (film-type patterned retarder) variant championed by LG, so we knew what to expect: comfortable, flicker-free tri-dimensional viewing with reduced vertical resolution and viewing angles (stray beyond 15° above or below eye level and crosstalk would increase significantly). Like certain LG passive 3D TVs we've seen, Toshiba has applied spatial filtering to mask the jagged edges caused by halved vertical res, so extra-dimensional images appeared somewhat soft.
By default, [3D Judder Cancellation] was enabled (presumably to overcome the absence of native 24p playback in the third dimension), but this introduced overt soap opera effect and interpolation artefacts. We advise turning it off: we'd rather put up with some judder during the odd panning shots than sit through an entire 3D Blu-ray movie that looks like cheaply-shot video.
Gaming
Finally, a TV maker has picked up the gauntlet thrown down by Sony, and come up with a super-low-lag HDTV for uber-responsive gaming. In [Game] mode, the Toshiba 47L7453DB posted a Leo Bodnar input lag figure of 18ms (or 7ms using the traditional high-speed camera plus cloned stopwatch method), matching up well to the class-leading Sony Bravias.

Input lag (Leo Bodnar) in [PC] mode was slightly higher at 32ms, and in [Hollywood Pro] mode was an eye-watering 161ms.
Verdict
The Toshiba 47L7453 is not without its virtues: colours appeared natural enough, motion processing was decent, and the TV's superb gaming responsiveness was a particular highlight. But ultimately for critical viewing, the L7453 is let down by the onboard IPS panel's limited black-level performance and indistinct shadow detail, and so we can only recommend it to those who will predominantly use it in a brighter environment.