Here it is, the last of a 2014 4K Ultra HD model from one of the top four TV brands (at least in the UK) to arrive in our test room. Over the past two months, we've put ultra high-definition (UHD) TVs from Samsung, Sony and Panasonic through our rigorous review process, and now it's the turn of LG's UB850V (marketed as the UB8500 in North America) series to undergo scrutiny.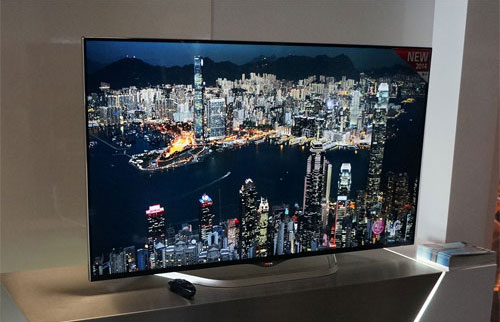 The LG UB850 is the South Korean manufacturer's most affordable 4K TV range for this year, and comes in two screen sizes: the 49-inch 49UB850V which we're reviewing today, and a larger 55-inch 55UB850V. It has all of the most updated next-gen specifications as far as Ultra HD is concerned, namely HDMI 2.0, HDCP 2.2 and integrated HEVC decoder. Other features include IPS LCD panel, edge-lit LED backlighting with pseudo-local dimming, passive 3D capabilities, built-in WiFi connectivity, as well as the company's slick WebOS Smart+ TV platform.
Note: Updated on 12 August 2014 to reflect new firmware.
Design
For the most part, the LG 49UB850V is a handsome set, what with the slimmest bezel (black) we've seen on a 4K television to date, plus a shiny chrome finish around the outer borders. A single pane of glass overlies the LCD screen and the bezel, imparting a sleek "frameless" appearance to the display.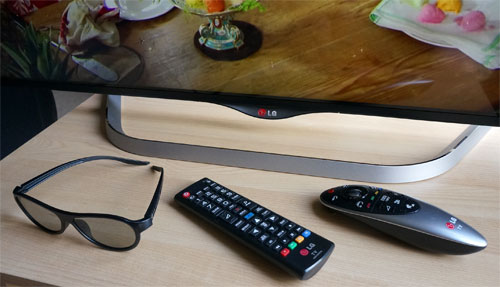 The UB850V sits on a variant of LG's ribbon stand. While the reflective silver accent along the top represents a nice touch, the chunkiness of the matte silver framework feels incongruent with the panel's streamlined styling. Build quality is decent – there's some back-and-forth wobble due to the way the table-top stand is shaped, but not excessively so.
Connections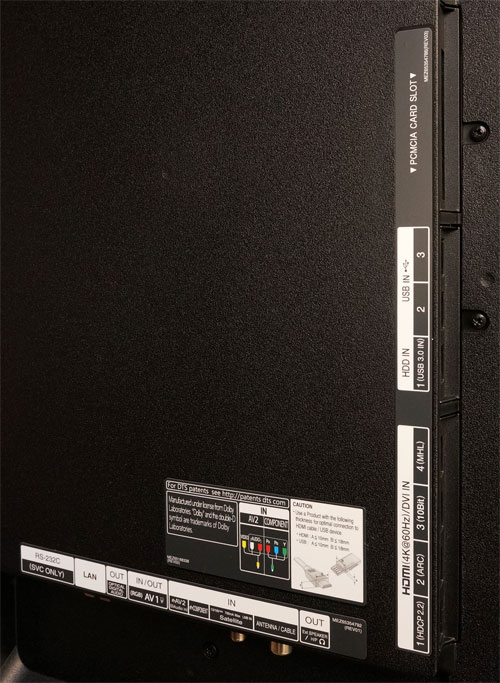 4x HDMI, 3x USB, component, SCART, Freeview HD & satellite tuners, LAN, audio outs.
Calibration
Although the LG 49UB850V offers a comprehensive suite of calibration controls, several issues prevented us from giving the TV the full calibration treatment. First, summoning the [White Balance] submenu would alter the on-screen luminance however subtle, meaning that we had to make an adjustment, exit the user menu completely to take a measurement, then re-enter the menu to make another educated guess – rinse and repeat. Coupled with LG's user menu system which can be sluggish and convoluted at the best of times, even performing a simple 2-point greyscale calibration became an extremely tedious process.
Second, whilst the onboard colour management system (CMS) provides [Saturation], [Tint] and [Luminance] controls for all six primary (red, green, blue) and secondary (cyan, magenta, yellow) colours, it didn't work as well as we'd like it to: adjusting one parameter would invariably cause big swings in at least one other parameter.
With plenty of patience as well as trial and error, we managed to overcome these two hurdles, but discovered that making even a moderate amount of adjustments would introduce serious errors in skin tones (uncorrectable red push). As a consequence, we had to be extremely gentle with our tweaking, even if it meant not being able to fully suppress delta errors (dEs) under the widely accepted perceptible threshold of 3.
Fortunately the 49in LG UB850V exhibited fairly good out-of-the-box accuracy in [ISF Expert1] mode. Because the display's native black level was higher than 0.1 cd/m2, we settled with 2.2 gamma instead of pursuing 2.4 which has been recommended by the International Telecommunications Union (ITU) as the electro-optical transfer function (EOTF) for flat-screen televisions used in dark-room studio mastering.
Greyscale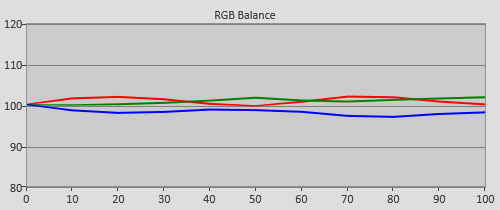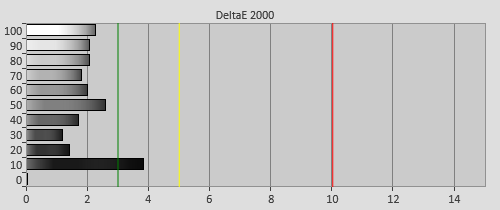 RGB tracking and delta errors (dEs)
Gamma
Gamma tracking (avg 2.26)
Colour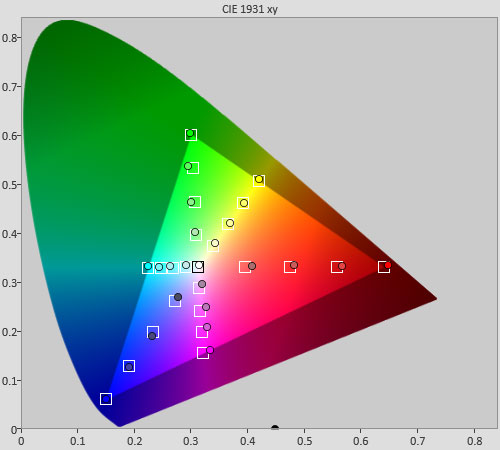 Colour saturation tracking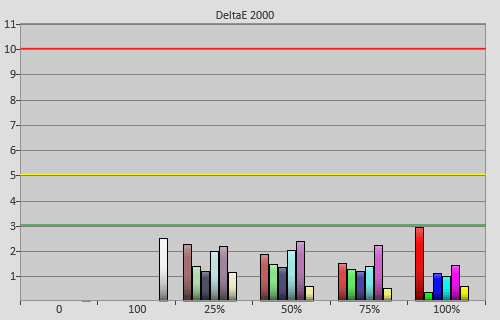 Colour errors (<3 not appreciable to the eye)
Benchmark Test Results
| | |
| --- | --- |
| Dead pixels | None |
| Screen uniformity | Good for edge-lit LED LCD |
| Overscanning on HDMI | 0% with [Aspect Ratio] set to "Just Scan" |
| Blacker than black | Passed |
| Calibrated black level (black screen) | LEDs shut off |
| Calibrated black level (ANSI checkerboard) | 0.157 cd/m2 |
| Black level retention | Auto-dimming with full black screen |
| Primary chromaticity | Very good |
| Scaling | Good |
| Video mode deinterlacing | Very effective jaggies reduction |
| Film mode deinterlacing | Passed 3:2 & 2:2 in SD & HD with [Real Cinema] on |
| Viewing angle | Good for an LCD TV |
| Motion resolution | 300 even with [TruMotion] engaged |
| Digital noise reduction | Very mild undefeatable noise reduction |
| Sharpness | Defeatable edge enhancement |
| Luma/Chroma bandwidth (2D Blu-ray) | Full Luma; Chroma horizontally blurred unless [PC] mode in 60Hz |
| 1080p/24 capability | No judder in 2D or 3D with [Real Cinema] engaged |
| Leo Bodnar input lag tester | 66ms in [Game Mode]; 84ms otherwise |
| Full 4:4:4 reproduction (PC) | Yes, with input label set to [PC] |
Power Consumption
| | |
| --- | --- |
| Default [Eco] mode* | 104 watts |
| Calibrated [ISF Expert1] mode | 113 watts |
| Standby | 1 watt |
Note: Out of the box, the default [Energy Saving] setting was "Minimum" rather than "Off" in [Eco] mode.
Picture Quality Black Level & Contrast
If you're used to watching a VA LCD panel or – heaven forbid – plasma television, then the 49UB850V will give you a nasty shock. While boasting wide viewing angles by LED LCD standards, LG's IPS panel produced mediocre blacks, measuring 0.157 cd/m2 on a 4×4 ANSI chequerboard pattern (peak white was aligned to 120 cd/m2 as we usually do in all our TV reviews). Consequently, a layer of grey mist descended upon portions of the picture that should look black, robbing the image of any punch. The compressed dynamic range also led to obscured shadow detail.
Generally we could count upon any available pseudo-local dimming system to improve contrast performance, but the version implemented on the UB850V was downright ineffective. Engageable through the [LED Local Dimming] option in the picture menu, it seemed to operate with an insufficient number of dimming zones spanning the entire height of the panel, which caused large vertical chunks of the screen to brighten up (a.k.a. blooming) even when only several pixels needed to be lit against a black background. The "No Signal" bubble message that floated around the screen on a blank input illustrated this problem perfectly: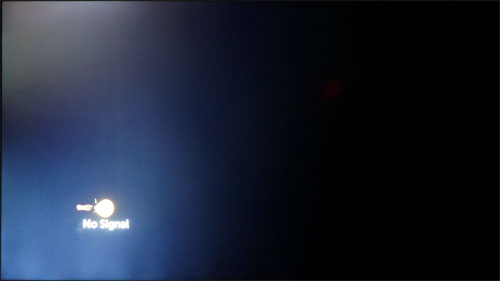 Because of the obvious blooming, all three [LED Local Dimming] settings – "Low", "Medium" and "High" – introduced localised black level fluctuation, though "Low" (which we preferred) was the least noticeable.
Processing
In addition to a very light layer of undefeatable noise reduction except in [PC] mode with 60Hz signal, there's another piece of incompetent processing that epitomised LG's disregard for preservation of video fidelity. Even with [LED Local Dimming] disabled, the LG 49UB850V would switch its LEDs off even when there's some near-black information that's supposed to be displayed (e.g. a 2% above black windowed pattern), crushing whatever indistinct shadow detail that's left into oblivion. This over-aggressive auto-dimming can be defeated by changing [HDMI Level] from "Low" to "High", but this workaround cannot be applied to every type of content (for example, the setting would be greyed out with digital TV broadcast from the internal tuner), and will require re-adjustment of picture settings. Bottom line is, users shouldn't have to jump through hoops to undo this sort of crude revisionism which shouldn't be there in the first place.
Motion
To our surprise, the frame interpolation system on the LG UB850 didn't increase motion resolution beyond the LCD baseline of 300 (as determined via the horizontally scrolling lines pattern in Chapter 31 of the FPD Benchmark Software test disc). Three [TruMotion] settings are provided (besides "Off"): "Clear", "Smooth" and "User" which allows further [De-Judder] but not [De-Blur] adjustments. All introduced soap opera effect to 24fps movies and intermittent interpolation artefacts without improving motion clarity.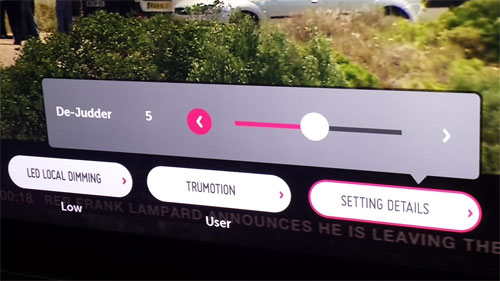 The Samsung UE55HU6900 we reviewed last month also suffered from the same drawback, namely lack of any functional motion blur reduction technology. The LG's smaller screen size and the inherent motion cleanliness of IPS panel (no black trailing/ smearing commonly seen on VA-type LCDs) meant that the resolution loss of moving objects wasn't as glaring as that witnessed on the Samsung HU6900, but we'll take the latter's superior contrast performance any time of the day.
3D
One would normally expect a 4K TV with passive 3D to deliver full HD 3D resolution, but that wasn't the case on the LG 49UB850V. When asked to display our custom-authored 3D resolution test pattern, the television failed to resolve full HD resolution in the horizontal direction, causing alternating black and white vertical single-pixel lines to merge into one solid grey block.
| | |
| --- | --- |
| | |
| Full HD 3D | Reduced horizontal resolution on LG UB850 |
We found that the UB850V's video processor also applied a blur filter in the third dimension, causing extra-dimensional images to look less sharp. The softening of the characters in the above table's second screenshot was not due to our camera being out of focus, but the effects of LG's processing which we first spotted on previous TVs from the South Korean brand two years ago.
Crosstalk was alarmingly prevalent for a passive 3D display. Thinking it might be an issue with reduced vertical viewing angle stemming from the screen polarizer, we shifted our sitting position up and down, as well as backwards and forwards, but to no avail. We theorise that the excessive 3-D crosstalk was caused by the software/ processor's inability to handle different stereoscopic depth correctly: when we set [3D Mode] to "Auto", we could actually see the ghost images merging with and uncoupling from the original images on various parts of the screen, as the onboard video processor struggled to hold things together.
4K
At time of publication, the LG 49UB850 didn't support Netflix 4K streaming – its Netflix app wasn't even operational inside the WebOS Smart+ TV portal with the television running on the most updated firmware version (at time of testing) of 03.13.17. The UB8500 would accept a 4096×2160 video signal though downscale it to 3840×2160 without offering an option to crop the sides to maintain 1:1 pixel mapping, unlike Panasonic and Samsung Ultra HD TVs. Using a DVDO AVLab 4K test pattern generator, we verified that all four HDMI ports accepted and displayed 4K resolution at 50Hz and 60Hz, but curiously the UHD TV wouldn't fully resolve the single-pixel vertical lines (only 1920 would appear on screen).
Gaming
None of the current batch of 4K Ultra HD TVs is particularly brilliant for playing 720p or 1080p games due to the amount of upscaling involved which increases input lag and reduces responsiveness. The LG UB850V gravitated towards the slower end of the pack.

Our Leo Bodnar input lag tester returned a figure of 66ms in [Game] mode, which wasn't improved any further by enabling [PC] mode. Lag in [ISF Expert1] mode was 84ms.
Conclusion
The LG 49UB850V is not only the worst 4K TV we've tested, it's also one of the worst-performing televisions we've reviewed to date in terms of image quality. Its subpar picture performance is made all the more difficult to accept by the display's retail price of £1500. Sure, it's 4K (even that's not strictly true considering the significant drop in resolution with movement), but there exist many other critical elements of picture quality including contrast ratio, shadow detail and motion handling, and the UB850 flunked the majority of them.
Image-wise, the only two positive things we can say about the 49-inch UB850V is that its viewing angles are wide by LED LCD standards, and that bright scenes look fairly good in a room with a moderate amount of ambient light. If LG harbours aspirations of establishing itself as a premium AV brand, the company needs to quickly understand the importance of video accuracy before it can change public perception and be taken seriously by the videophile community. Maybe that's why LG are the only manufacturer ploughing ahead with OLED TV (and we applaud them for it) – it's almost as if they HAVE to, given the severe contrast limitations of IPS LCD panel.
Updated 12 August 2014
A new firmware update has fixed several of the aforementioned issues and improved the picture quality on the LG 49UB850V (as described in this follow-up article), prompting us to upgrade our review rating to "Qualified Recommendation".
Note: If you're interested in buying this TV, please support us by considering making your purchase from our advertising partner Hills Sound & Vision – call 01273 411698 for competitive prices and first-rate service.