Since last year, most television manufacturers have been introducing ultra high-definition (UHD) models which boast four times the pixel resolution of regular 1080p HDTVs, but a number of video enthusiasts and industry experts have questioned whether the extra resolution will be visible on a regularly sized TV from a sensible viewing distance. To resolve (pardon the pun) the debate, British hifi and home cinema retailer Richer Sounds – with our help – is holding a 4K vs 1080p shootout event in Leicester on the first Sunday of December.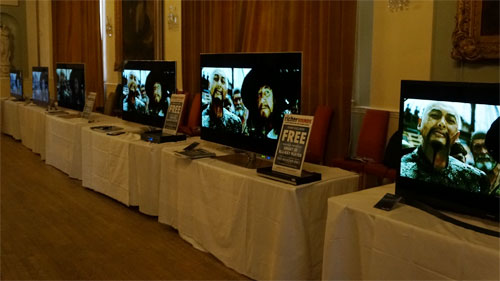 There have been several indepth accounts about the lack of perceptible difference between 4K and full HD content when viewed from a normal sitting distance of at least 7 feet away, notably from heavyweight US publications CNet and Consumer Reports. The Richer Sounds event is inspired by these precedents, with a slight twist thrown into the mix to let the public see for themselves if 4K Ultra HD resolution leads to any visible improvement in picture quality.
The TVs
The 4K TV that will be used for the purpose of this shootout will be the Samsung UE55F9000, whereas the corresponding 1080p set will be the Samsung UE55F8000. Both feature a screen size of 55 inches, and the Korean manufacturer's excellent SPVA LCD panel. Both TVs will be calibrated to similar levels of greyscale, brightness and contrast, so that the results won't be skewed by unequal contrast performance which can affect perceived sharpness. After all, no less an authority than Charles Poynton wrote in Chapter 19, page 197 of his book Digital Video and HDTV: Algorithms and Interfaces (widely considered THE video bible):
Contrast ratio is a major determinant of subjective image quality, so much so that an image reproduced with a high simultaneous contrast ratio may be judged sharper than another image that has higher measured spatial frequency content.
Another 4K/ 1080p pair of televisions which entered our consideration was the Sony Bravia X9 and W9. However, we're going with the Samsungs because a) the AUO-supplied VA LCD panels on the Sonys tend to have a narrower viewing angle than Samsung's SPVA ones; and b) the Sony X9 has a much wider side bezel due to the presence of a pair of "magnetic fluid" speakers (why this is important is explained in the next section).
Masking
The human mind works in weird and wonderful ways, subconsciously influencing us to see/ hear a difference simply because such difference is EXPECTED. This is a fiercely contested topic especially in the audiophile community, with the merits of blind listening tests spawning countless arguments. In the video world, typical examples include claims of the superior image provided by a Monster HDMI cable over a cheap one, or the punchier 1080p HDMI output from a £1000 Blu-ray player compared to the Sony PS3.
To minimise observer-expectancy bias, the Samsung UE55F9000 and UE55F8000 will each be placed in a custom-built cabinet that masks the bezel and stand, leaving only the LCD screen in view for attendees, so that they won't know from the outset which is the 4K display and which is the full HD one.
4K & HD Content
The F9000 will be fed with native 4K footage, while the F8000 will display a 1080p version directly encoded from the 4K video by our chief reviewer David Mackenzie (who moonlights as a Blu-ray compressionist, or maybe it's the other way round).
Viewing Distance
Barricade tapes or crowd control posts will be used at the event to prevent the attendees from going up-close to the screens to find out which is the 4K TV. Question is how far a viewing distance should we enforce?
We consulted with Chris Heinonen, creator of the de facto 4K calculator, who suggested imposing a distance of 8 to 9 feet even though it's theoretically beyond the visual acuity for 4K on a 55″ screen. According to a BBC R&D survey, the average distance UK viewers sit from their TV is 2.7m, which is very close to the 9 feet Lechner distance often quoted for North American viewers. 9 feet it is.
How It Works
Attendees will be invited to guess which TV is the 4K Ultra HD one, taking as long as they need to scrutinise the content from 9 feet away (and hopefully without asking the next person). By submitting their pick on a short survey form, participants will be entered into a prize draw. When both TVs are revealed towards the end of the event, those who have correctly chosen the 4K set will stand a chance to win £100 worth of Richer Sounds voucher.
OLED & 4K UHD Displays
Other products will be showcased at the event too, which is a who's who list of the next-generation display devices currently available to buy in the United Kingdom. These include the Panasonic TX-L65WT600 65-inch 4K LED TV with HDMI 2.0 and DisplayPort; the 84-inch LG 84LM960V Ultra HD set, the Sony KD-55X9005A 4K Bravia LED television with TRILUMINOS display technology; and a Sony VPL-VW1000ES 4K projector. OLED is not left out – the mouthwatering display technology will be represented by LG's 55EA980W 55in curved OLED TV.
All the displays will be calibrated by us to Rec.709 standard with D65 white point and 2.4 gamma, and the UHD sets will be serving up native 4K content.
Venue & Date
The Richer Sounds OLED and 4K Ultra HD showcase event will take place at The City Rooms listed building in Leicester on Sunday the 1st of December from 12pm to 5:00pm. Attendance is free, and refreshments will be provided.
For questions about the event, please call Richer Sounds Leicester on 0333 900 0043, and ask for Ben.