There's no end to the 4K Ultra HD bandwagon with yet more announcements in the wake of last week's CES, where we were treated to a fabulous first glimpse of curvy, flexible 4K TVs. This week though, it's not so much about the hardware, but finally, about what we might be able to watch on our dazzling new displays. 4K content is steadily picking up steam, with the first-ever horror flick now available in ultra high-definition (UHD) resolution, alongside somewhat more revealing content that's strictly reserved for adult's eyes only – that's right, 4K porn has arrived.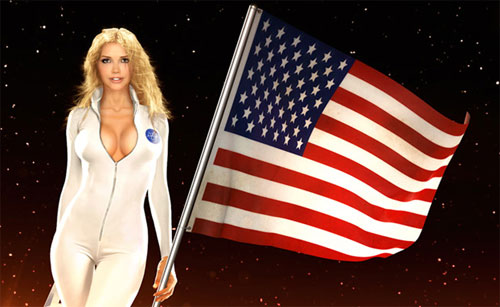 First up is the news that independent horror flick Muck is championing itself as the genre's first movie to be available in 4K. Directed by Steve Wolsh, and starring Kane Hodder of Friday the 13th Part VII fame alongside 2012's Playboy Playmate of the Year Jaclyn Swedberg, Muck has been described as a "highly stylised and hyper-violent middle chapter" of a horror trilogy, unfolding "like a love letter" for all horror film fanatics. The movie is said to be chock-a-block with special effects, including glass explosions, water combat, slow motion fire and fast-paced stunts that will literally "jump off the screen in 2014 in both HD and Ultra HD", reports Horrorcultfilms.co.uk. The entire movie was shot in native 4K, and is set for a theatrical release on July 4th, with retail dates yet to be announced.
Blood and gore fans will certainly be in for a treat, but the good news is that Muck is not the only 'graphic' content to be arriving on a 4K screen soon. Naughty America, a California-based porn studio, has just announced plans to make the art of filming various body parts and items entering all kinds of orifices so graphic that you'll practically be able to smell it. Ultra HD porn has arrived at last, and to be honest it was only a matter of time before it did.
Naughty America is making a big bet on 4K too – it's said to have "invested heavily" in all manner of 4K tech, reports the Wall Street Journal. The XXX-rated website plans to launch a range of fruity cinematic 4K flicks later this year, and has already set up a special domain at naughtyamerica4k.com for those who're looking for access. For now, horny 4K TV owners can make do with a short trailer of Naughty America's 4K content available on that site, which recommends hooking up a PC to your TV for the best possible experience.
Naughty America will add a $10 (around £6) surcharge to its regular $24.95 (approximately £15) subscription fee for customers wanting access to 4K content.