The dream of live-action 4K transmission came another step closer to reality this week, following the Digital TV Group's (DTG) successful live demonstration of Sky football content in 10-bit 50Hz 2160p content compressed using the new HEVC standard at an event in London.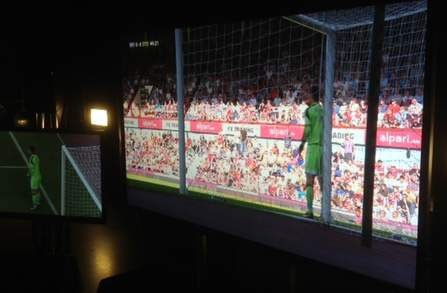 The demonstration took place in partnership with Broadcom Corporation, and was the main highlight of the DTG Summit. It also saw the use of silicon technology in real-time decoding for the first time. Simon Gauntlett, chief technology officer of DTG, said that the event was the perfect place for this "industry first" demonstration, what with so many attendees.
Full framerate (50p) 10-bit 50Hz 2160p content offers a marked improvement over current standards. Typically, live sports content is shown at just 8-bits, while the majority of film and television shows are displayed at just 25 frames per second, causing a notable reduction in colour definition, said the DTG. In order to showcase just how superior 10-bit 50Hz 2160p content can be, DTG opted to display action from a Premier League clash from Sky TV. The footage of Sky Sports' 50Hz progressive football had been encoded using the HEVC Main 10 codec at 20 Mbps during recent production trials, and was displayed at the event on a Panasonic TX-L65WT600 4K Ultra HD TV using a HDMI 2.0 interface.
Rich Nelson, Senior Vice President of Marketing at Broadcom Corporation, said the demo underlined the company's commitment to delivering the clarity and brilliance of ultra high-definition (UHD) television to people's homes.
"Broadcom's early entry in Ultra-HD, beginning with the BCM7445 Ultra-HD video decoder at CES 2013, has allowed us to deliver multiple advanced SoCs with market specific features and price points today," he noted in a prepared statement.
Attendees in London weren't the only ones to catch a glimpse of the demo. A simultaneous demonstration took place at the ANGA COM trade fair in Cologne, Germany, using Broadcom's BCM7445 chipset with support for 60Hz progressive display.