Despite previous statements from the likes of Samsung and LG Electronics to the contrary, it appears that the mass production of OLED TV sets is still some way off, with panel makers beginning to shift their focus to 4K LCD TVs instead.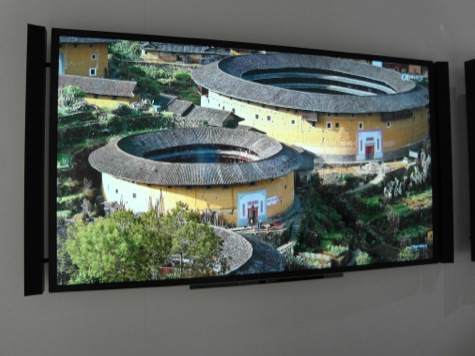 4K LCD TVs to reach mass market before OLED TV?
OLED TVs have been hailed as the greatest technological advancement in HDTV displays for many years, delivering better defined images on a brighter screen, whilst consuming significantly less power than other kinds of display technology. Such is the potential and excitement generated by OLED, that both LG and Samsung have been pushing its development hard. The two rival firms both showed off their next-generation 55" OLED televisions at the recent IFA in Berlin, while LG especially has made big noises about what OLED means for the future of television.
Even so, it's unlikely that anyone will see a shiny new OLED TV taking pride of place in their living room any time soon. Neither LG nor Samsung has yet to announce when they will begin mass production of their OLED TV models, as questions remain unanswered about the technology's value proposition. With the 55-inch OLED TVs costing in the region of £8,000, compared to just £1,000 for a slim-type LED LCD TV of the same size, who apart from the most extravagant of telly addicts is likely to buy one? Moreover, many consumers remain unclear about the differentiating factors between OLED and LED TVs, given that the latter technology also offers reasonable image quality.
What with the high production cost of OLED display panels and manufacturers struggling to come up with answers to these questions, industry experts are now predicting the rise of 4K TVs within the next 12 months. NPD DisplaySearch, the television industry analyst firm, believes that it's far more likely that we'll see 4Kx2K LCD TVs hitting the shops before OLED does.
Broadcasters are moving fast to churn out 4K content. Added to this, the trend towards larger display sizes (LCD is better for this), and the fact that 4Kx2K panel manufacturing is far simpler than OLED panel manufacturing, and it's not difficult to see why OLED might fall by the wayside for now.
Indeed, panel makers including LG Display, Samsung Display, Chimei Innolux and Sharp are already bracing themselves to step up 4K LCD production, following the unveiling of numerous products featuring the technology at this year's IFA consumer electronics trade show in Berlin.
As for OLED television, the future remains uncertain. Unless consumer spending power increase substantially in the near future, or panel makers find a way to reduce production costs, it could well be some time before OLED TVs are anything but a luxury item.
Source: DisplaySearch Blog