Sony is trying to entice consumers to make their next TV purchase an Ultra HD one from the company this Christmas, offering to throw in five free 4K movies for anyone who snaps up one of its 4K Bravia televisions.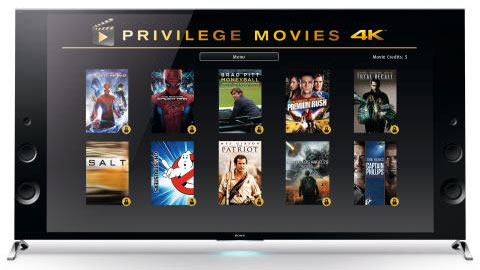 The offer is called "Privilege Movies 4K", and lets customers choose five titles from a selection of ten ultra high-definition (UHD) flicks available. Customers can snap up the entire lot if they wish, but they'll have to pay for the other five if they do so.
Sony originally announced the scheme last month at the IFA show in Berlin, but has only now finalised the deal. Customers who buy a high-end 2014 Sony 4K TV, such as the Bravia X9 or the new curved S90, simply need to visit Sony's dedicated portal, fill in their details and provide proof of purchase before choosing their five movies. Once you choice has been made, Sony will load them onto a compact HDD (hard disk drive) and ship it directly to your front door.
The choice of movies includes The Amazing Spider Man, The Amazing Spider-Man 2, Moneyball, Premium Rush, Total Recall (2012 remake), Salt, Ghostbusters, The Patriot, Battle Los Angeles and Captain Phillips. The model numbers of the Sony 4K Ultra HD TVs that are eligible for this redemption offer are the Sony KD-55X9005B, KD-65X9005B, KD-79X9005B, KD-65S9005B, KD-75S9005B and KD-85X9505B.
Customers should note though, it doesn't look as though they'll get to enjoy their free 4K movies forever. Sony states that the offer is good until the 24th of December, and that customers will need to unlock the content before the 30th of September next year. After that, they will have "until 30 September 2016 to watch them", a comment from the Japanese manufacturer that suggests they might expire after that date.
Presumably, Sony is confident that someone, somewhere, will be able to drum up a bit more 4K content by then.
That's not to say Sony is the only brand that's able to offer some 4K films with its televisions. Samsung also has its own UHD video pack for US customers with movies including G.I. Joe: Retaliation, World War Z, X-Men Origins: Wolverine, Night at the Museum, and The Counselor, but it doesn't come for free – customers have to pay an extra USD $299 (around £187) to get their hands on it.